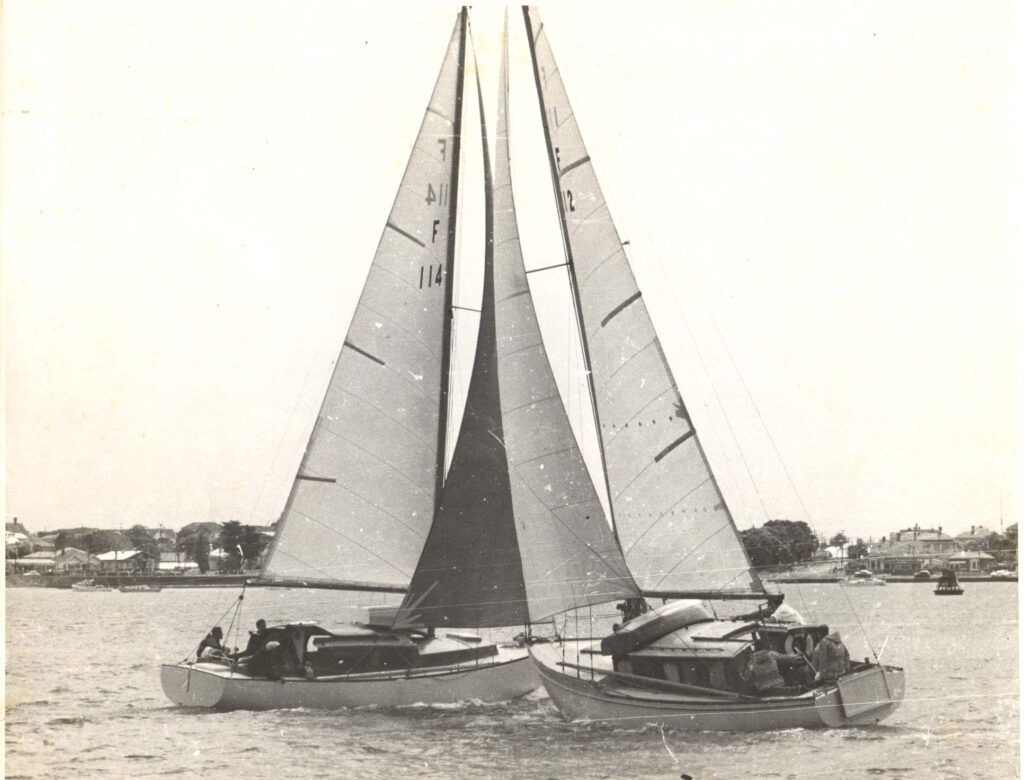 In 1958 R. L. "Bob" Stewart was commissioned by Peter Colmore-Williams to design a fast 34-foot racing yacht that could double as a comfortable family cruiser. The yacht Patiki was an instant success on the race course, thrashing her competition and drawing the immediate attention of Auckland's top racing sailors. Cruising sailors were also impressed by the design, attracted by affordability, seaworthiness, spaciousness and excellent sailing characteristics. During the 60's and 70's boatbuilders as well as "do-it-yourselfers" began building more Patikis in sheds, boatyards and back yards all over New Zealand.
Within a few years, the ever-expanding fleet of Patikis began to dominate the Auckland racing scene. Their spirited owners eventually looked to further raise the bar. They longed for a different type of racing competition-one based solely upon sailing skills and tactics, and not on an individual yacht's design advantage. Eventually the Stewart 34, as it came to be known, became the first one design keel boat class to be granted their own separate racing division by the Royal New Zealand Yacht Squadron.
In order to hone their skills and promote the growing Stewart 34 class, the keen owners continued to seek greater competitive challenges. They struggled against New Zealand's staid yachting traditions in order to introduce sponsorship into the sport of keelboat racing. They eventually broke through the barriers, enabling them to import the world's best skippers to Auckland each year for a top level regatta which came to be known as the Citizen Watch Series. "The Citizen" was a series of highly competitive and exciting two-boat "match racing" contests where there is just one winner and one loser. Stewart 34 owners lent their boats and their skills, and by sailing both along side and against the world's top racing skippers, New Zealand's best sailors raised their skill levels, and begin to set their sights on international racing events.
Through the Stewart 34 owner's continuous efforts, the Citizen became a major event on the world match racing circuit. Top international sailors the likes of John Bertrand, Rod Davis, Paul Elvstrom, Peter Gilmour, Ted Hood, Peter Isler, Gary Jobson, John Kostecki and Ted Turner put Auckland on their annual yacht racing calendar. They took the helms of Stewart 34's and engaged in fierce, boat to boat competition in front of live television cameras and thousands of enthusiastic spectators on and around the Waitemata Harbour. The Stewart 34 yachts and Citizen Watch Company, the event's sponsor, became household names in New Zealand, and TVNZ's Peter Montgomery emerged as the voice of New Zealand yachting and one of the world's top yachting commentators.
Some of the more intrepid Stewart 34 owners took to the high seas, competing successfully in grueling ocean races such as the Auckland to Suva, Auckland to Noumea and the prestigious Sydney to Hobart. Others safely cruised the world.
New Zealand sailors battled to keep up with the ever-improving skills of the world's top professional sailors. Regular Stewart sailors drove themselves harder than ever in precursor events such as practice race series, Stewart 34 Championships and the National Match Racing Trials leading up to the annual Citizen Watch Series. Local yachties like Chris Dickson, Brad Butterworth and Russell Coutts clawed their way to the top of the leader board in the Citizen. Many sailors who developed their competitive racing skills on Stewarts were snapped up by top international owners and skippers, becoming "rock stars" that trotted all over the globe participating in prestigious grand prix sailing events. As a result, more than a few Stewart sailors ended up as skippers and crew in the holy grail of yacht racing, the America's Cup.
By 1990, the stringent requirements of yachts used for international match racing events eventually overtook the maturing Stewart 34 fleet, resulting in its retirement from this demanding arena. The pundits predicted a sudden and certain death of the Stewart Class.
Twenty years down the track, keen young sailors continually snatch up Stewarts from the "old guard." They are attracted to the class essentially by the same attributes that originally made the yachts successful; value, affordability, competitive one design racing and comfortable cruising. Today, the Stewart 34 class remains as viable as at any time in its history. More than a third of the 58 New Zealand-based Stewart 34's continue to race in the annual Stewart Championship Series, as well as countless other mixed-fleet racing events. Other Stewarts remain as families' beloved cruising yachts, regularly sailing the waters around New Zealand, and beyond.
Sponsorship of the class continues to this day. The owners remain fanatical about their yachts – many of which have been lovingly restored to their former glory. Despite the fact that the Stewart 34s are sailed largely in their original form, they remain remarkably competitive with most yachts of their size in mixed-fleet racing. On weekends and holidays, they morph into family cruising yachts and can be seen cris-crossing the beautiful waters of the Hauraki Gulf.
So what is the "X-factor" that has caused this particular class to continue to flourish for fifty years, while many larger fleets of newer and faster one design yachts have faded into obscurity? Perhaps it is the passion of the owners, or the incredible comradeship those who sail Stewarts. It has been said that when one starts sailing Stewarts, they immediately acquire an entire network of friends.
A total of 63 Stewart 34 yachts have reportedly been launched since 1959. Sixty one are believed to be sailing today. Hundreds of owners and thousands of crew have sailed tens of thousands of races and hundreds of thousands of miles, providing for many interesting "sea tales," some hilarious, some tragic. This volume compiles the history, interesting facts and delightful human interest stories that blend to make up the fibre of the Stewart 34 culture.