We survived ten gruelling days of post ARC Rally celebrations in St. Lucia and finally started heading north on the last leg of our season's journey.   With nice trade wind conditions forecast, we were hoping to island hop through the Leeward Isles and make it to the Virgin islands in time for Christmas.  The first day's hop, in perfect sailing conditions, was a short sail over to a lovely little bay called Grande Anse on the neighboring Island of Matinique-just enough to get our sea legs.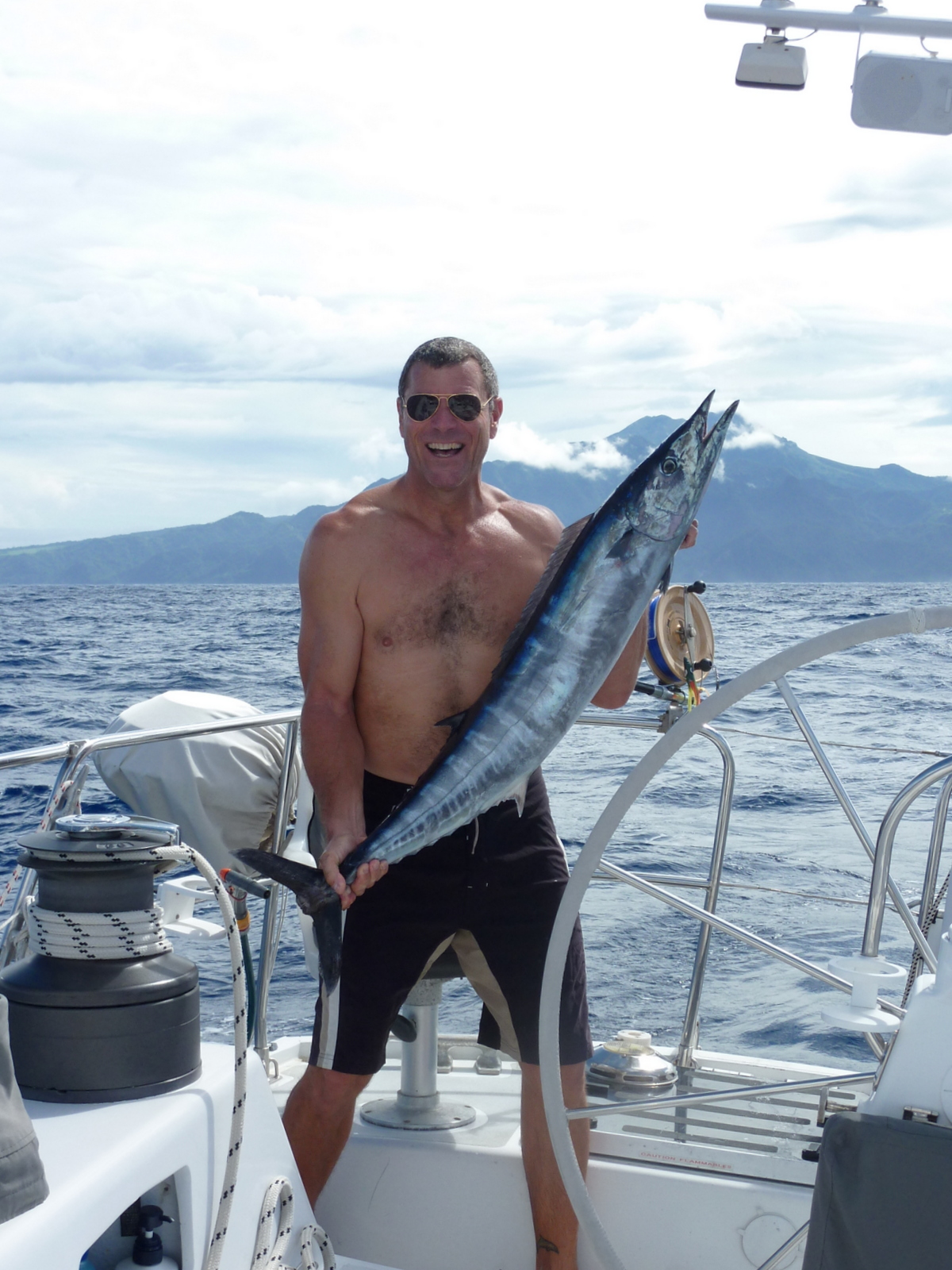 Wahoo!
The next morning we weighed anchor and set sail for Dominica.  A couple hours out, we were approached and hailed on the VHF radio by a Martinique Customs cutter.  They asked the usual stuff; last port of call, next port of call, number of persons on board, nationalities, ship's documentation number, etc.  They seemed to be satisfied with the information we provided, wished us a pleasant journey and went on their way.
A few hours later, the Customs cutter headed back in our direction, stopped dead ahead of our track, and splashed thier tender.  Five guys hopped in, motored over to us and asked if they could come aboard.  I was in no position to argue with five men sporting semi-automatic side arms, so I politely welcomed them on board.
After inspecting the ship's papers and our passports, two of the men commenced what would be the most exhaustive search of the boat that we had ever experienced.  They literally went through every drawer, locker and storage area, pulling out anything that was in a plastic bag and carefully inspecting it.  They repeatedly asked the both of us, where we had been and where we had come from.  After an hour of searching and finding nothing of interest, they asked to see the ship's logs.  They asked if we had been to Colombia, and of course, the answer was no.  We explained and showed in the logs that we had come from the other direction-across the Atlantic Ocean.  They finally said "have you been to Cartagena!"  We replied, yes, Cartagena Spain.  They had somehow got information that we had been to Cartagena-we're not sure how, because we did not do any formalities in Cartagena as we had already checked into Spain.  Big brother is watching!  In any event, they were soon satisfied that we were not in the import/export business and went on their way.    The moral of the story is to always be friendly and cooperative with a boarding party and keep any documentation that shows where you have been.  If they think you have something to hide, they will persist until they find it, and we've heard that it is never a pleasant experience to have your boat searched with the aid of an electric drill or jigsaw.
Shortly after our ordeal, we landed a nice wahoo, breaking the spell of mahi-mahi that we had caught all the way across the Atlantic.  Late that afternoon, we were welcomed to the lovely anchorage at Prince Rupert Bay, Dominica with a rainbow.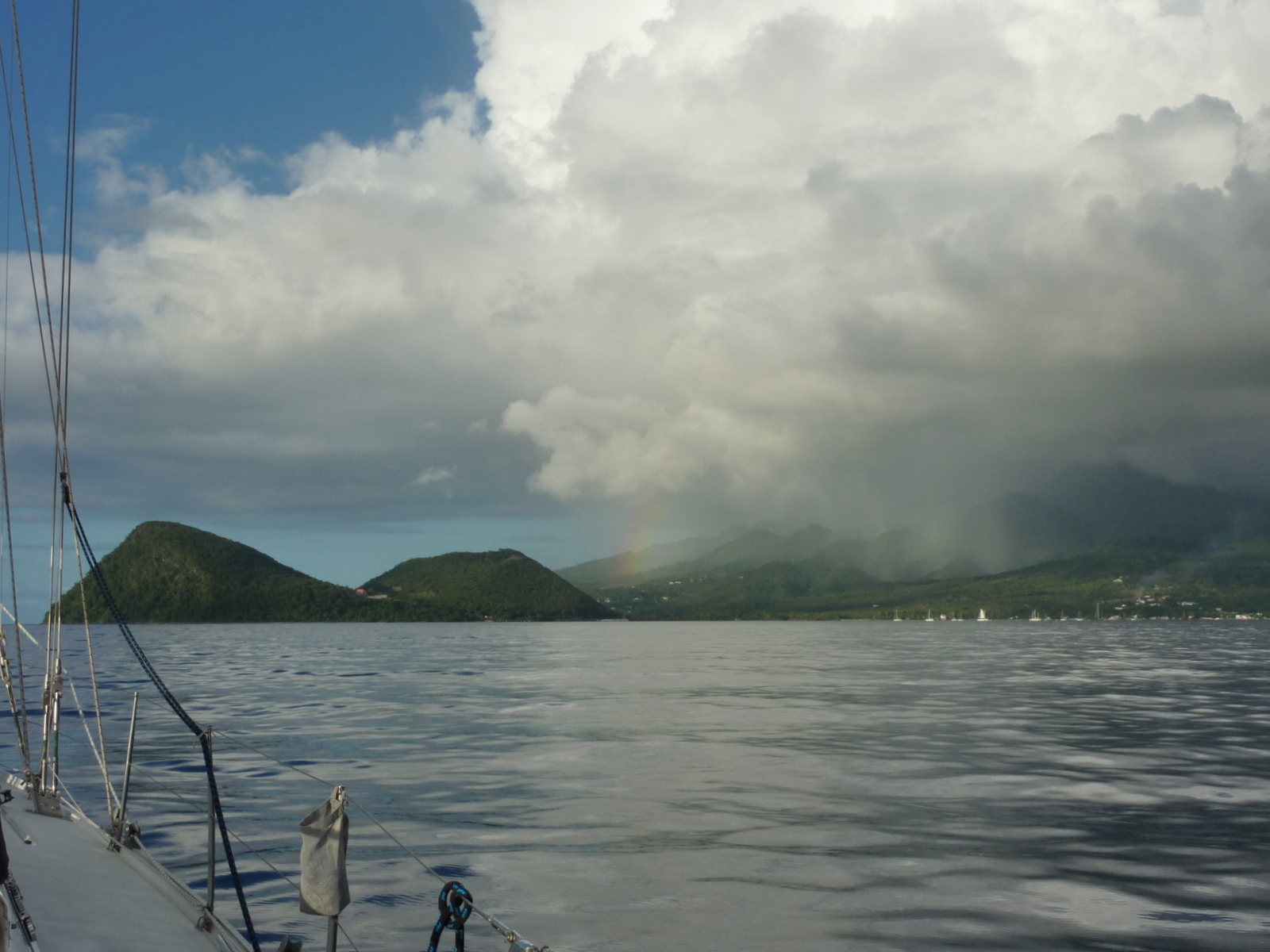 Prince Rupert Bay, Dominica
We got an early start the next morning and had a nice sail over to Guadeloupe, where we pulled into the cozy little marina at Basse Terre to take on some diesel.  The last time we had put in fuel was in the Canary Islands, more than 3,000 miles in our wake.   We still had 25% in our tanks, but wanted to make sure we had enough juice to get all the way to Florida, some 1300 miles away.
The trade winds were cooperative, so we carried on to the island of Montserrat and anchored off Bransby Point near the deserted town of Plymouth.  Plymouth, once the capital of Montserrat, was destroyed in by a volcano in 1995 and everyone living there had to relocate overseas or on other parts of the island.  It now sits as an eerie ghost town, half covered in ash.   Protection from the large trade wind swell was good in close to shore and we were the only yacht there.
We rose before sunrise the next morning and set sail for Nevis.  We enjoyed a whole day of trade wind sailing, passing Saba along the way.  Arriving at Nevis, a large northerly swell was building, so we anchored well off and set the flopper stopper so we could be reasonably comfortable for the night.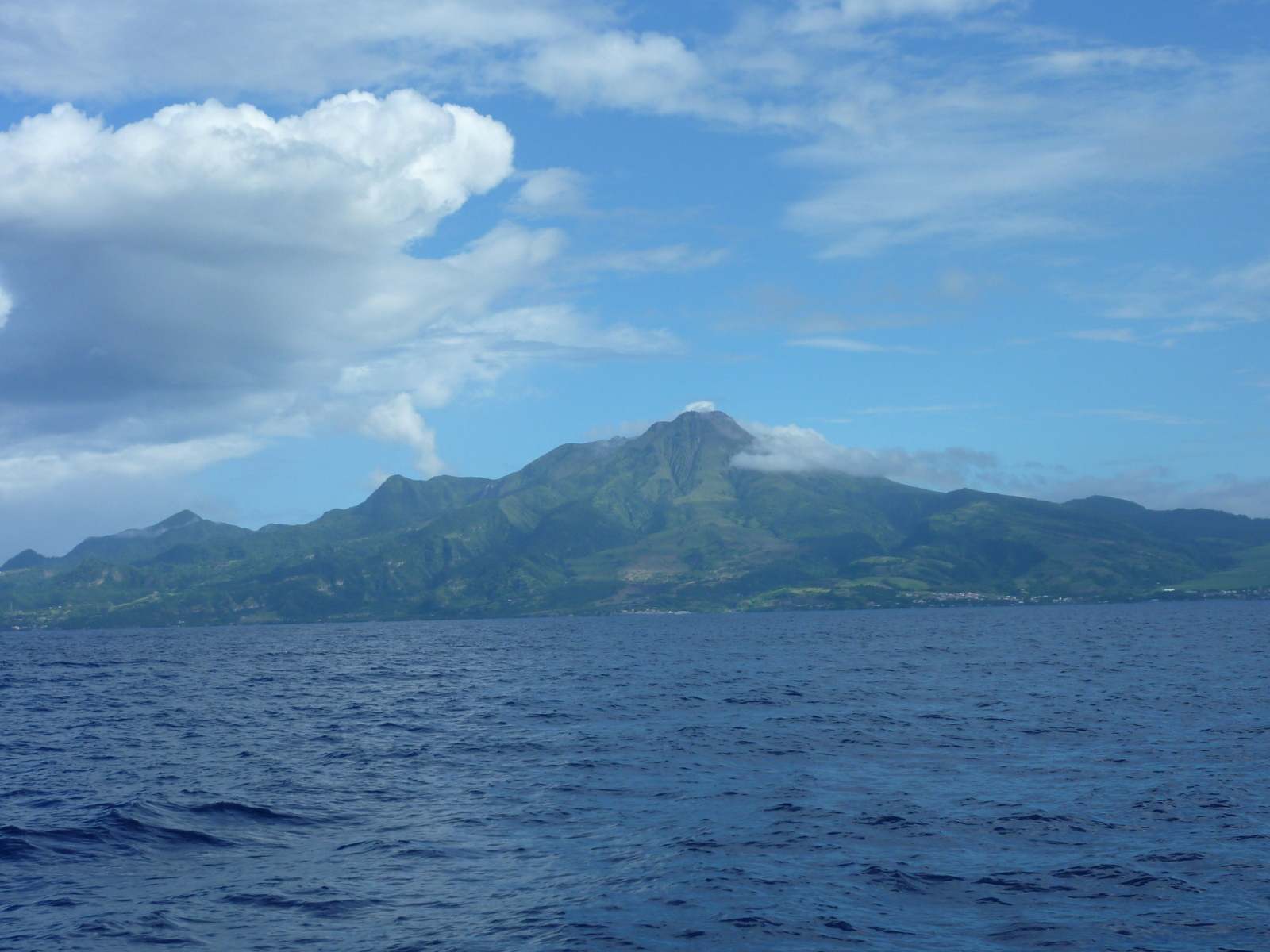 Sunrise over the island of Montserrat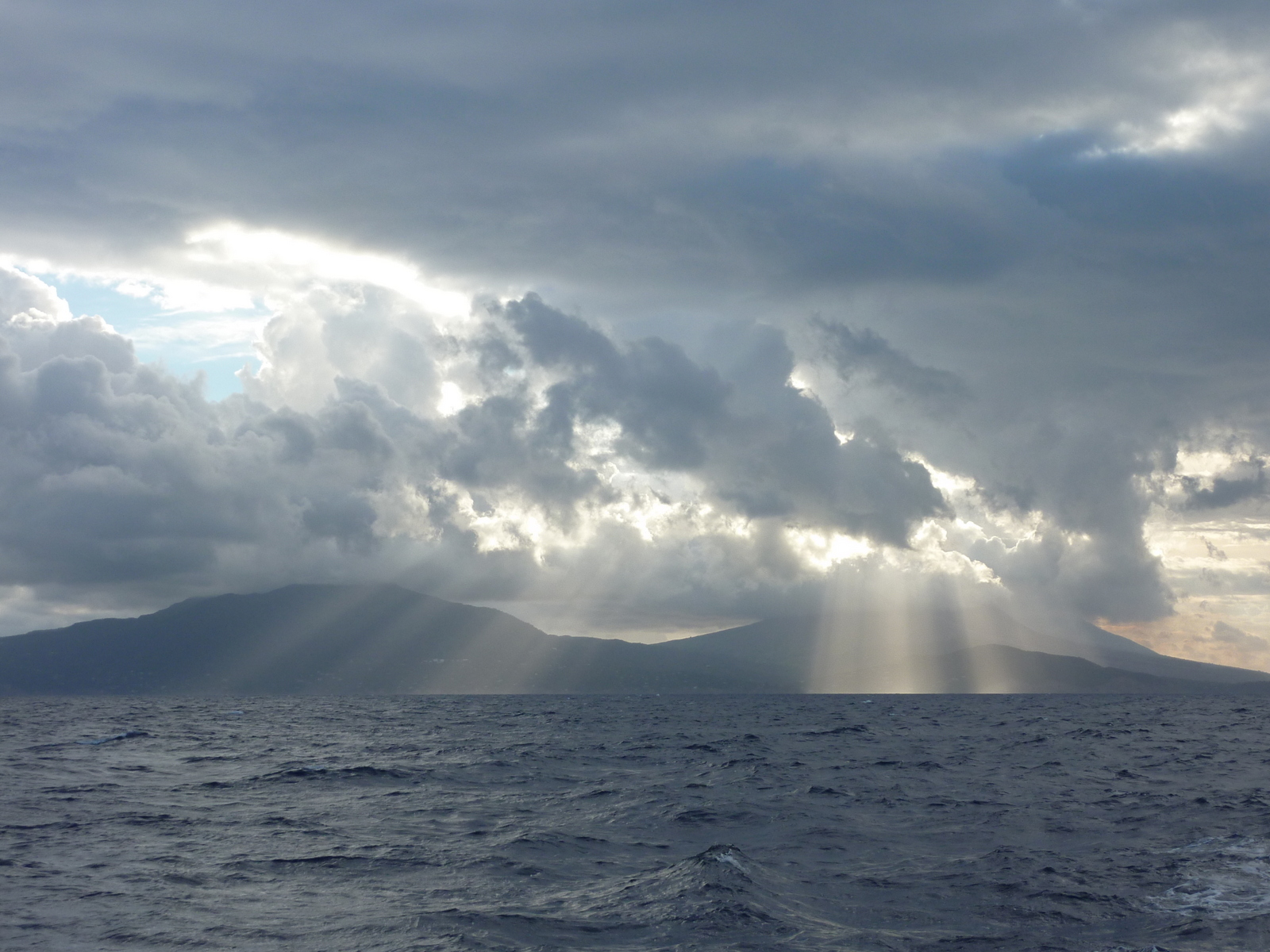 Montserrat still seems to be brooding its turbulent past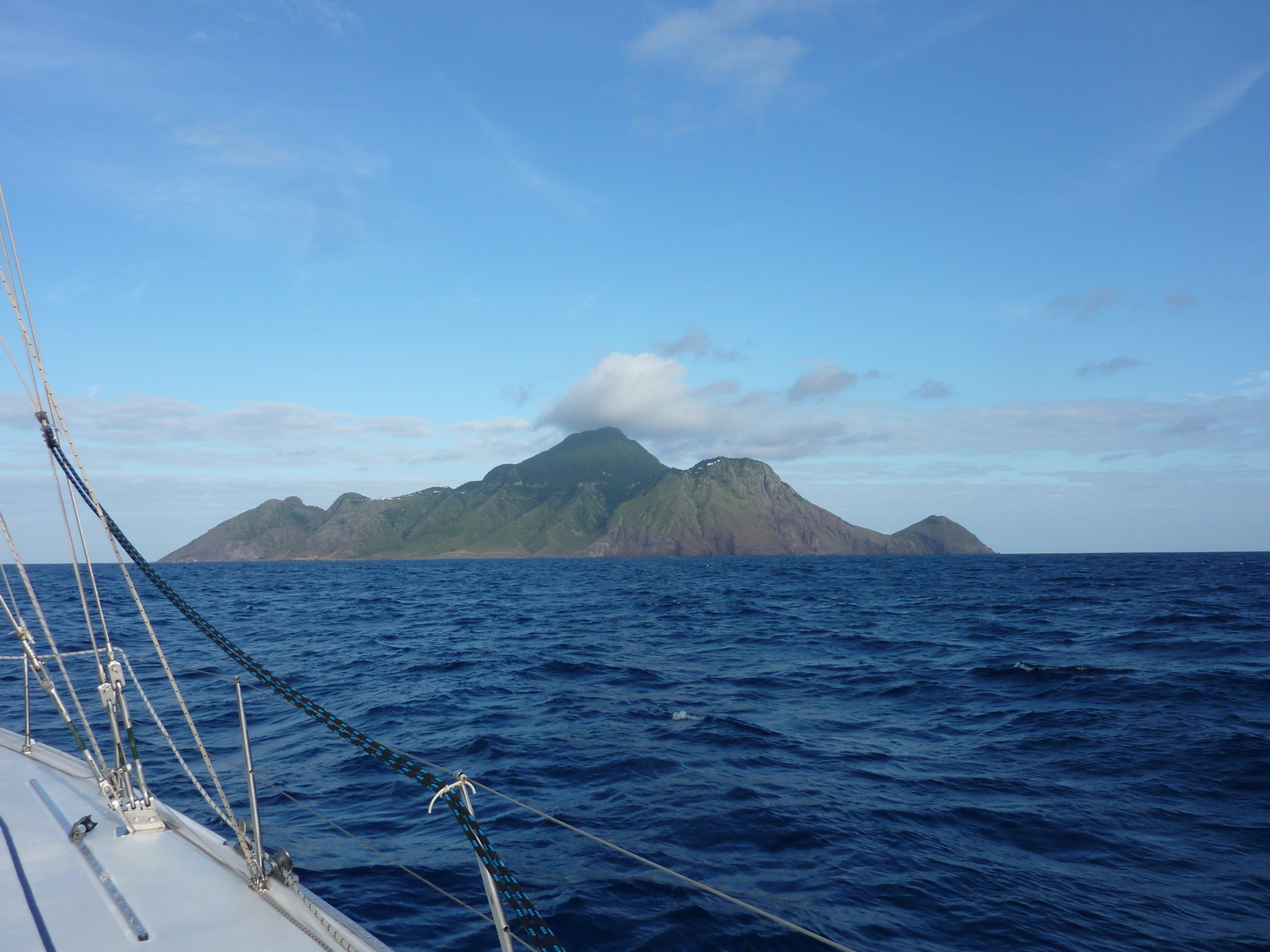 Saba
Early the next morning, we set sail for the British Virgin Islands, more than 100 nm north, where we planned to spend the holidays doing some easy and relaxed cruising.  We made landfall well after dark and anchored in Bluff Bay in the lee of Beef Island.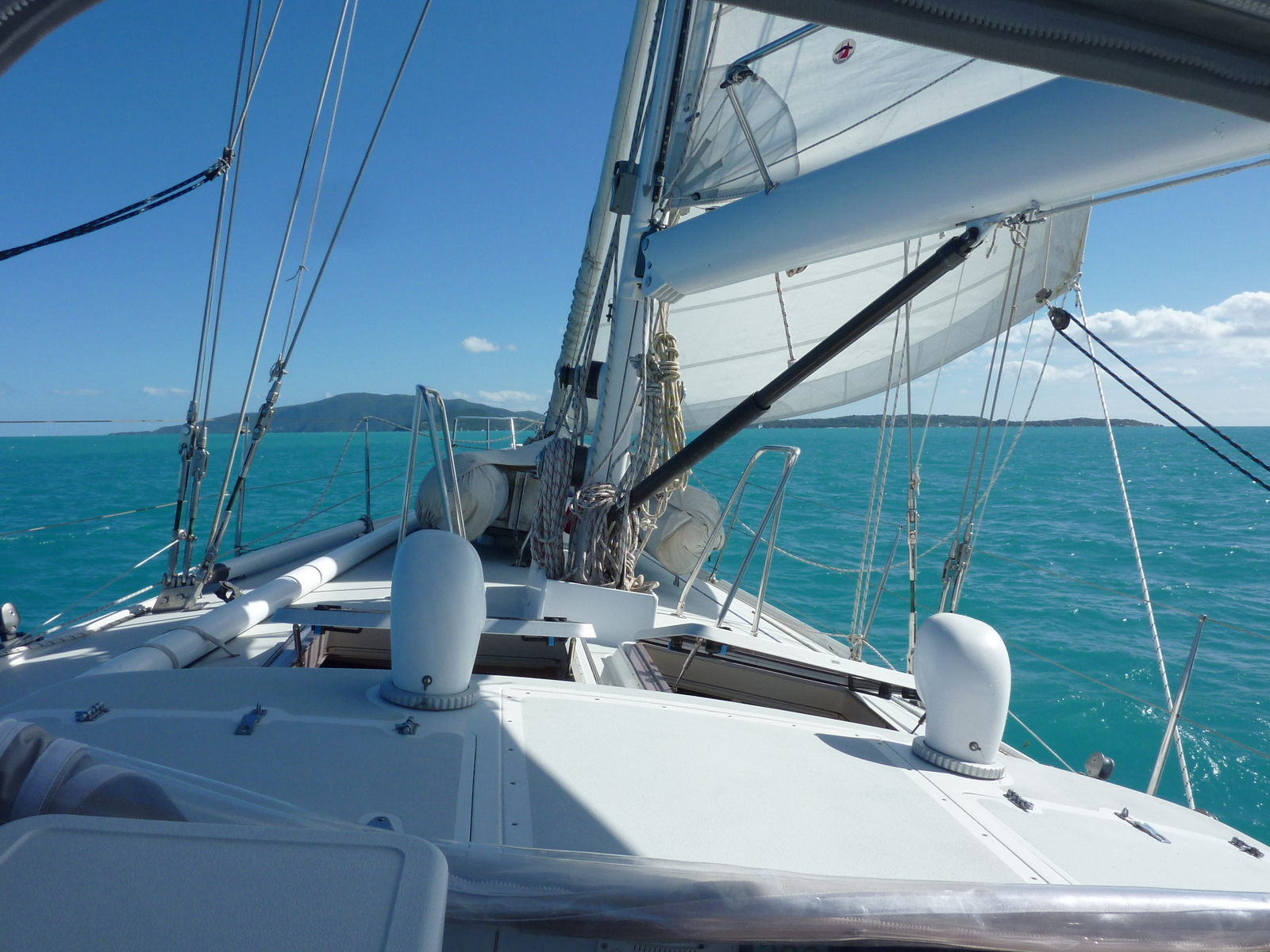 Easy and relaxed cruisng in the protected waters of the British Virgin Islands.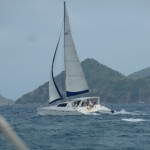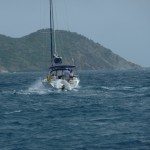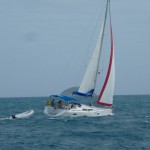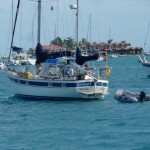 Towing the dinghy with the motor down is not recommended, but seems to either be a bad habit or a requirement in the British Virgin Islands
On Christmas eve we sailed out to the eastern end of the British Virgins to Gorda Sound, home of the world famous (to yachties anyway) Bitter End Yacht Club.  We enjoyed sundowners at the BEYC, Christmas Eve dinner aboard and then some after dinner drinks at the cool little Saba Rock Resort.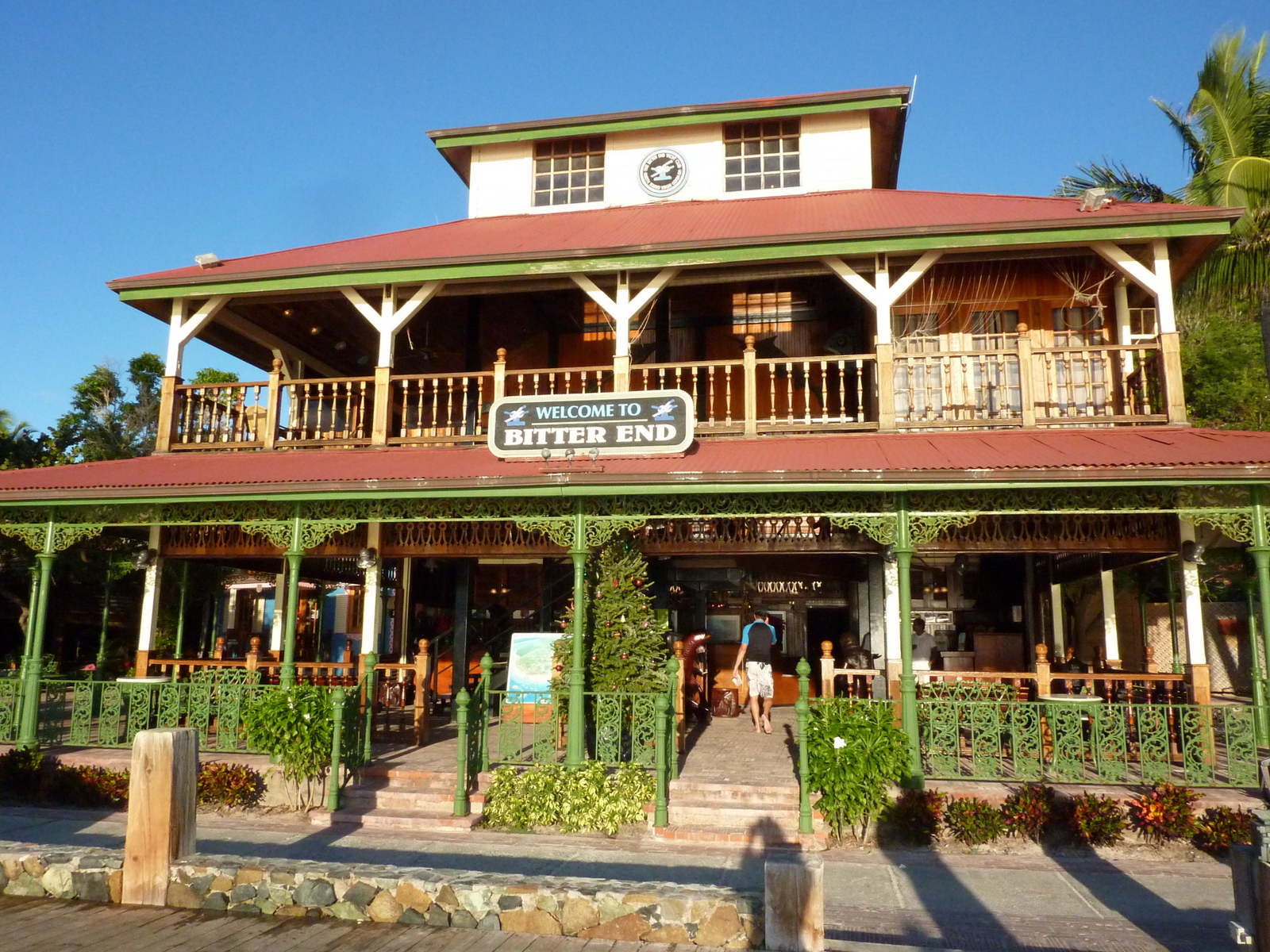 The world famous (to sailors) Bitter End Yacht Club on Virgin Gorda
The Bitter End is a popular holiday destination for all types of yacties, whether they are arriving by cruising yacht, mega yacht, classic yact or by air from overseas.   We spent a few relaxing days ancored amoungst a plethora of beautiful yachts, catching up on some maintenance and enjoying long happy hours.  We spent Christmas day on board, enjoying some NZ lamb racks cooked up on the barbie and washed down with some bubbly.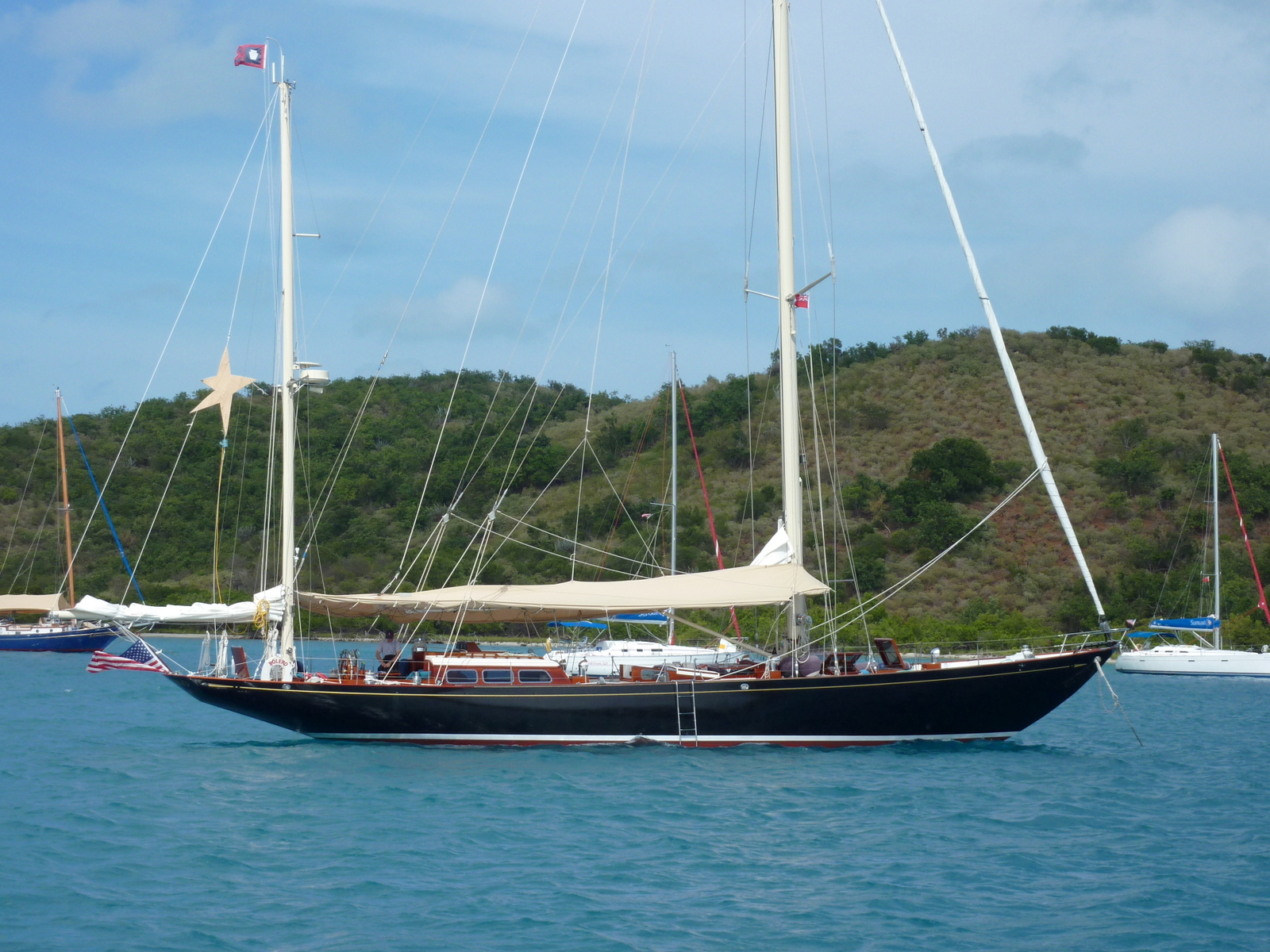 Bolero, the 1946 classic Sparkman & Stephens racing yawl in bristol fashion and decked out for the holidays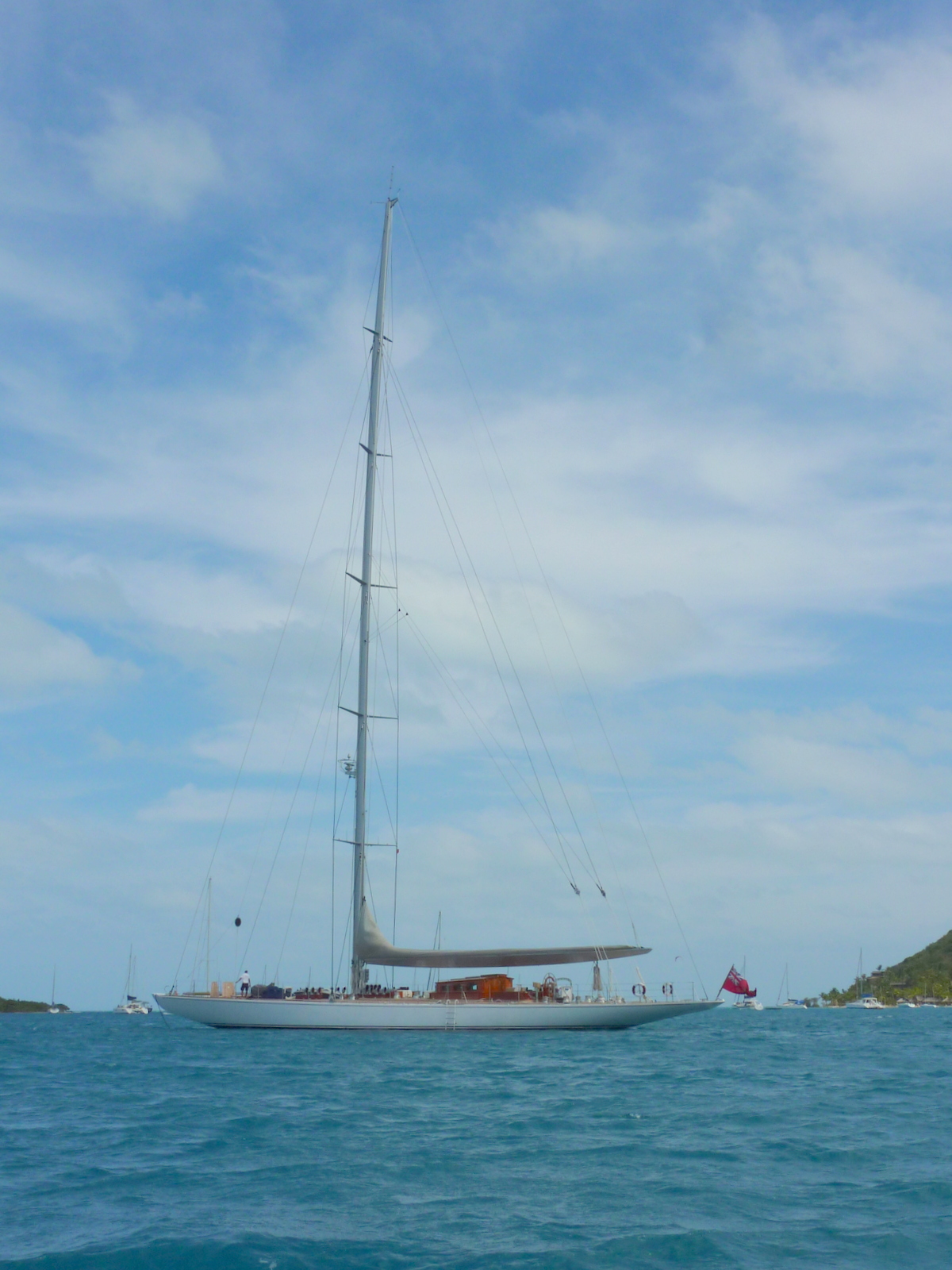 Ranger, launched in 1936, is one of the few remaining J-Class boats from the more elegant years of the America's Cup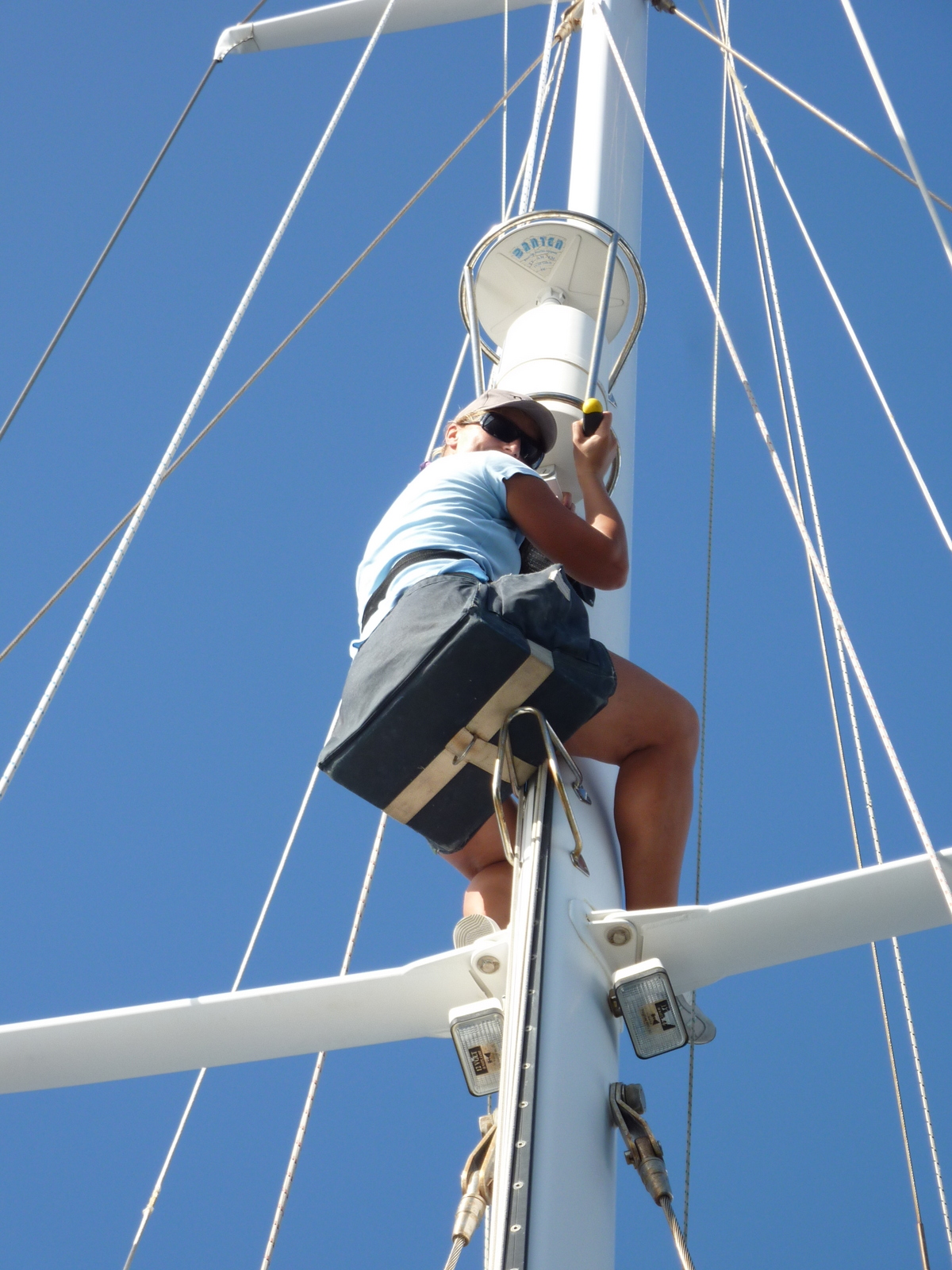 Merima goes aloft to repair the steaming light
A wicked swell from a big blow up north made the anchorage off the Baths at Virgin Gorda untenable, so we carried on sailing to Norman Island where a large group of cruisers and charterers had come to party at Willy T's and Pirates bar.  It was a long loud night so we headed north th next day to Grand Harbour on Jost van Dyke where we checked in with British Customs.
No visit to Jost van Dyke would be complete without a visit to Foxy's beach bar for a rum punch or three.  We had a big evening out and a hangover to match the next day.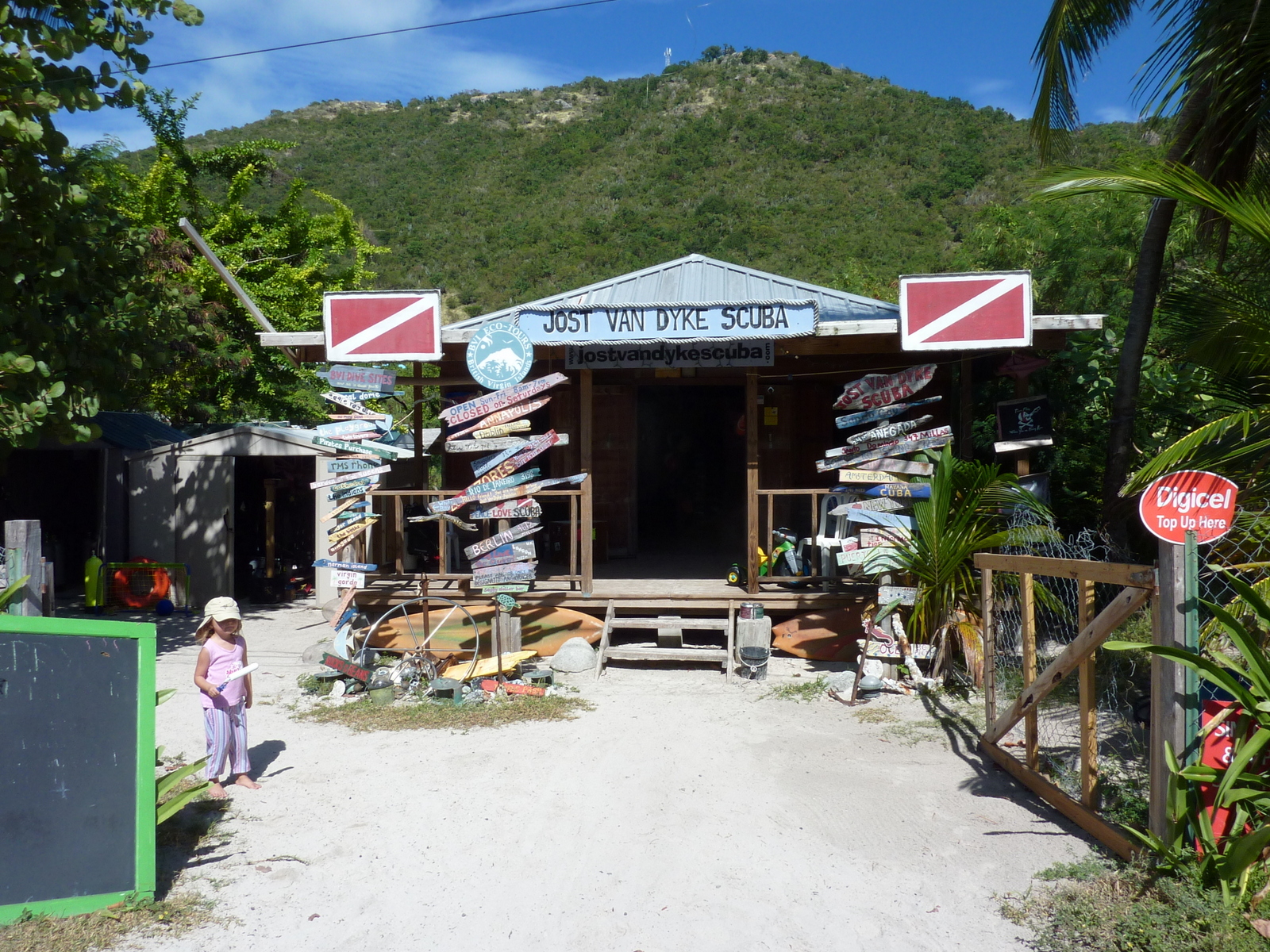 The dive shack on Jost van Dyke.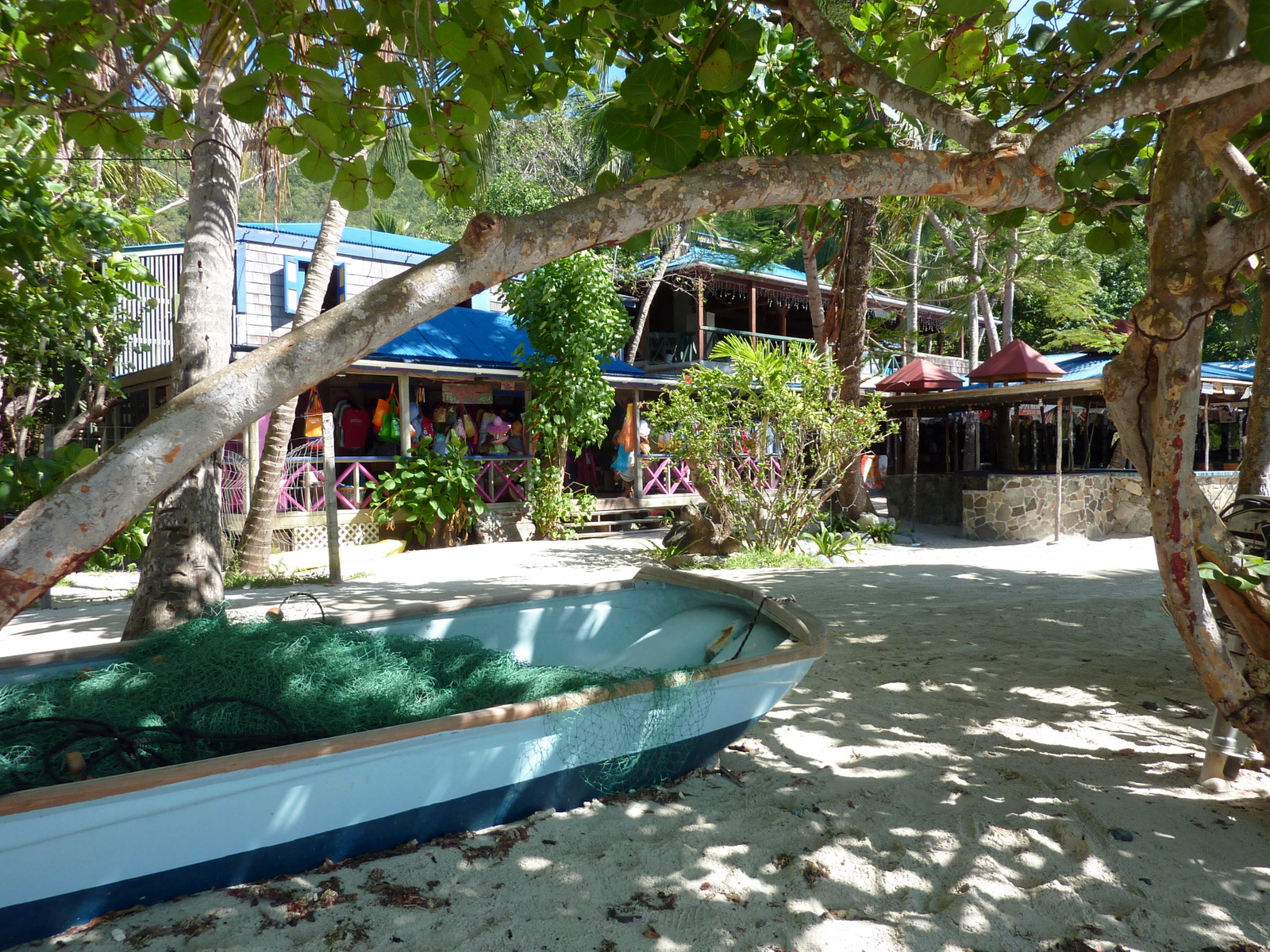 Foxy's Beach Bar is legendary for his rum punch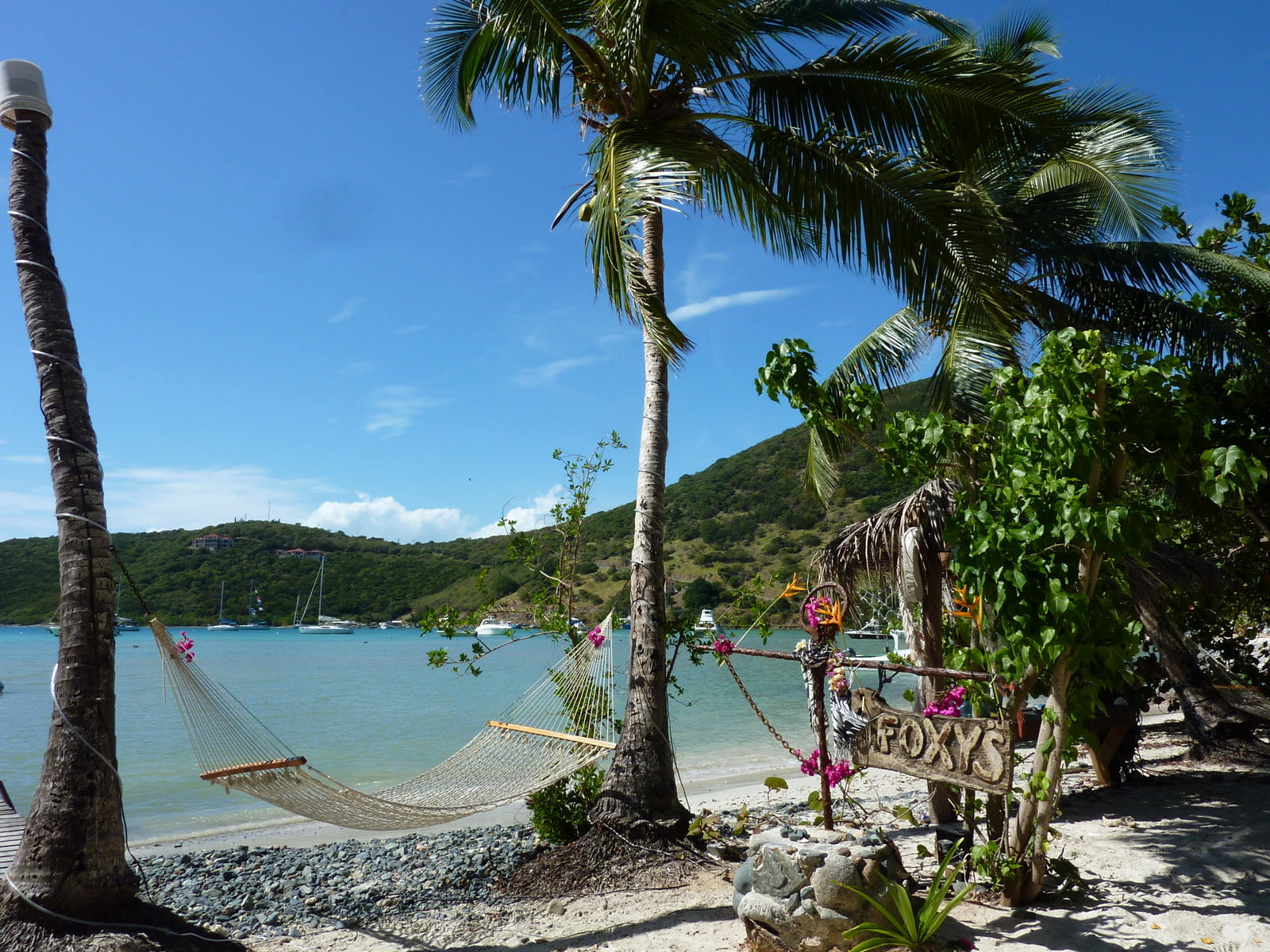 There's even a place to chill out after too many rum punches
From Jost van Dyke we headed up to the Cane Garden Bay where we found an uncomfortable swell refracting around the point.  We made a quick U-turn and then headed west to the US Virgin Islands and the little resort/party town of Cruz Bay.  Cruz Bay is a port of entry, so we checked in with U.S. Customs, bringing Moonshadow back into United States territory for the first time since 1996.  The formalities process was easy and laid back and didn't even require a visit to the boat by the officials.  Devoid of a courtesy flag for the first time in 14 years, we headed over to a quiet little anchorage called Nazareth Bay on the island of St. Thomas.
The next morning we made our way around to the main town of Charlotte Amalie.  Charlotte Amalie has been transformed by the tourist/cruise ship industry to one large duty-free shopping town.  The main street through town consists of hundreds of liquor and jewelry stores, one after  the other, with the occasional over-priced bar/restaurant.  Just one afternoon in this environment was too much for us, so we headed out early the next morning and sailed to San Juan, Puerto Rico.
Despite its large well-protected natural harbor, We only saw one other cruising yacht in the two designated anchorages.  We spent New Year's Eve afternoon wandering around he lovely colonial section of Old San Juan.
Our plan was to sail non-stop to Ft. Lauderdale to avoid having to check back into the United States in Florida, where formalities wouldn't be nearly as cruisy as in Cruz Bay.  Looking at the long range weather forecast, we had about a 4-6 day window in which to cover about 1000 miles before a weather system moving eastward would serve up headwinds for the last part of the passage.  We decided to save the New Year's Eve celebrations for later and head out at first light the next day.  Although we were awakend by all the noise, hoopla and fireworks at midnight, we managed to get a good rest and head out past the old fort at the entrance to San Juan Bay just after sunrise.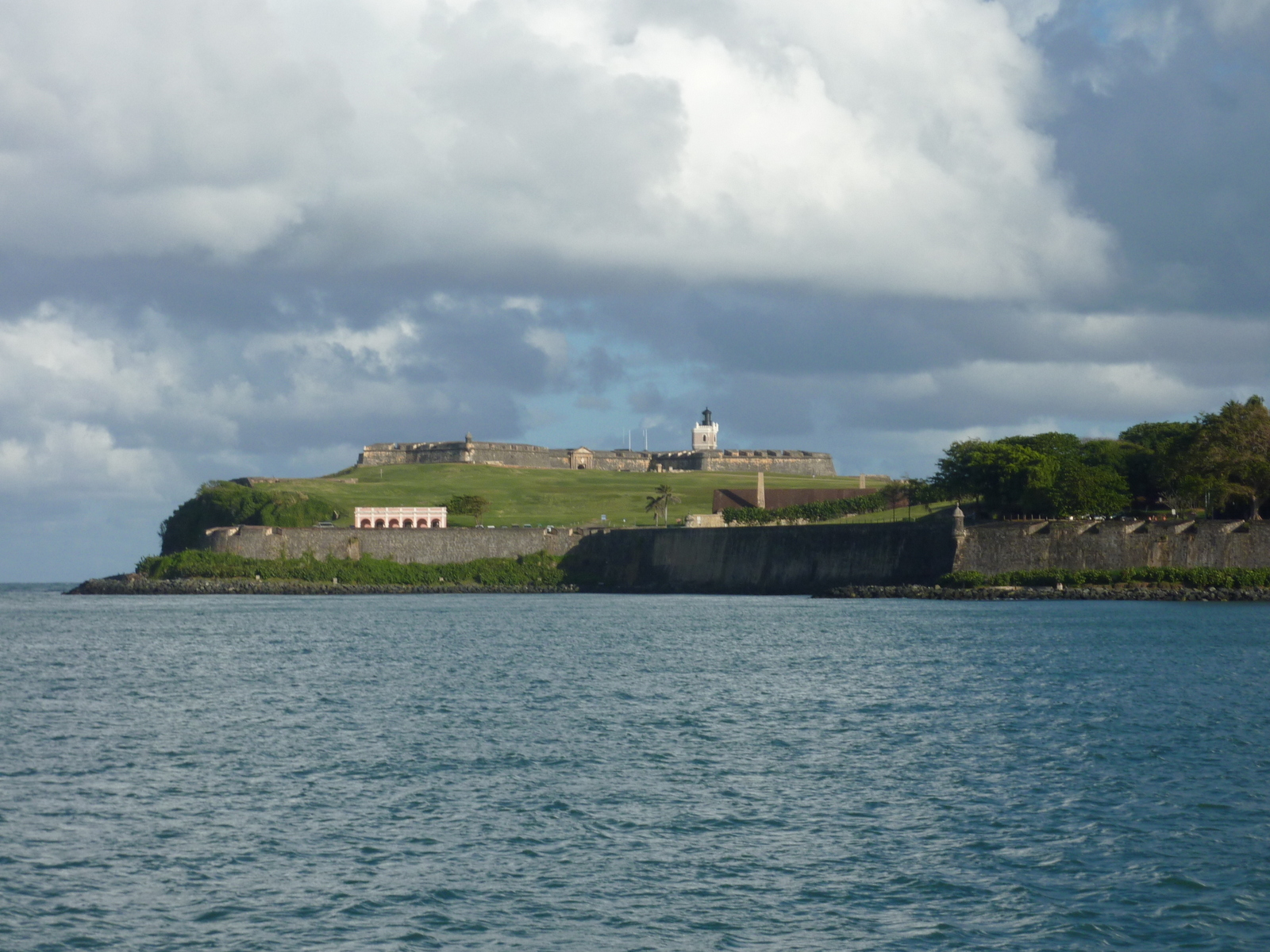 The old fort at San Juan, Puerto Rico
As we headed out into the open sea, we were met with a 2-3 meter swell and a fresh NNE'ly breeze.  We moved along nicely all day averaging 9-10 knots while getting drenched by a never ending march of rather gentle squalls.  By late evening, we could see lights from the Dominican Republic.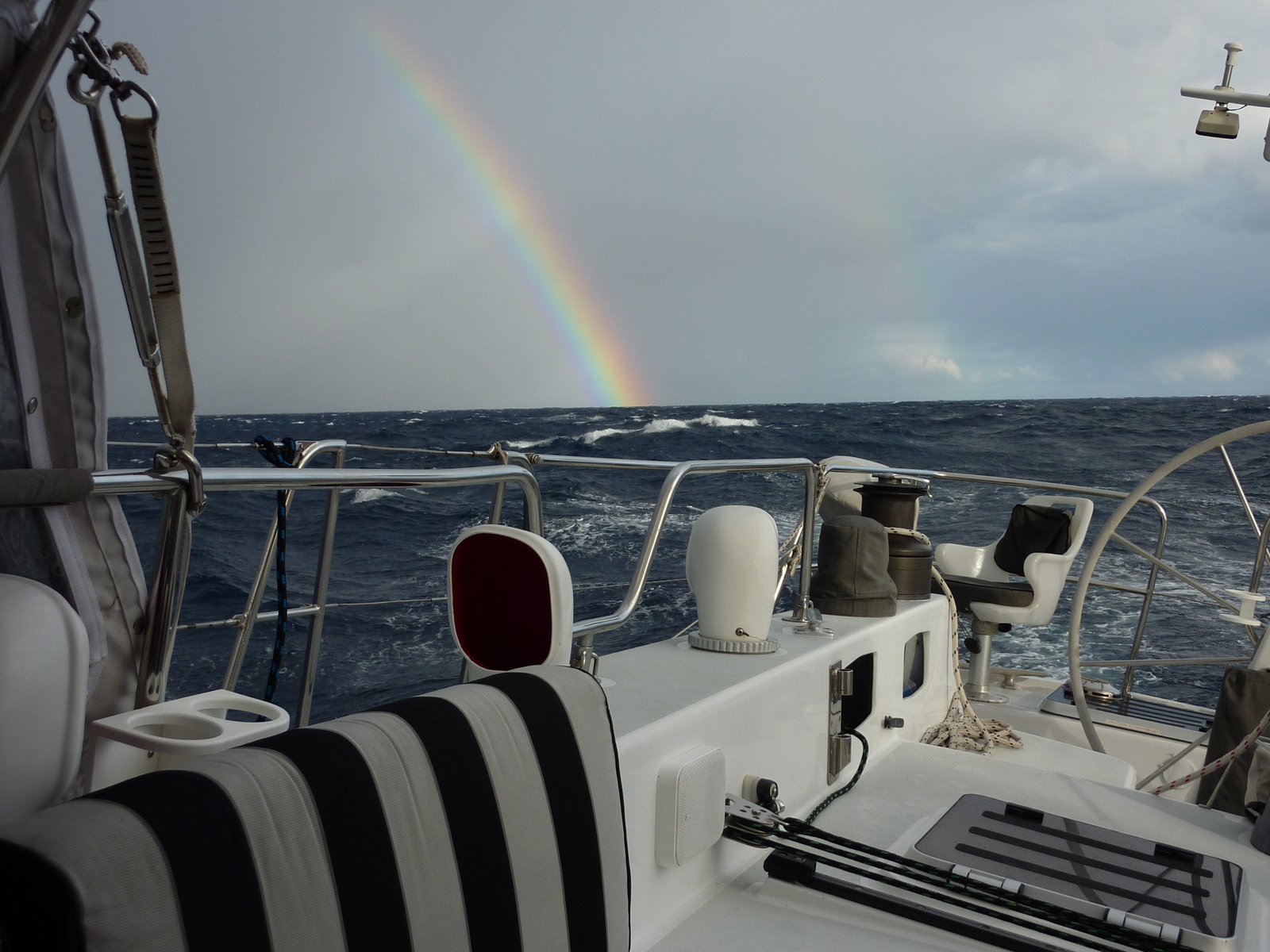 The squall passed, leaving an intense rainbow
Our original course was to sail NW in the Old Bahama Channel and till we reached the Gulf Stream off the east coast of Florida, and then slingshot north to Ft. Lauderdale with the current under us.  Our plans didn't exactly work out as the wind took a big rightie, shifting all the way to the SE.  In order to avoid sailing dead down wind (slow) or having to make repeated gybes in a busy shipping lane (dangerous), we changed course and sailed north, leaving most of the Bahamas to port and giving us a much better wind angle.  We had excellent sailing conditions for the first three days of the trip, logging 223 mile, 198 mile and 198 mile daily runs respectively.  We even had the kite up for a few hours as the wind dropped down under the ten knot mark.   After 650 miles of non stop sailing, we ended up motoring for a day in light winds and flat seas.  On the last afternoon as we headed west towards Ft. Lauderdale, the winds clocked to the west and began to build just as we were leaving Grand Bahama Island to starboard.  We took a tuck and began motor sailing straight across the Gulf Stream.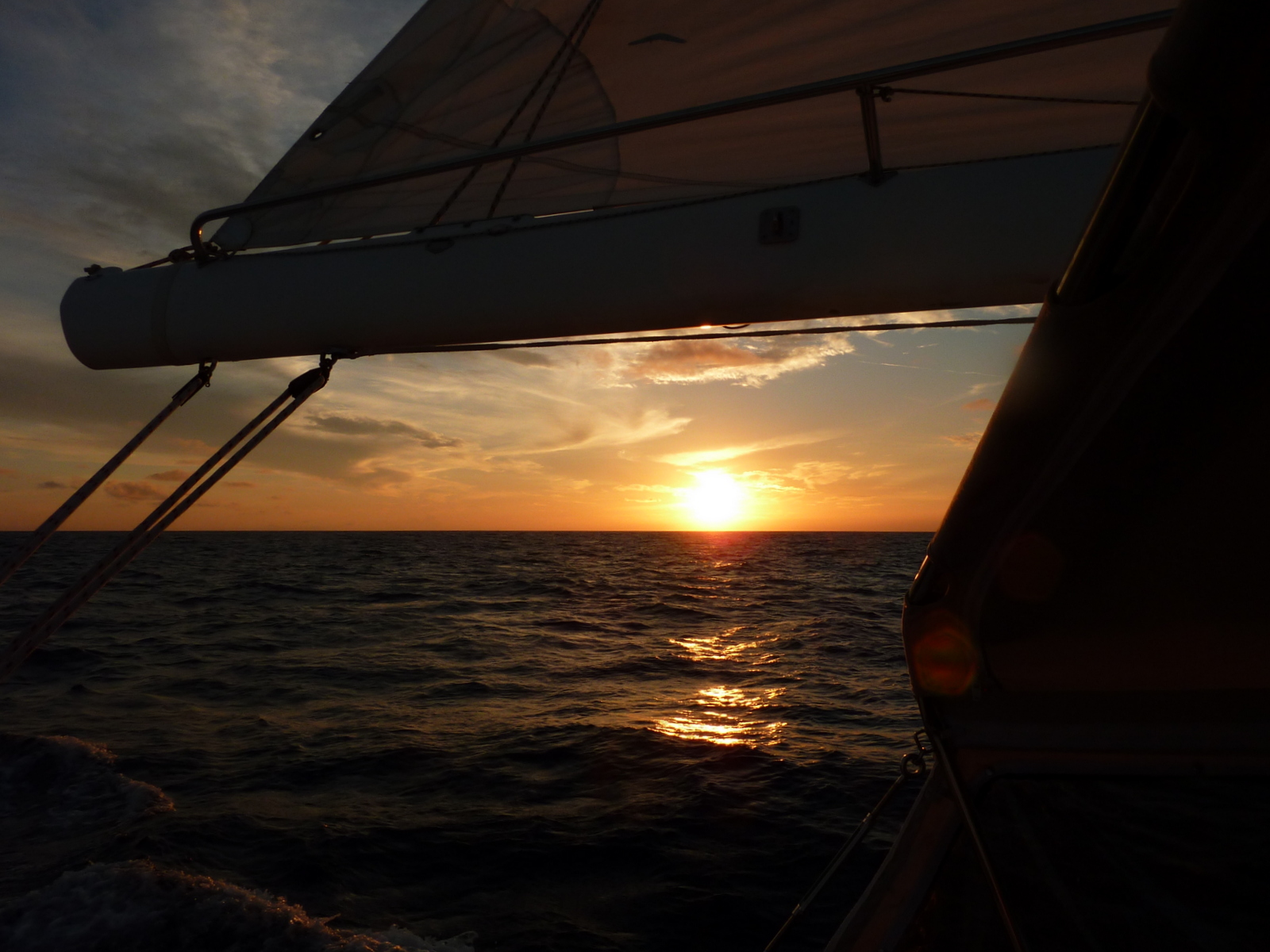 Red sky at morning, sailor take warning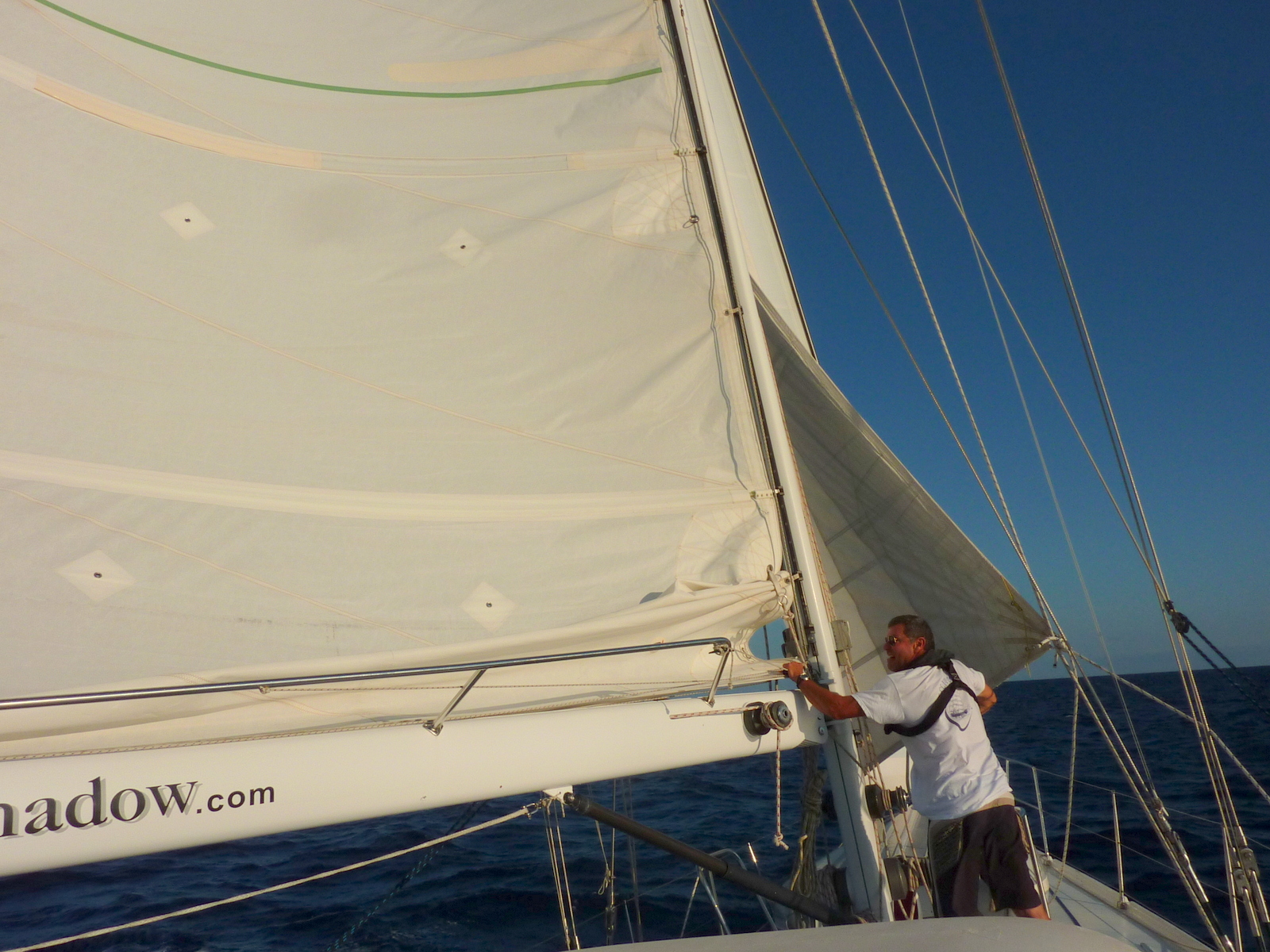 Preparing for the westerly blow, we put a tuck in the main.  Notice that we're hove-to, making going up on deck to take a reef a safer and easier job.
Our last night at sea was none too pleasant as we motor sailed against 15-20 knot winds and short steep seas.  The Gulf Stream slowed our progress to 4-5 knots at times and in the middle we had a 25-35 degree crab angle againt the current.   By morning it all calmed down as we made landfall and closed in on Ft. Lauderdale.  At approximately 1030 hours on January 6, we passed under the 17th Street Bridge and closed the loop on the circumnavigation George started there in November of 1994.  This would also finish the cruising season we had started nearly eight months earlier in Tunisia.  For the season we visited 10 countries and logged more than 7,000 nautical miles, 4,000 of which we were two-handed.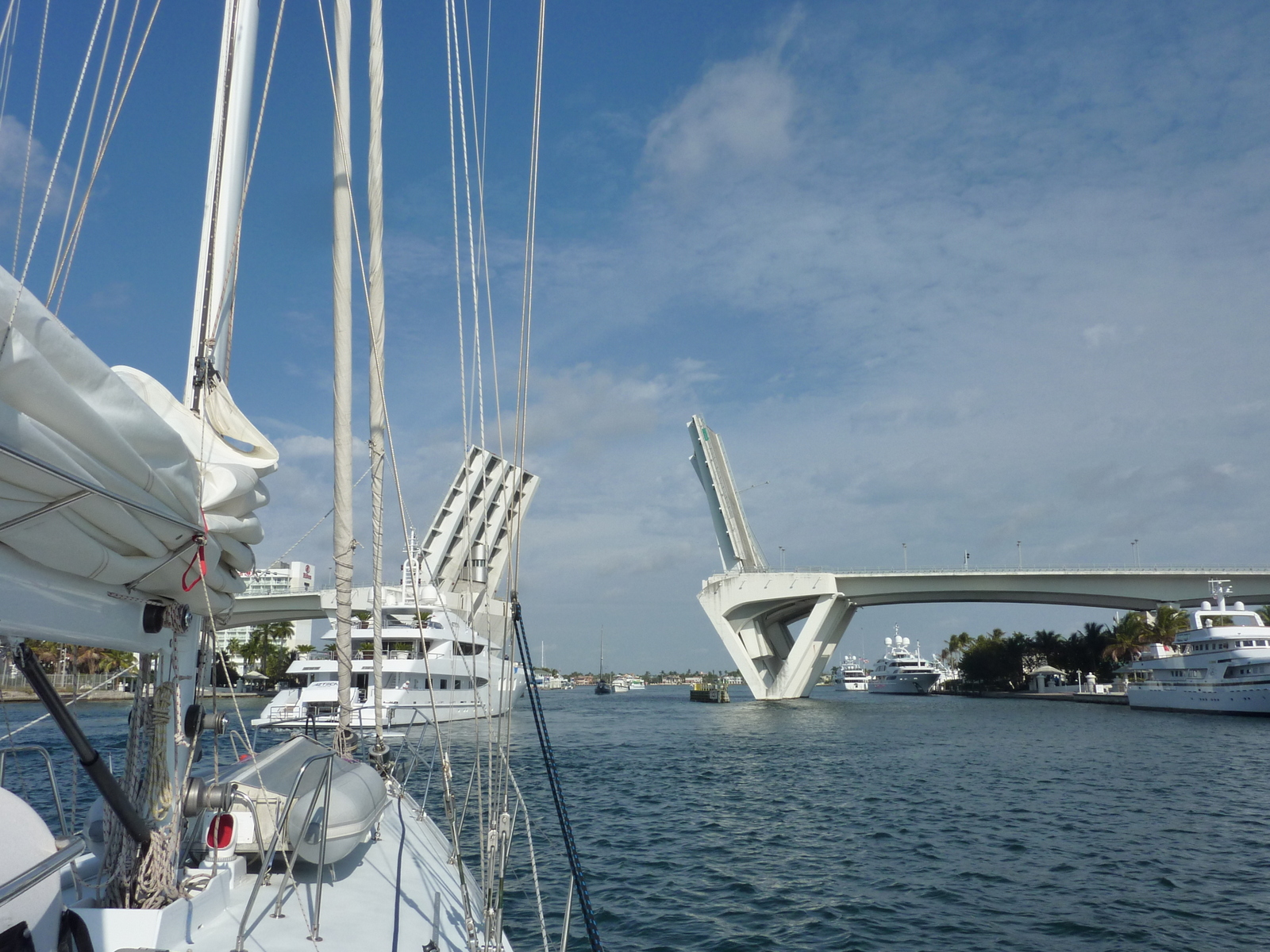 Heading under the 17th St. Bridge in Ft. Lauderdale
We topped up the fuel tanks and then headed up the New River through four more draw bridges to "Marina Miguel" a slip behind the home of an old sailing buddy.  Next door is a stately old waterfront home that was once a speakeasy owned by Al Capone.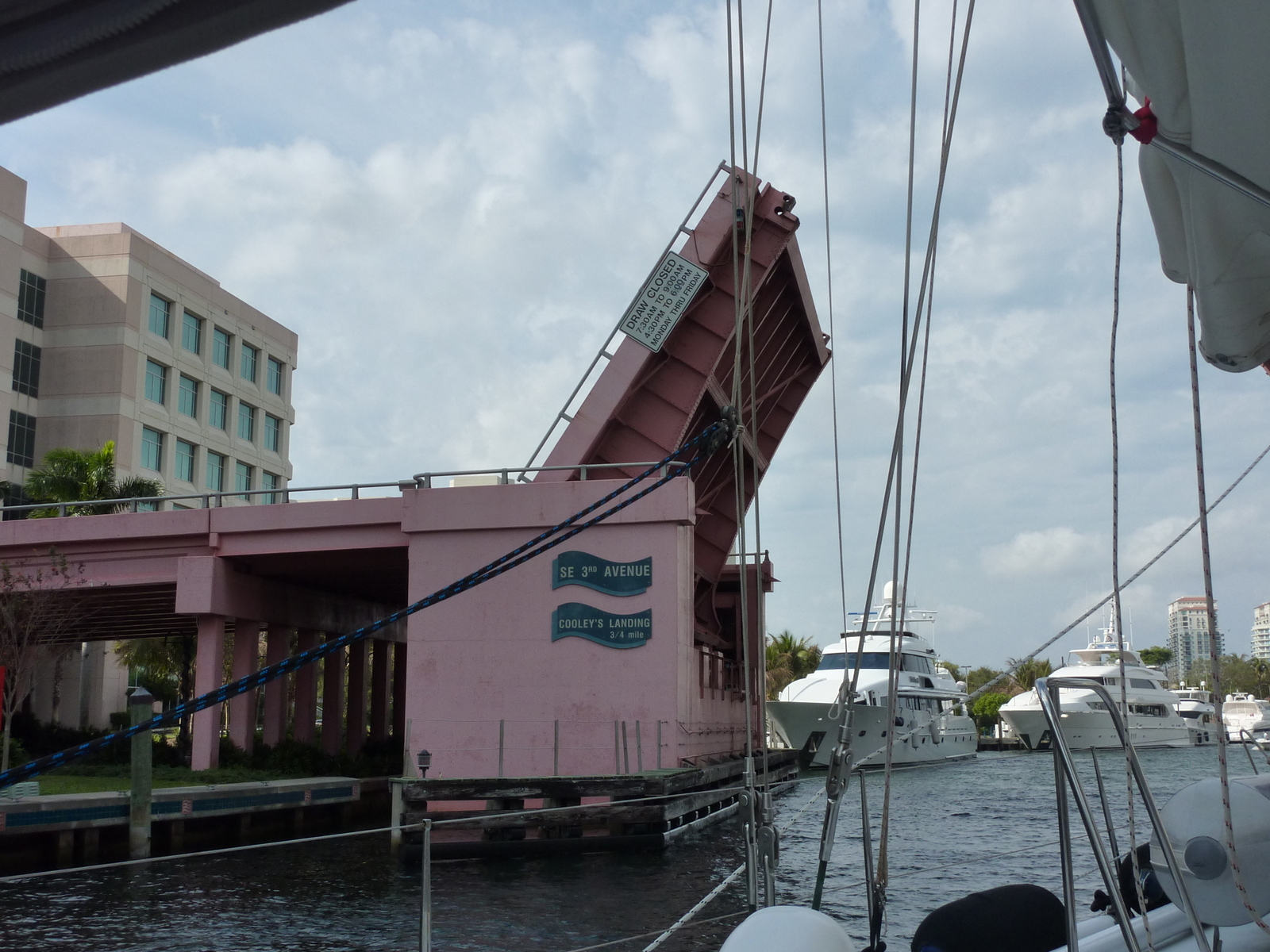 One of the many draw bridges on the New River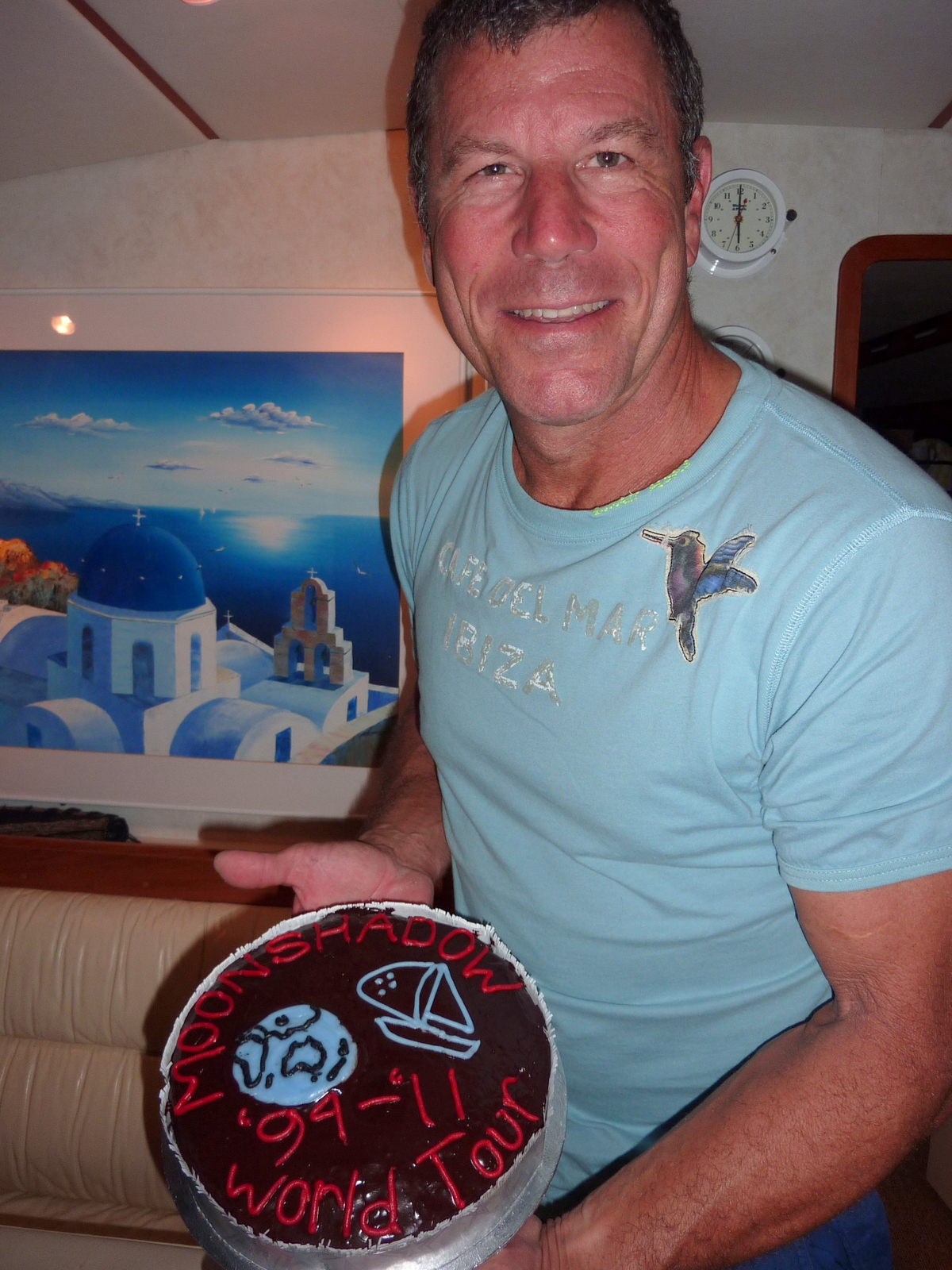 The cake Merima baked to celebrate Moonshadow's 16.5 year "world tour"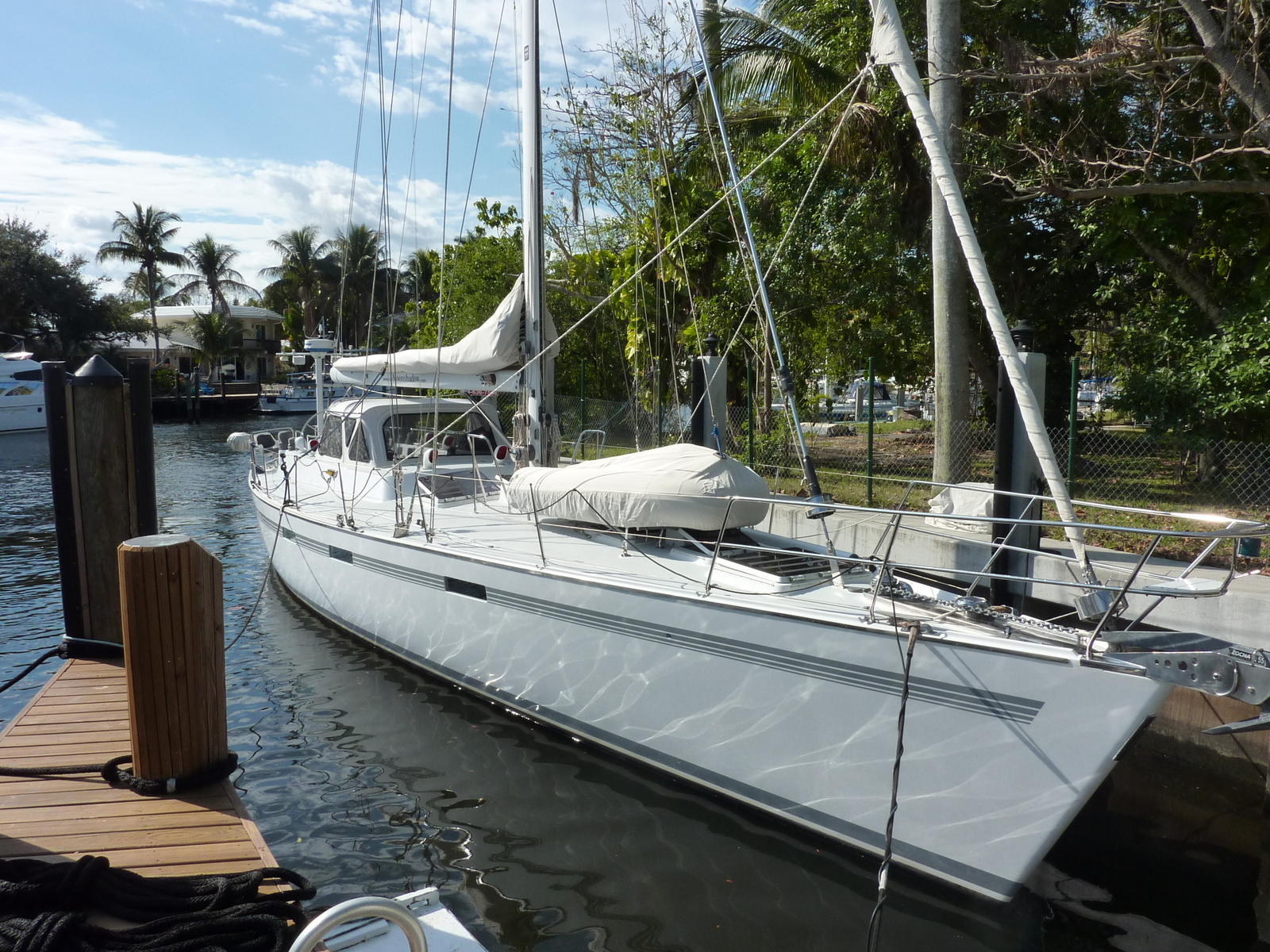 Moonshadow tidied up and at rest at "Marina Miguel"
Ft. Lauderdale is known as "the Venice of America" due to its extensive river and canal system inland of the Intracoastal Waterway.  There are over 40,000 boats in residence in 100 marinas and boat yards, and on private docks behind waterfront homes.  Up stream from us are a couple of megayacht yards.  Navigating the narrow river is difficult for some of the 100+ footers so they are towed up by a small tug boat, with another tug boat pulling the other direction from behind to keep the stern from swinging into boats moored along the river.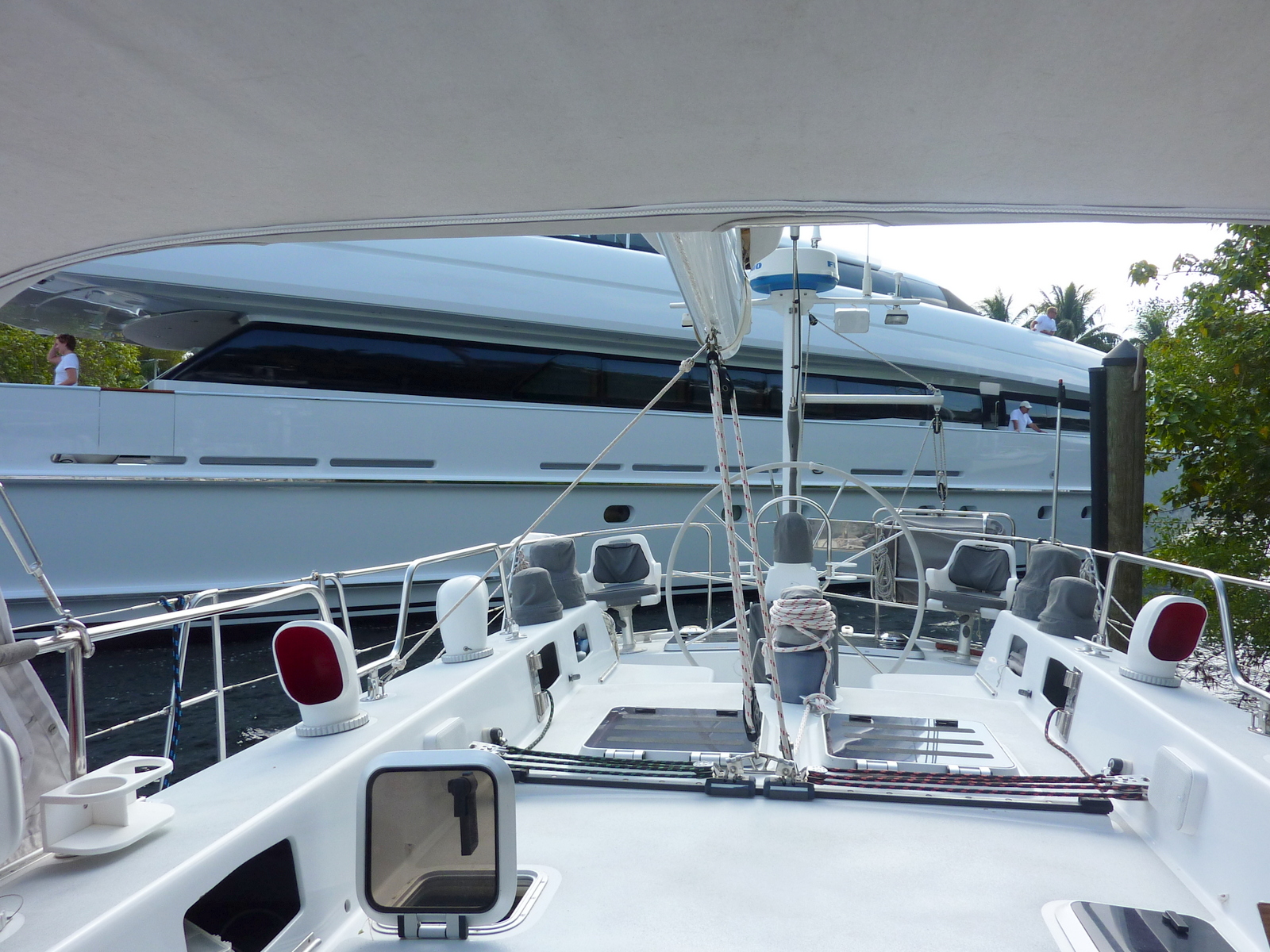 A mega yacht is towed up the New River to one of the boat yards.
We launched the dingy and took a couple cocktail cruises up and down the river after a hard day's work putting  Moonshadow away for the season. The are a lot of beautiful, unique and interesting properties and boats along the rivers and canals, but this one takes the cake, or should I say muffin.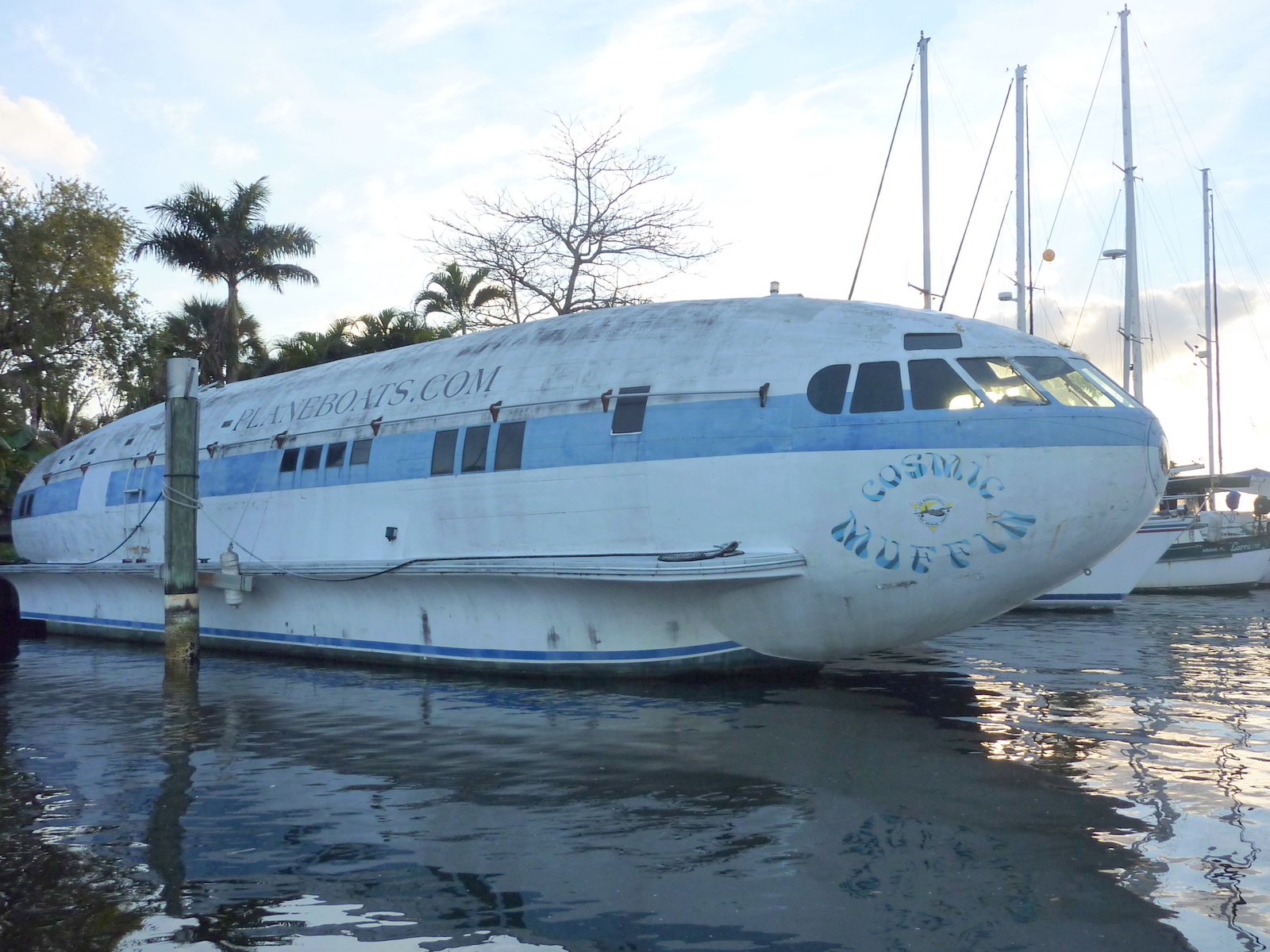 The half boat, half airplane Cosmic Muffin
The airplane was apparently a private plane owned by the late Howard Hughes for his personal use.  It has been attached to a boat hull and is available for charter.
We've flown home to Auckland for the southern hemisphere summer, but will be back on board Moonshadow next season if she is not sold.  Our loose plan is to cruise up the East Coast and take advantage of her ICW friendly rig along the Inracoastal Waterway.