A year ago, the island of Cyprus was barely on our radar screen and now we love it there! We had intended to spend a week or so before moving on to Greece, but in typical fashion, a week turned into nearly a month.
We arrived in Larnaca on the evening of May 30 after an uncomfortable overnight passage from Port Said in Egypt. We anchored outside the Larnaca Marina, as the officials finish work at 1330 hours and charge $60 US overtime charge to check in an arriving yacht after hours. (I can't get my head around why they charge US$ when their currency is the Cypriot Pound) Shortly after we anchored, a wicked swell started coming in from the east, rolling us on our beam ends. We set our "flopper stopper" but it was only marginally effective for awhile, and then one of its lines broke, erasing our hopes for a good night's sleep.
The next morning we came into the arrivals area of the marina, and med-moored to the bulkhead. Checking into Cyprus was exceptionally easy, as all the officials; marine police, customs and immigration have their offices located in the same building as the marina's harbormaster. Everyone was professional, efficient and courteous and check-in took less than an hour. Half of that was taken up by an impromptu history lesson on Cyprus given to me by the friendly marine police officer and the immigration official.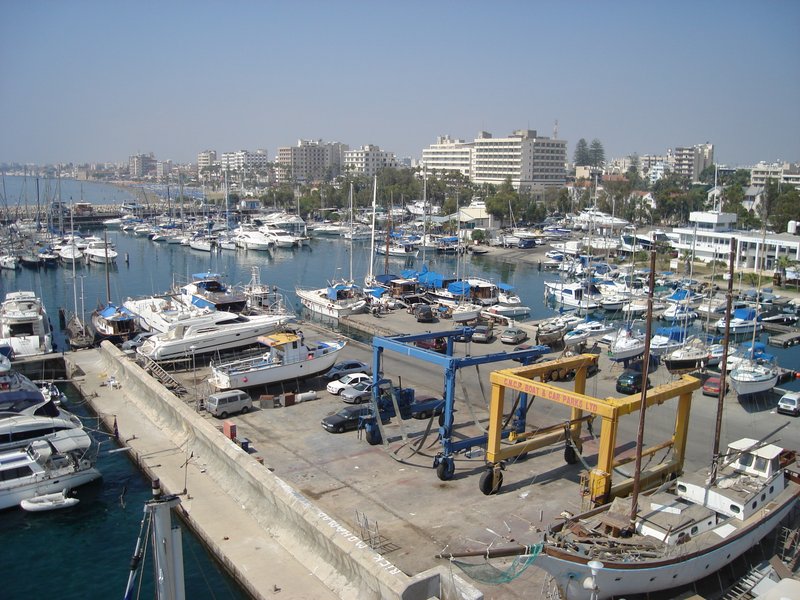 Masthead view of the marina at Larnaca.
We were happy to be in the Med, happy to be in a marina that wasn't a dust bowl, and ecstatic to have an endless supply of FREE WATER. After checking in, we undertook the huge task of removing the accumulation of Red Sea dust, knowing, well hoping, that it could never get that bad again.
We spent the better part of our first five days in Larnaca cleaning Moonshadow from stem to stern, top to bottom, inside and out. We washed off lines, sails, gear, emptied out and cleaned lockers, and rinsed dirty bilges. Merima spent over two hours aloft in the bosun's chair, with hose and brush, washing the mast and rigging, sending cascades of cocoa-brown water onto the decks and into the sea. She actually volunteered for this task-what a studette! If Moonshadow wasn't floating higher in the water after removing almost all the dirt and grime, she certainly looked the best she had since we began our journey across the Indian Ocean.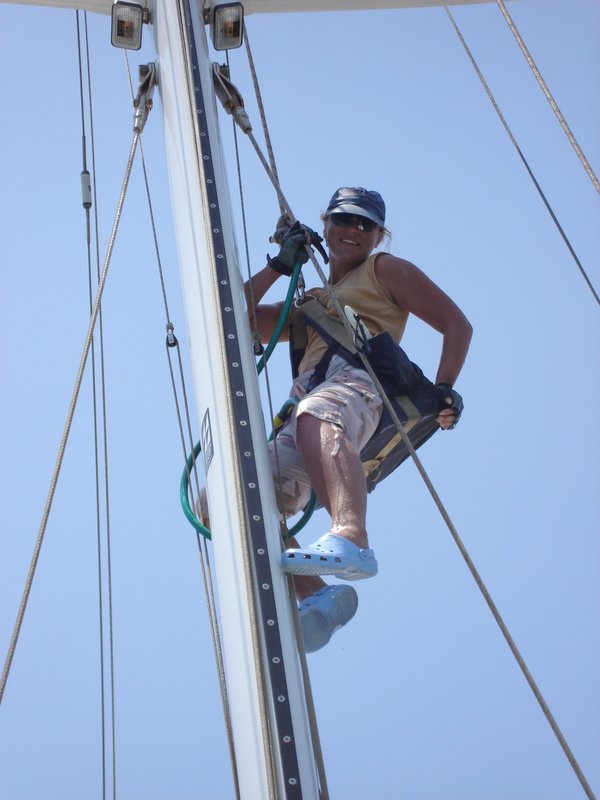 The Admiral aloft, cleaning the rigging.
After each hard day's work we chilled out in the lounge of the nearby Cyprus Offshore Yacht Club, watched the Louis Vuitton Cup on their big screen, and enjoyed a few cool bevvies including Cyprus coffees and the local brew, a strong and flavorful beer called Keo. It was great to watch the Kiwis kick some butt on the water and afterwards head out on the town for a bit of night life.
We enjoyed a few meals out in the very lively resort town of Larnaca, just outside the gates of the marina. It was great to be back in the first world with trendy cafes, groovy bars, classy restaurants, wine lists, house music, well dressed people promenading along the waterfront, and real nightlife. We found the Greek Cypriots were most hospitable and invariably at the end of a meal, we were treated to a plate of fresh fruit and an after dinner drink on the house. Our favorite restaurants were the 1900 Art Café (excellent wine list and starters), just outside the marina, and the Cyprus Offshore Yacht Club (killer meze platter) in the marina.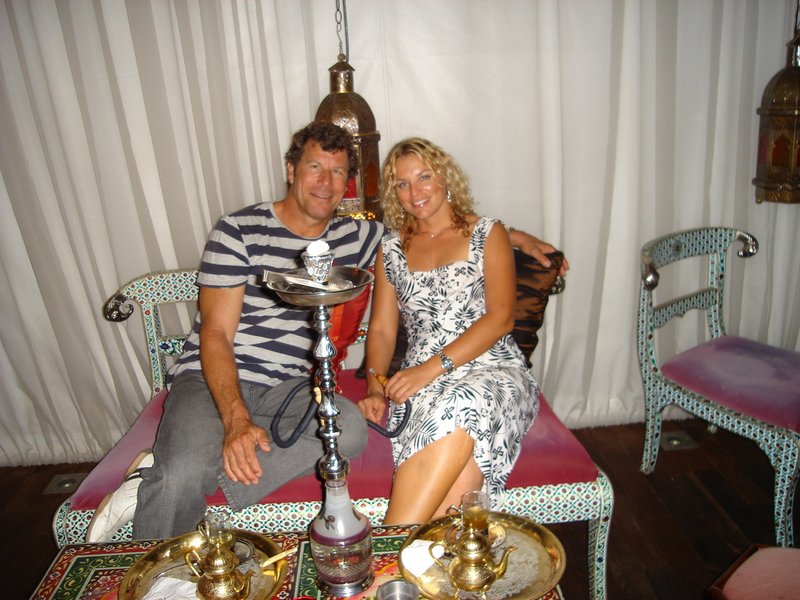 At a Middle Eastern night club in Larnaca.
After being on the go for the past two months, we were happy to just be in one place for awhile, to catch our breath and get caught up on all the niggly little things that needed to be done on the boat. We took some time to order in a few spare parts and enjoy a bit of the local culture.
I was able to get boat parts from overseas into Cyprus duty free. The process was not particularly difficult, but it was time consuming and required the services of a rather expensive "clearing agent." Having a bicycle for the trip out to the Customs warehouse at the airport was helpful, and a car would have been even better as it was a bit of a challenge riding with a huge box balanced on my handlebars.
If Larnaca Marina is a bit rough on the edges, the staff are most friendly and extremely helpful the facilities are basic but adequate and the fees are very inexpensive if you can get a berth. The best part is the proximity to town which makes it an excellent place to hang out and get some boat work done or winter over. After a week or so, it began to feel like an old deck shoe-not too flash, but about as comfortable as it gets. Most of the town of Larnaca can be accessed on foot or by bicycle. We never used a taxi, but there are plenty available. There are a couple of small chandleries in town, excellent hardware and fishing gear stores, and a very nice Carrefour that had everything we could ask for in the way of provisions. Across the street from Carrefour was a fresh fruit and veggie store that had an excellent selection of beautiful fresh produce, herbs, spices and coffees. We ordered a part from another town on the island and found the local courier system to be very fast, efficient and inexpensive.
It took us a week or so to get used Greek Cyprus' business hours. Most businesses excepting restaurants are open early in the morning from Monday through Saturday and are closed on Sunday. They usually have a "siesta" for a couple hours in the warmest part of the afternoon, usually from around 2pm to 5pm, and then stay open till 8 or 9 pm, sometimes later. Almost all businesses close on Wednesday and Saturday afternoons and don't reopen for the day, so that doesn't leave much time on the weekends for shopping. We found that weekday mornings to be the least crowded.
After we had finished our cleaning and boat projects, it was time to play tourists and see a bit of Cyprus. We hired a little car for three days (that's the minimum) and did some touring around the island. Being a former British Colony, Cyprus has similar road rules and we found the roads to be very good, well marked, generally free of traffic and fairly easy to navigate, except in the small villages. The Cypriots tend to drive rather fast, so cruising along at the speed limit, 100 kph/62 mph, we were usually the slowest car on the road.
On our first day we headed west to the port city of Limassol where there is a modern marina and some yacht facilities that we wanted to check out. Limassol is a sprawling beach town that struck us as the sort of place that squillions of tourists from Europe and Northern Asia come for their annual holiday. The primary activities appear to be acquiring a wicked sunburn during the day and then killing the pain at night in one of the countless bars, pubs, tavernas, night clubs and discotheques crammed along the waterfront.
Limassol didn't rate as much more than a coffee stop for us so we headed north on one of the wine trails towards Troodos, a resort town located in the mountains in the center of the island. The foothills were rather dry, the soil chalky-white, and many of the hillsides were terraced for the cultivation of olive trees and vineyards. We passed through a handful of picturesque old villages with cobbled streets so narrow that even the smallest of cars had trouble passing. Just outside of the village of Pano Platres we popped into a winery to sample some of the local drop. This isn't exactly the Napa Valley, so we were the only ones there. The owner gave us a personal tour and tasting, and afterwards gave us a sample of his home made zivania. We purchased a few bottles of wine, and of course, he threw in a small bottle of zivania, on the house.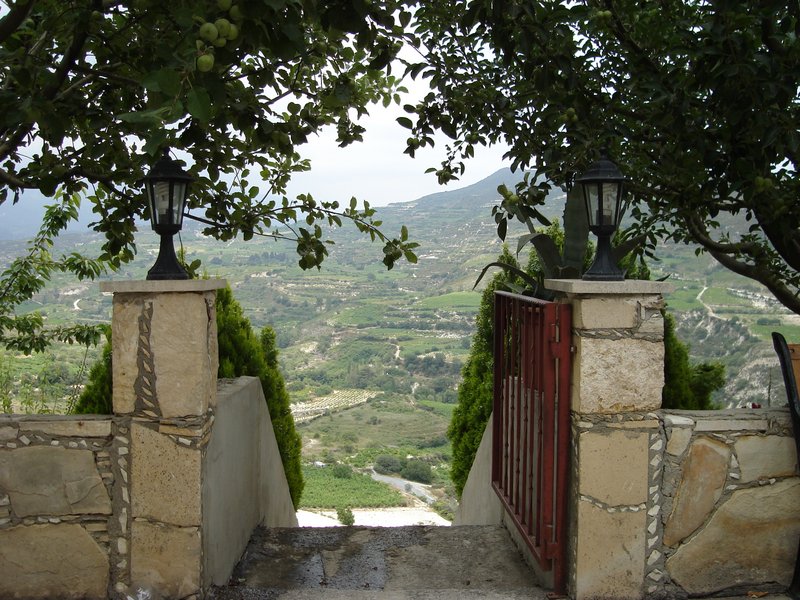 Cypriot wine country.
Cyprus produces some very nice wines, and the prices for good bottle range from about $4 to $6 US. They also make some very nice V.S.O.P. brandies, and their own "fire water," zivania, which is similar to grappa. Zivania is sold everywhere, is very inexpensive and could probably double as stove alcohol, paint remover, parts cleaner or even outboard motor fuel for those requiring all items carried aboard to have multiple purposes.
Up in the mountains, the temperature cools down comfortably, the landscape turns to pine forest and the beaches have been replaced by spas. We had lunch in a small village and spent the afternoon meandering around the area before returning to Larnaca.
Our second day outing was to the capital city of Nicosia, about a 45 minute drive from Larnaca. Nicosia is a very pleasant, modern and cosmopolitan city situated in the center of the island. The climate was warm and pleasant and the people there were very friendly. We spent most of the day wandering around the old walled city center, with a district where many of the narrow streets are closed to vehicular traffic. There are a host of shops and cafes housed in quaintly restored old buildings, and it appears that the gentrification process is spreading though out the rest of the old city.
Northern Cyprus remains under Turkish military occupation, and part of the "border" passes right through the city of Nicosia. While Cypriots can apparently move freely from one side to the other through various checkpoints, and the two sides are living harmoniously, there are rather ominous barricades across the streets bisecting the line of demarcation. One café near "the wall" has taken a rather tongue-in-cheek approach and calls itself Berlin.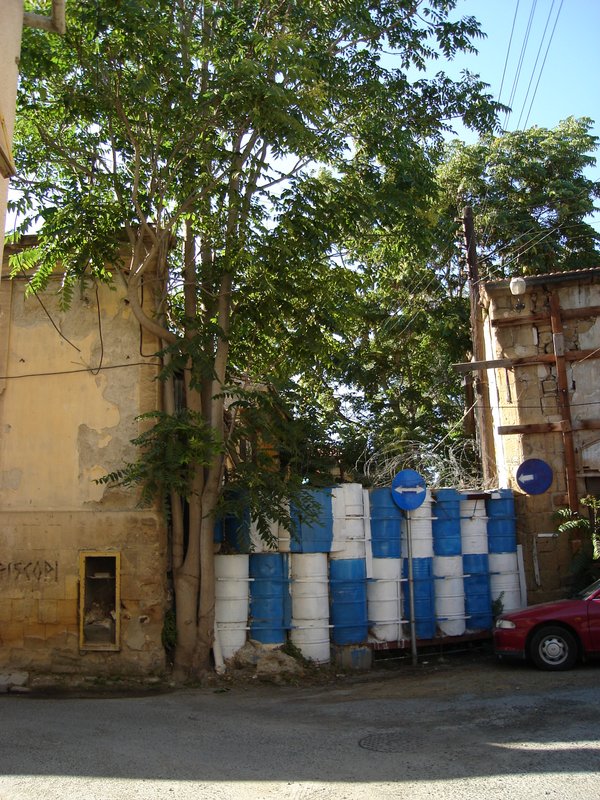 The border wall.
On our last day's outing, we headed east to the town of Agia Napa, Cape Greko and up the east coast along Fig Tree Bay. While the rocky coastline is quite spectacular, we found Agia Napa to be a tackier version of Limassol. Other than an old monastery located in the town center, the tourist sprawl has overtaken whatever local charm may have existed. Out at Cape Greko, driving down a small side road, we caught glimpse of some beautiful rock coves that made for quintessential Mediterranean anchorages-rugged landscape, azure blue water, beautiful yachts at anchor, and people out having fun in the sun. Fig Tree Bay is rapidly being developed with resorts and apartments and looks to be on track to follow Limassol and Agia Napa.
Having seen and done most of what we wanted to do in Cyprus, we finally ran out of excuses to hang around Larnaka, so we checked out and headed west. We made a short hop and anchored in the lee of the commercial port in Limassol for the night, continuing on the following day to the ancient town of Paphos on the west coast of Cyprus. We were able to get a med mooring in the very small and crowded harbor, mostly occupied by local fishing and tourist boats.
The harbor itself is a tourist attraction and on one side there is a row of indoor/outdoor restaurants and tourist shops. One day when we were passing through this area on our way to town, we came upon two very tame and very large pink pelicans. One of them walked right into one of the seafood restaurants and started poking his bill into a display of fresh fish on ice. I suppose this was some sort of an endorsement, but I sure would not have wanted to mess with one of those huge beaks.
While Paphos is a full-on resort town, its ancient harbor and surrounds are listed as a World Heritage site. Judging by the number of people we saw visiting the archeological site, we reckoned that soaking up rays was the preferred activity to soaking up culture and history. We spent an entire morning visiting the site next to the harbor, admiring the beautiful and intricate floor mosaics dating back to the 2nd and 3rd centuries A.D., an ancient Roman amphitheatre and a quaint old lighthouse before the heat of the day drove us to find some shade and a cool refreshment.
Exploring the archeological sites in Paphos.
Paphos is quite a party town with a lively "bar street," lined with pubs, clubs, restaurants and cafes of all persuasions. We had a couple of meals out which were both excellent, and we managed to find a nice bar/restaurant with a big screen and Sky TV where we were able to watch the first two races of the America's Cup with commentary in English.
On our last afternoon in town, we picked up a few provisions at an excellent grocery store near the harbor, checked out of Cyprus. The following day we took advantage of a lay day in the America's Cup racing and made an overnight dash to the port of Rhodes in the Dodacanese group of islands of Greece about 225nm to the west.