We arrived in Turkey at the Milta Bodrum marina on the morning of August 5th after a ten mile hop from the island of Kós in Greece. The marina staff was most accommodating, finding us space without a prior booking, sending a pilot to guide us to our berth and hand us the bow mooring line, and another attendant to catch our stern lines. This was such a contrast to our experience in Greece, where yachties seem to be more of an irritation.
Milta Bodrum marina is truly a five star facility, with a yacht club, beach club, gym, haul-out facilities, a row of marine related businesses, WiFi, power, water, and of course, high prices and high density. Most of the marinas in the Mediterranean use med mooring and are quite crowded, and since there are no marina fingers between boats, one is often touching fenders with their next companionway neighbors. On more than one occasion we caught the smell a bottle of raki (the Turkish drink of choice, an anise flavored brandy similar to the Greek ouzo) being opened one or two boats down. Not exactly the sort of space and privacy we were accustomed to. The other interesting thing is that mooring rates are based upon the space the vessel occupies, in other words, overall length x beam x the rate per square meter, which probably works in our favor since we are narrow for our length. In any event, we enjoyed a bit of marina time where we could give Moonshadow a much needed tidy up, catch up on some minor repairs and maintenance, and walk the docks to see who and what was around.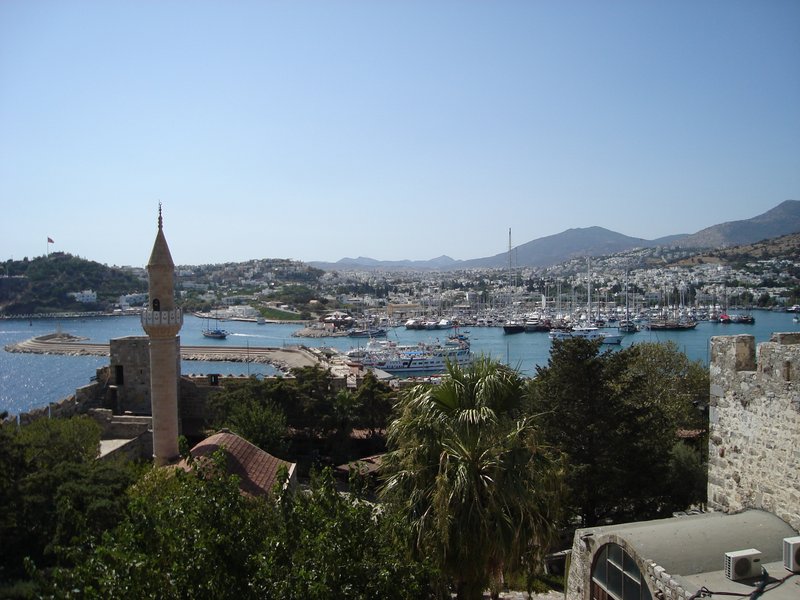 View of the Bodrum Marina from the castle
After a big bubble bath for the boat, the next order of business was to repair our working jib after our little Míkonos mishap. I contacted Seagull Sails in Bodrum and the following day, Yener, the owner came out to have a look at the sail. He told me that he had been taking some time off to recover from a back injury, and that his staff were on holiday, but that if we would assist him in the loft, we could repair the clew and replace the UV patches on the leech and foot of the sail.
The next morning Merima and I reported for work at his loft, a short walk from the marina. Yener and his friend Alain from France greeted us and we began work on the sail. The both of them were aging hippies who enjoyed classic rock and blues music, and telling stories of all of their worldwide adventures and exploits during their misguided youths. As a teenager, Yener designed and built his own sailboat up on the Black Sea, and then took off to sail the Aegean Sea. Finding the weather and bohemian lifestyle in Bodrum more to his liking, he settled there. Alain has traveled the world, working along the way at jobs from lumberjacking in California to going on the road with some of the world's top rock-and-roll bands. He's now settled into life as a charter boat skipper-a suitable match to his affable personality and free spirit. Working about three half-days, we got the sail back in good shape and made fast friends with Yener and Alain.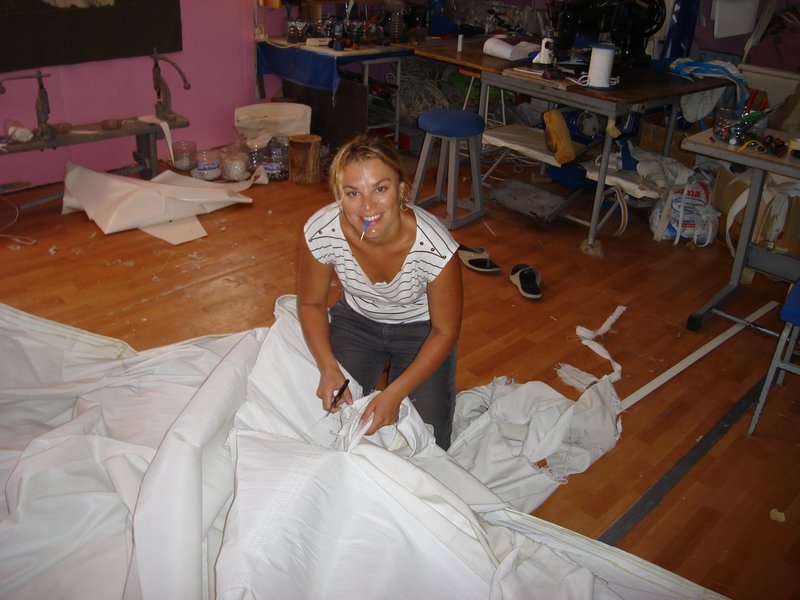 Merima at work on the jib
We all shared a few inexpensive and good lunches at the Bodrum Offshore Yacht Club and a few rakis in the evenings on Yener's boat, Yener in the marina, now forty years old and still looking great, while swapping lots of jokes and sea stories.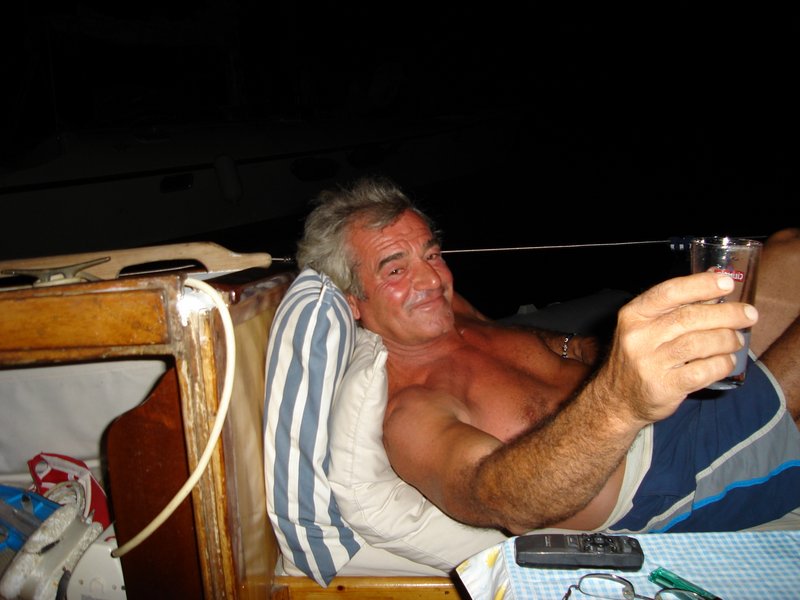 Enjoying a raki with Yener on board his boat.
We discovered that Bodrum had one of our favorite grocery stores, Carrefour so made a trip up there to get some provisions. While not the best stocked Carrefour we'd been to, it did have one very unique feature. When they were excavating to build the store, they discovered an ancient tomb in what would be a corner of the building. The tomb has been preserved for all to see and appreciate as they peruse the bakery section of the store.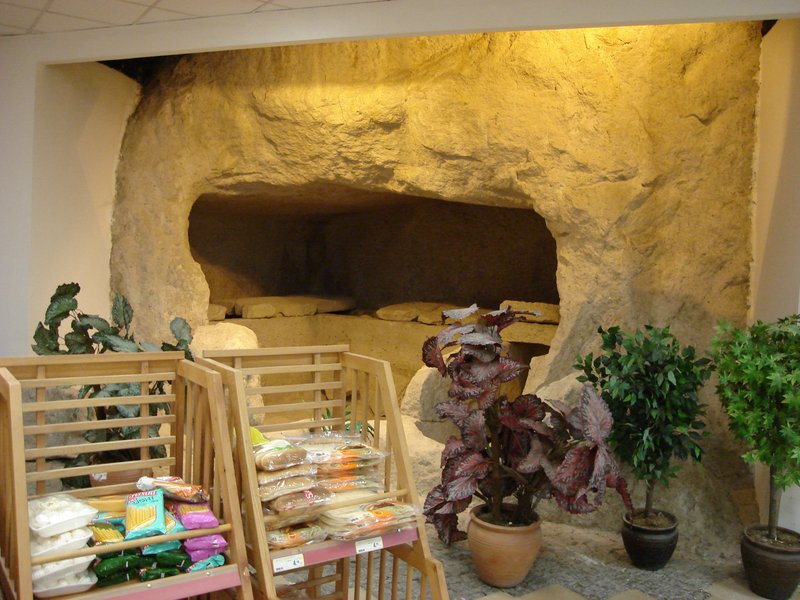 An ancient tomb in Carrefour
The Bodrum Offshore Yacht Club looked to be a bit of a happening place at night so we tried a dinner out there. Totally unfamiliar with Turkish wines, I asked our waiter for a recommendation. In a rather cheeky move, he picked the most expensive bottle on the menu at about $100 US. I was tempted to ask him to describe to me in detail the characteristics of the wine, but thought better of it and suggested we'd try one of the house wine selections. It turned out to be just fine and was a fraction of the price. The meal was fine, but it seems the Turkish were trying just a bit too hard on the service. At times we felt our table was in the middle of a dance floor full of whirling dervishes. It was anything but a quiet and relaxing meal, an experience we would also have at a few other Turkish restaurants. The lesson we learned: get a table way off in a quiet corner of the restaurant.
Bodrum is the home base for many of the local charter boats, called gülets. The gület is a sturdy craft based upon a traditional Turkish style sailing ship, modified to accommodate charter guests. They are hand crafted of beautiful woods in the old boatbuilding style. Most that we saw were glistening with varnished inside and out and showed exquisite attention to detail. The sizes range from about 40 feet to well over 100 feet. They usually have a large open deck area forward covered in cushions for sunbathing, and a large covered lounging deck aft with spacious cushions and pillows fit for a sultan. Depending on the size and quality of the vessel, one can charter a gület for cruising the coast of Turkey and Greek Isles for anywhere from €350 a day for an average one, to €3500 a day for something that is nothing short of spectacular, with all the mod-cons; water toys, silver service, sat-com and even dozens of "pool lights" in the bottom of the hull so that it looks as if the boat is anchored in an aquarium.
While the gület drivers were generally pretty skillful and courteous, the gület's massive diesel engines were generally quite noisy, and they required a fair bit of horsepower to maneuver these behemoths into and out of marinas and tight anchorages. There's nothing quite as intimidating as having one of these 100-ton monsters drop a fisherman style anchor and then back into a med-mooring space 20 feet wide when it's easy to see that their beam is at least five feet more than that. We got used to "all hands on deck" to fend off when we heard the throaty roar of the gület's engines and the clanging of the anchor chain paying out.
In Bodrum we were berthed next to a privately owned gület that left the marina every morning and returned around sunset. The skipper was a master at moving the boat in and out of the tight space and we never had any dramas. The owner, a boat builder, and his family, from Istanbul, were very friendly, often engaging us in conversation and even sending over a plate of dessert for us to enjoy one evening.
Somewhere in Greece, probably Pátmos, we acquired a stow-away. A rather chirpy cricket had taken up residency in the forward-most dorade vent box. Shortly after sunset each evening it would start slowly chirping, and continued on steadily through the evening. At first it was rather quaint, but then became a bit irritating, and were afraid we might disturb the next door neighbors. Whenever we would get close to the vent, it would stop chirping, only to slowly resume when we went back to bed. I tried flushing it out with water, and even sprayed some insect repellent into the dorade, with no luck. He managed to get hunkered down in the perfect position to avoid my assaults. After a week or so, I finally caught the little guy wandering around in the open and quieted him down, once and for all.
During our stay in Bodrum we spotted a number of unique and interesting boats in the marina, among them another Deerfoot 62. We popped by to introduce ourselves and were invited aboard Astra for a look around. She'd recently been through a paint job and refit and was looking beautiful. We enjoyed sundowners later aboard Moonshadow with Mary and Michael, the owners from Chicago, and crew Eveline and Peter from Austria.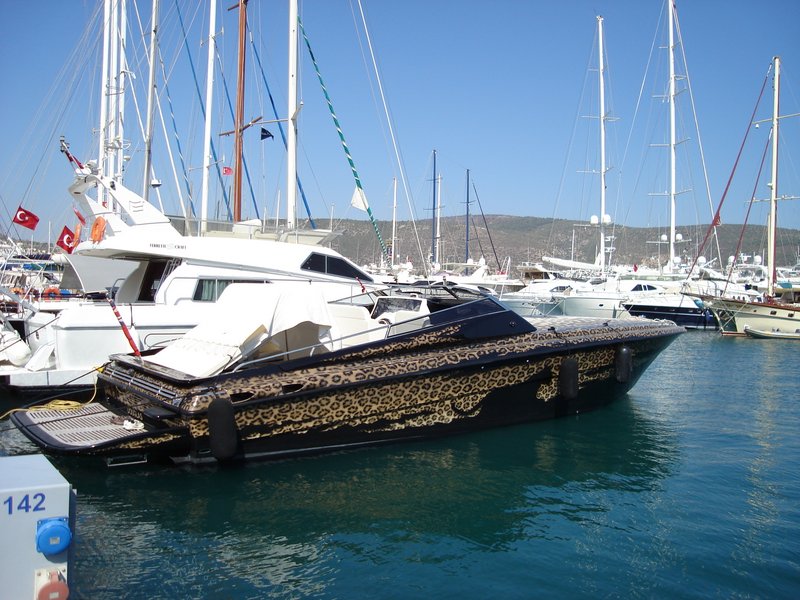 An interesting looking boat in the Bodrum marina
We'd gotten all we'd wanted done in Bodrum so started working our way along the Carian Coast. On the recommendation of Yener, we headed west a bit to the small hamlet of Cökertme, where he and Alain had gone to chill out for a few days. We anchored in a nearby lobe of the bay and tied the stern to a couple of trees. That evening we had drinks on Yener and a nice dinner at one of the casual little seaside restaurants in the hamlet.
Cökertme is quite a popular anchorage, and that evening the shoreline of the bay looked more like a marina without the pontoons, with boats anchored all along the edge of the bay, sterns tied to rocks or trees. We were definitely not accustomed to this "high-density" anchoring.
The following day, while we were having sundowners on Yener, Moonshadow was hit with a gust of wind and the bow anchor dragged (a first) on the weed bottom. One of the local boys in a skiff let the stern lines go before she could swing onto the rocky shore, preventing any damage, and came and found me. Merima and I hopped aboard and spent the next hour or so trying to get the Bruce anchor to bite though the weed bottom so we would be safe for the night. We'll be looking for a better pick to anchor in the weed bottoms of the Med, and looking for mud and sand bottoms to anchor on till then.
The next day we motor-sailed about 20 miles west in light breezes to another popular anchorage called Değirmen Bükü. As we headed to an unoccupied lobe of the bay, we were hailed a Turkish military man with a gun and a whistle. The whistle was enough to get our attention and coax us into a fast U-turn. Apparently some important politico has a villa there and declares as off limits all he can see from his place when he's in residence. We did manage to find a nice spot in the middle of another lobe with good holding where we could swing on the hook. Later in the day the most of the shoreline filled up with charter boats and gülets tied stern to. That night after a quiet barbeque on board we were kept up late by some loud Italian lager louts on a gület.
We shifted the next morning to a much quieter and very picturesque spot called Amazon Creek, where there were only a few charter boats and NO gülets. We were told the mouth of the creek is too narrow for them to maneuver. This is the type of shoreline profile we would be looking for in future anchorages. We enjoyed a couple days of solitude here, and a nice but rather expensive meal up the creek at a quaint little bohemian style holiday camp.
As we were working our way around the Dorian Promontory, we heard a call on the VHF radio-MAYDAY! MAYDAY! The call was in English, by a lady with what sounded like a Scandinavian accent. I noted the GPS position given, but we were way to far away to offer any assistance. An English speaking Turk came on and acted as a translator to the Turkish Coast Guard. The translator asked what the problem was and the lady came back "please help us, we have no engine." I can only guess that everyone listening had visions in their mind of a stricken vessel about to be blown onto the rocks and smashed to bits. As the Coast Guard made their way to the flailing boat, they kept trying to get more information via the interpreter. When the information requested became more specific, they woman kept replying that she could not understand.
Well, as the story gradually unfolded, it seems that the "stricken" vessel was in fact safely anchored. After about six exchanges, it came out that they weren't taking on water nor was there any immediate danger to vessel or crew. Apparently they had no sails and could not raise the anchor without the engine. They kept requesting that the Turkish Coast Guard come around and fix their engine.
I was hoping they would quickly get the "distressed" vessel sorted out so that I could call a mayday myself. I wanted to see if I could get the Turkish Coast Guard to come out and wash our decks, clean the waterline and install a new prop zinc, but by then we had arrived at our destination of Datça and had to abandon the VHF entertainment hour and prepare to dock.
Datça is a lovely little port town on the south side of the Dorian Promontory about ten miles north of the Greek Isle of Sými, where we had spent nearly a week earlier in the season. Even though Datça was a Turkish sponge fishing counterpart to Sými, the two places seemed to be worlds apart.
As we approached the harbor, a Turk wearing shorts and a cowboy hat blew a whistle and motioned where he wanted us to tie up. There was plenty of room and were able to med-moor to a boardwalk lined by quaint cafes and cozy bars. There was power and water on the quay, and the computer showed that there were no less than seven local cafes that had WiFi. We tied up, washed down the boat and decided to spend a couple days there. The local harbormaster had a very efficient system for charging berthing for visiting yachts. If you were there at 1800 hours, you paid one day's rent. Water and power were paid on a guestimate basis depending on your size and weather or not you had air conditioning.
The following day we found that there was a Migros, which is an excellent Turkish chain of supermarkets, in town. We provisioned up there and then headed back into town to check out the local market, held every Saturday. While there wasn't much of immediate interest to us, it was fun to mingle with the locals, examine the array of Turkish clothes, produce, meats, cheeses and olives on offer and imagine life in a small Turkish village. Some of the older Turkish women there had henna on their fingertips and palms of their hands, apparently their version of hand adornment similar to nail polish in other parts of the world.
One of the things we enjoy the most about the Turks is that they are very warm and friendly, and are happy to strike up a conversation, particularly in the marinas where we've been tied up in close quarters. One evening in Datça we were chatting with a few of the guys on the boat next door as they whiled away the evening sipping raki from tall slender glasses. Of course much of the conversation was about boats. Theirs was a mid 30-ish foot Bavaria, quite popular in Turkey for coastal cruising. The owner commented (tongue in cheek, of course) that one of the things he liked about his boat is that on a moonlit night, he could read a newspaper down below without the aid of cabin lights because of the amount of light coming through the decks.☻ When I inquired why the boat was flagged in the USA, he said that it was because the taxes on yachts were cheaper in Delaware than in Turkey. Come to think of it, we saw quite a few local Turkish boats flagged in the US. A big thanks goes to the Turks for helping to support our economy!
From Datça we headed south towards Marmaris where we planned a few days of marina time to purchase some spare parts and get some small boat jobs done. The course line happens to go right through the Greek island of Sými. As we went by, we fantasized about spending a few days on Sými, walking around its beautiful villages, dining at its excellent restaurants and stocking up on Greek delicacies for the barbeque like octopus, lamb chops and swordfish steaks as well as other goodies like feta cheese, taramosalata and skordalia. We had visions of topping up the wine locker with a couple dozen bottles of some of our favorites from Ródhos and Santorini. But of course we had already checked out of Greece so we would never do anything like that . . . . would we!? ;-()
Marmaris is situated on a large, lovely and well-protected bay, and the old town is quite picturesque, with a small castle on a hill, quaint old buildings, a nice waterfront area and a river lined with traditional fishing boats. The surrounding hills are covered in evergreen forest. It has two very large marinas serving the bareboat charter and gület fleets, as well as local yachts, super yachts and visiting vessels. With a pleasant year-round climate, it is a popular wintering over port for foreign cruisers. Consequently, there is a well established marine industry village a short walk from the marina. Just what we needed!
The bad news is that Marmaris is a budget holiday destination, so during the high summer season, the town is jam packed with tourists who are looking for fun in the sun-and even more fun at night. Throw in a few visits by US warships full of thirsty sailors, and you can imagine that the local watering holes really get pumping. The "bar street," a two block stretch of beer-soaked pavement, is situated close to the waterfront and marina. All night, every night during the summer high season, it emits an eardrum assaulting cacophony of over-amplified music of every genre throughout the town. Even the Imam making his 0530 call to prayer was drowned out by the doof-doof-doof of techno music. The little speakers attached to the modest minaret of the town's mosque were no match for the towering stacks of speakers in some of the outdoor discos of Marmaris.
We did get a nice reprieve one night when there was a power failure. All of those amplifiers and flashing lights must have overloaded a circuit, because all of a sudden at 0400 hours, the town fell unexpectedly quiet except for some pleasant unamplified Turkish music.
On our last day in Marmaris, I popped into one of the many local berber (barber) shops to get a trim. Unbeknownst to me, a visit to a Turkish barber is tantamount to a Turkish bath for the head, face and upper body. As I sat down I was offered an ice cold Coke to sip on. After rinsing my hair, the barber began meticulously trimming and cutting with scissors and a straight razor. After perfectly trimming my starboard side, he solicited my approval before repeating the same excellent job to port. He pulled off the smock and I thought the cut was over, but then he put a towel over my chest, pulled up a head rest and tipped the chair back. With a brush and cup, he whipped up a foamy lather and covered my face as if he were applying oil to canvas. He then removed it all with a fresh single-edged razor blade pressed into a small holder, pulling and pushing skin to get every last whisker. In a couple of minutes he had given me a frightfully close shave, without so much as a tiny knick. He then applied a thick balm to the shaved area to restore its moisture. Next he dipped a tiny torch into a jar of stove alcohol and ignited it with a lighter. I thought to myself that I had survived the knife only to be torched! He carefully waved this thing near my ear openings a few times, for just an instant, painlessly burning off all those unwanted hairs. Next he went at my eyebrows and nose, carefully tidying everything up with a small pair of scissors. After a shampoo and rinse of my head and face in the sink in front of me, he applied more moisturizer to my face, massaging my temples and forehead. He then massaged my neck, shoulders and arms, finishing by cracking each of my fingers. As I sat there totally relaxed, he applied product to my hair and combed it perfectly before pulling out the razor and scissors for one last final touch up. All of this for the cost of an average haircut alone back in the States.
In Marmaris we were able to find many items on our "to get" list and found the local service industry to be prompt, fairly priced and providing good quality work. In just five days we got quite a few niggly little jobs done and were ready to head off to spend the last month of the cruising season working our way down the Lycian Coast to Finike.