29 March
We lifted the anchor at about 0600 in the morning from the anchorage off the small fishing village of Ra's Al 'Arah. The sky was overcast and there was an eerie layer of haze on the water. The morning breeze was just a couple of knots so we motorsailed west along the south coast of Yemen, near the west end of the Gulf of Aden. As we approached Bab el Mandeb or the Gates of Sorrow, the breeze filled in to 8-10 knots from the northwest. Once the sun rose higher, the haze disappeared as we had hoped for, and we had much better visibility when rounding the corner from the Gulf of Aden into the Red Sea.

We opted to pass through the small strait between Perim Island and mainland Yemen, since it was the shorter route, and it also kept us well clear of the steady stream of heavy shipping traffic funneling through the large strait just to our west. Even the large strait is only about 11 miles across at its narrowest point, and with a steady stream of supertankers and mega-container ships, this area can be like a maritime version of rush hour on a southern California freeway.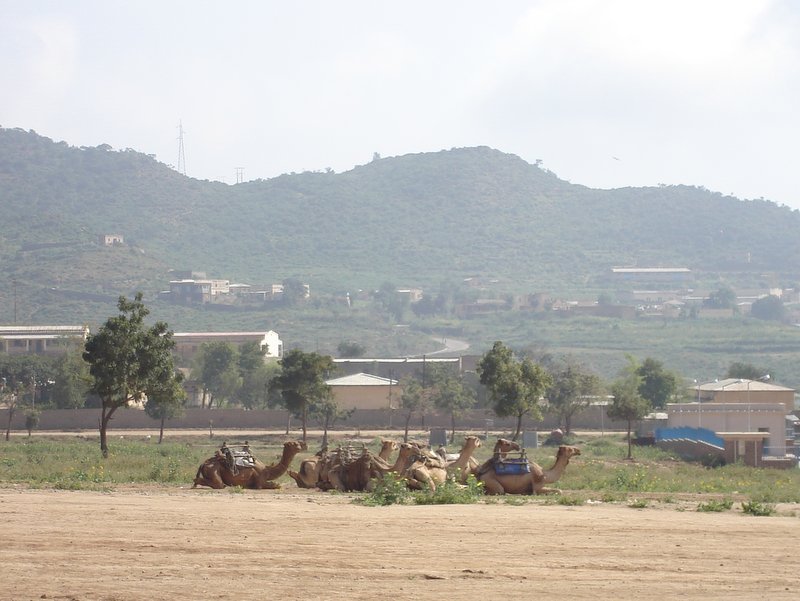 Camel train stop, Eritrea.
As we passed through the small strait, we noted that the land to either side of us was parched and barren of vegetation. It looked like it had a thorough going over with an extraterrestrial blow torch. The lighthouse on Perim Island was surrounded by a fortification which appeared to be from the colonial era, and there were some other buildings which appeared to be towers and bunkers, indicating that this had once been an important strategic point. To starboard on the mainland, there were castles or forts on the tops of the peaks overlooking the sea. The lack of anything modern in appearance gave it all a surrealistic appearance, and looking at it was like taking a quick time machine ride back into biblical times.
As we turned the corner, breathing a faint sigh of relief that we had finally reached the Red Sea, the wind came on the nose. Another milestone behind us, another challenge ahead! The seas were slight, so the ride was still comfortable. We made our way across the designated shipping channel, weaving nicely between the flow of traffic, and into the safety of the Rubitino Channel, which is the approach to Assab, one of the two major sea ports of Eritrea. If your atlas is a bit dated, this was once part of Ethiopia. We bore away into the channel, and rolled out the genoa, shut down the engine, and sailed for a couple of hours toward our day's destination.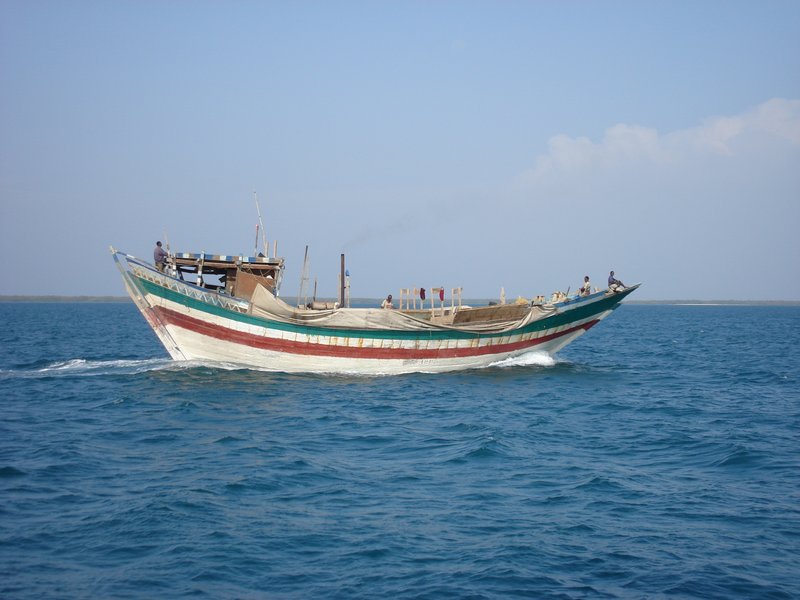 A fishing dhow near Assab.
In the channel we were passed by a brightly painted fishing dhow that appeared to be an early Noah design, but with an engine. The crew seemed very friendly and greeted us with wildly waving arms. A bit further along, we were approached by a smaller, more modern boat crewed by a couple of local fellows. They also waved their arms wildly and signaled their excitement and approval of this yacht charging up the channel under full sail with a bone in her teeth. They turned around and came close and asked us to stop. We're not sure what they were after or if they were government officials out of uniform, but we signaled to them that it was too hard, and we needed to carry on so that we could make it through the channels and reefs to Assab while there was still good light. They seemed to be satisfied with this.
As we approached the Port of Assab, a radio call to Port Control went unanswered. We anchored just to the south of the commercial port just before sunset. The port was closed and the town was quiet. We assumed that this was because it was a Thursday, the local Muslim weekly holiday. The anchorage was calm and we celebrated our arrival in the Red Sea with sundowners. We learned from Jean Leon of Monte Cristo (the only other boat in the anchorage) that the city had pretty much become a ghost town. All the Europeans that had once lived there shifted to Djibouti during the last of many wars of independence against Ethiopia, and the port remains closed. We saw very few lights in town that night.
30 March
We gave Moonshadow a much needed and well deserved bubble bath. I spent the afternoon doing some minor repairs and light maintenance. We listened in on regular Net reports about Gregg on Faith, who is in hospital in Asmara, apparently with a nasty case of malaria that he had contracted in Sri Lanka or Yemen. We also learned that diesel fuel was no longer available to visiting yachts in Massawa, our next planned fuel stop. Sounding the tanks, we determined that we would have enough to make it to Suakin or Port Sudan, provided we sailed as much as possible and used very conservative power settings when we were forced to use the engine. Also, we decided we would move when the winds were light or favorable, and hunker down (and do some diving) when the prevailing northerlies became fresh.
31 March
We departed Assab at first light, headed for the Hanish Islands. The Hanish Islands are a barren group of volcanic islands in the middle of the Red Sea, which are Yemenese territory. They make for a convenient stopover point for small boats heading up or down the Red Sea looking for rest and respite from unfavorable winds and seas. Winds were light from the west-northwest, but we were able to sail at 5.5-6 knots close-hauled in about 8 knots of breeze. The winds died about half way there and the sea became oily smooth. We motor sailed the rest of the way to Suyul Hanish and arrived in the early afternoon. Suyul Hanish is not much more than a few volcanic cones poking up out of the sea. Apparently it is quite valuable to the Yemeni, as there are rough stone bunkers and covered guns in emplacements visible on high points around the island. A few people wearing very tattered civilian clothing came out to have a look when we arrived and anchored on the south side of the island. Satisfied that we were not going to try to take this slice of paradise in the middle of the Red Sea by storm, they returned to their business, which appeared to be endless resting. It must be hot as heck on the island, which is mostly dark volcanic stone, and there was virtually no vegetation. We felt the heat radiating out to the anchorage, and it was barely spring!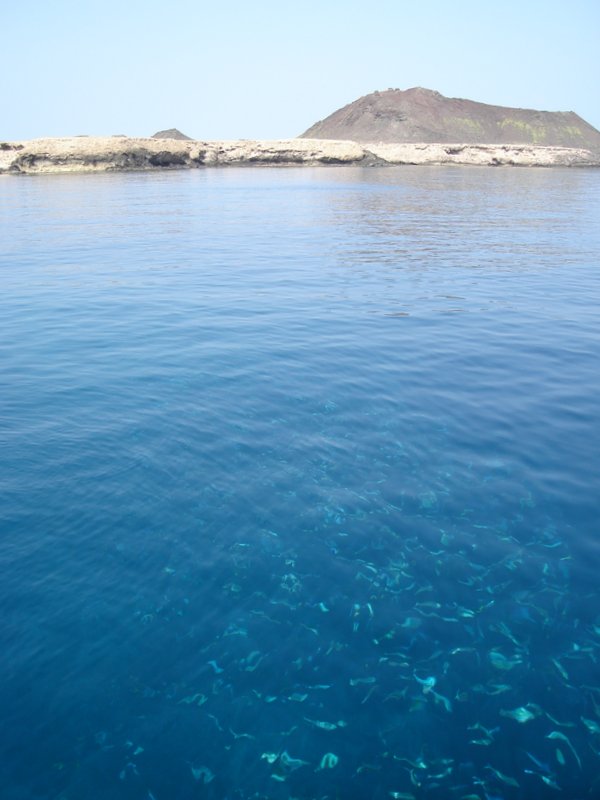 Hanish Islands, Yemen. Clear water, fish, and gun emplacements.
The water surrounding the island was crystal clear and we could see the bottom easily in 15 meters. There were schools of fish breaking the surface of the water in unison, making a loud whooshing sound. We hopped in for a cool dip and enjoyed diving down a few meters into the cooler thermo clines below. Merima reminded me that it was the first time we'd been off the boat in a week. Just on sunset, we began to feel a hint of a southerly breeze. Rather than sit on a lee shore if this breeze should fill in, we shifted to a more suitable anchorage on the north side of Suyul Hanish and anchored for the night.
1 April
We were awakened at O-dark-hundred to howling winds, with bullets of up to 35 knots, whistling though the rigging. We weighed anchor at 0600 and headed for Mersa Dudo, about 50 miles to the northwest on the Eritrean coast. It was too rolly and blustery to even think about setting the main, so we just rolled out a little bit of the genoa and sailed nearly DDW (dead down wind). It was a quick trip which we made in about 5-1/2 hours. The April Fools joke that the wind gods played on us was that both the anchorages in the area were untenable in a southeasterly gale. We would have loved to spend a night or two there to see the turtles come ashore to lay their eggs during the full moon, and enjoy the awesome beauty of the landscape, but Mersa Dudo was engulfed in a desert sand storm! Nearby Sadla Island, a secondary anchorage, had swirling winds and bullets to 40 knots. We tried to anchor in its lee, but were being pushed back into the island. Since we wouldn't have gotten any sleep there anyway, we decided to set sail again, heading northward to points unknown. We thought we might as well take advantage of the southerly breeze for as long as it lasted, and we most certainly would have been more comfortable sailing DDW than at anchor. A few miles further north, conditions settled down a bit so we plotted a course for Port Smyth, about 150 miles north and 30 miles from Massawa. The winds gradually moderated throughout the day and by nightfall we were motor sailing in a light breeze.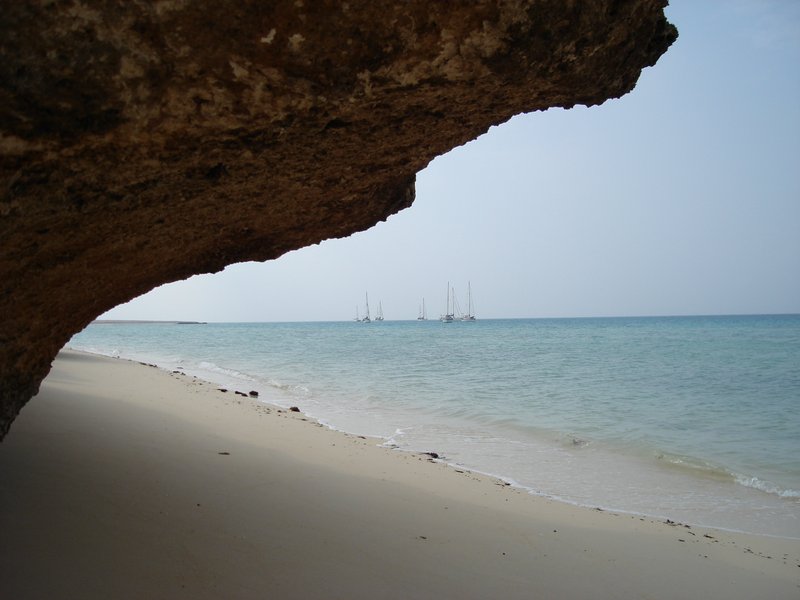 At Port Smyth, Eritrea
2 April
The winds shifted around to on the nose, but remained light at 6-8 knots and the rolly following sea moderated. We arrived at Port Smyth at about 1000 hours and entry through the pass was too easy with good visibility in the crystal clear waters. We were greeted by David and Linde from Raconteur just after we anchored. Port Smyth is a lovely anchorage. We were happy to be at rest again, and planned to spend a couple of days there to do some walking and diving. A couple from the Spanish catamaran Calcetines in the anchorage popped by and brought us a couple of reef fish which they had just speared out on the reef, so we had a lovely dinner of fresh seafood.
3 April
After the morning Net we took a walk on Shumma Island. It was quite dry and barren, but there was evidence that there had once been some sort of settlement there. We saw ruins of a jetty, a water cistern and a few other buildings. There were also lots of shells all over the raised coral island. It appears that visitors, probably local fishermen, would camp and dine on clams and conch they caught on the nearby reefs. The yachties in the anchorage had sundowners and snacks on the beach that evening, so we had a chance to get acquainted and swap stories with all those we've been chatting with on the radio on the Indian Ocean/Red Sea Net for the past couple of months.
4 April
Winds were still fresh out of the north, but easing, so we decided to postpone the trip to Massawa for at least another day and catch up on a few odd jobs on the boat.
5 April
Winds were very light so we motor sailed to Massawa. Winds dropped to nothing on the way so I dropped the main and washed the coating of red dust off the boat as we motored along in mill pond-like conditions. As we approached Massawa, we contacted Port Control, who told us to tie up to the commercial wharf and report to Immigration as soon as we arrived. Merima and I brought Moonshadow alongside the rough bulkhead brilliantly, with much effort at about 1230 hours, only to discover that Immigration was closed till 4 pm. The other arriving yachts were being directed straight to the anchorage. Friggin' idiots! We managed to get away from the commercial wharf, narrowly avoiding damage to the topsides, and proceeded to the anchorage. We went to Immigration, the Port Captain and Customs after 1600 hours. The "other" Immigration office for processing visas was, of course, closed by then. Massawa was turning out to be a royal pain in the ass! We went out to dinner at Beaches Restaurant with Como No, Gemini and Bluenose. Merima's jandals and crocs were pinched from the dinghy while we were at dinner.
6 April
I finally cleaned the starboard side of the boat of the horrible oil stains we acquired in the anchorage at Salalah. What a job! We went ashore late in the morning to get our visas for inland travel and were told Immigration was closed till 1600 hours. Went back and met a local man named Mike who owns a small café and looks after the yachties. He was very helpful. We later managed to get our visas from a very polite and efficient Immigration officer but had no joy getting permits to visit the Eritrean capital of Asmara, because the Depts. of Tourism was all out of permit forms (they don't even have a copier!) and the Department of Internal Security was closed. We were told to come back the next morning. Susan from Gemini had organized a minibus so we could all leave first thing in the morning on Easter Sunday.
7 April
We went back to the Dept. of Tourism and he still had no forms. The guy handed me what he claimed was his last form and asked me to go next door to a copy shop and make three copies per person. Of course it was closed. We had to go all the way back to Moonshadow to make copies, so I made enough copies for all ten of us going. Merima and I got our permits from the Tourism Dept. but the Security Department next door was closed, apparently for a four-day Easter weekend. The tourism guy took us to the Security officer's home and after much talking in their tongue, said he would open for us all to get permits. By the time we got back, all the rest of those wishing to go to Asmara were at the Dept. of Tourism to apply for their travel permits. The security guy showed up, but refused to process the paperwork and told everyone they would have to come back at 5 PM for their security clearance. We all felt that this was highly disrespectful, considering all that was involved was a rubber stamp. A few quick chops and all of us would have been happily on our way. The group dubbed the place the "Department of Anti-tourism" and unanimously decided it had enough of this bullshit. We all agreed that we would depart Eritrea first thing the following day and report to the fleet behind us that Eritrea was just too hard and should be given a miss. The Tourism guy, seeing half his annual visitor count evaporating before his eyes, got very nervous and after a lot of spirited talking and negotiating between him and the security guy, we were told that one person could come back at five and pick up all the forms. This sounded like a palatable compromise, so we agreed. An hour later the tourism guy, feeling very bad about how we had been jerked around, found some of the yachties down by the wharf at a café and handed over all the forms that had been stamped by Mr. Security. For a country with the second lowest GDP in the world, literally begging for tourism dollars, they sure made it excruciatingly painful for anyone to visit what little they have to see.
8 April-Easter Sunday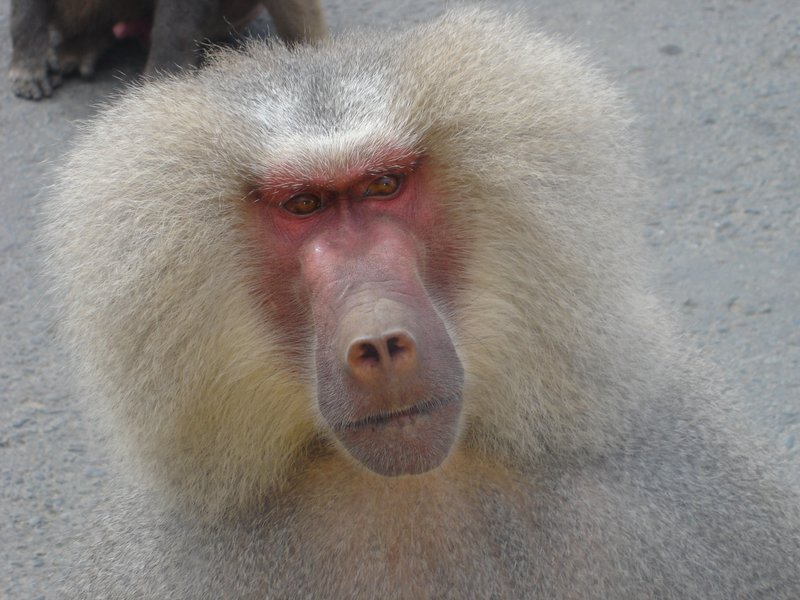 A baboon along the road near Asmara.
Bluenose was boarded and robbed during the night, so some of the group planning on going to Asmara became worried about security and passed on the trip. We set the alarm system on Moonshadow and were on the bus at 0730 for the breathtaking four-hour ride up into the cooler inland mountains of Eritrea. Leaving Massawa, we first passed through typical African desert with sheep, goats and camels grazing on what little vegetation could be found amongst the parched, sandy and rocky terrain. The desert gave way to rolling hills, then green mountains with scenic little villages. The next range of mountains was steeper and dryer. The predominant vegetation was prickly pear cactus clinging to the rocky mountain faces. The road was pretty good, but rather narrow with hairpin turns seemingly carrying on into infinity. Near Asmara we encountered three baboons lined up on a stone fence to the side of the road, seemingly telling us to see, speak and hear no evil. After the fourth security checkpoint, we finally rolled into Asmara with its beautiful wide boulevards, palm trees and lovely 1930's era European architecture. Within a few hundred meters, it was as if we had been beamed from the African continent to a village in Tuscany. We were taken straight to the Asmara Central Hotel, where, on the third try, they managed to find us a decent room with all the facilities we were promised; an attached bathroom, running water and a toilet that worked.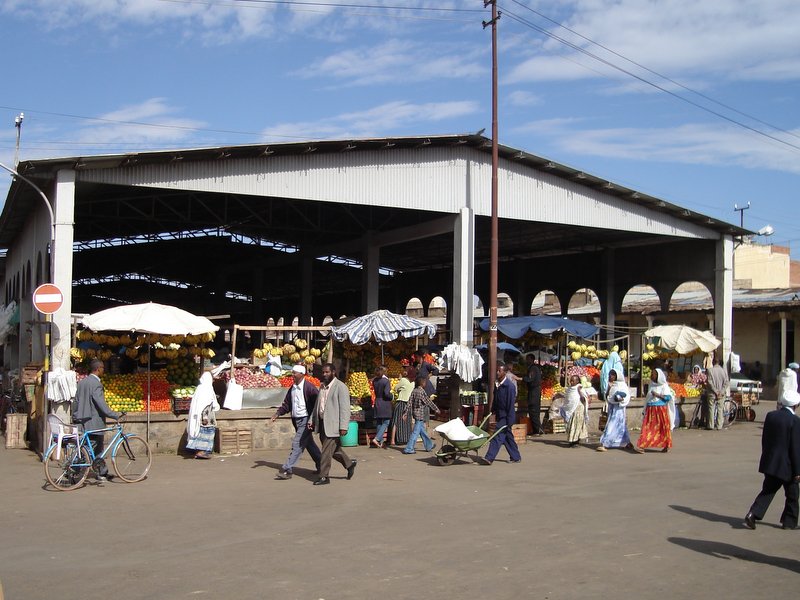 The fresh market in Asmara.
Early in the 20th century, Asmara was an Italian enclave in the heart of North Africa. It still has the feeling of a small Italian city with its architecture, outdoor cafes and other Italian influences throughout. Many people here still speak Italian.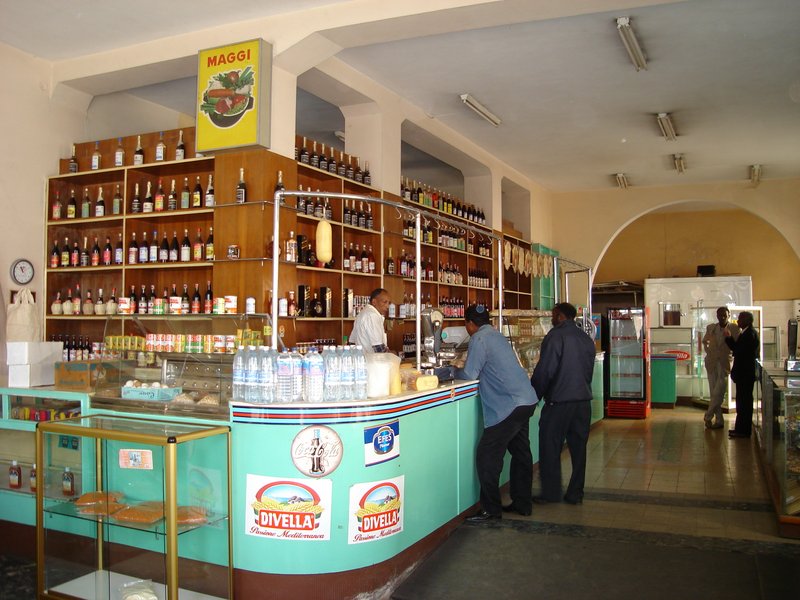 An Italian market, Asmara

We parked our bags in the room and immediately walked to the middle of town. The main street was crowded with locals promenading in their Sunday best, and the sidewalk cafes were buzzing with activity. We could have easily been on the boulevard of an Italian town, except there was nary a Caucasian face to be seen. Women wore bright, colorful outfits and men wore designer suits or a local costume which was white from head to toe. Most all the shops were closed for the holiday. We enjoyed a great pizza at an Italian restaurant on the main street and afterwards had a nice stroll around the central city. After a rest, we went out to dinner at an African/Italian restaurant called Milano with very African décor. The city was very busy and loud that night and we had trouble sleeping for all the loud music and revelry.

9 April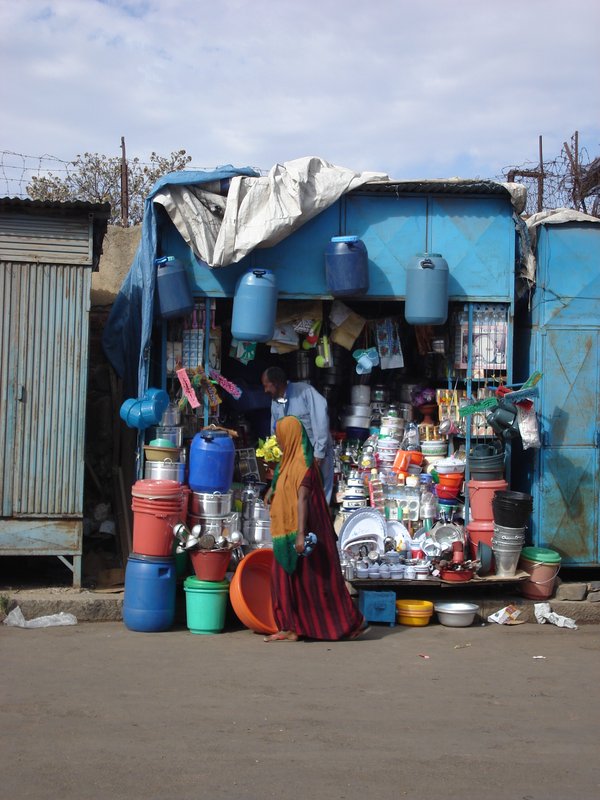 A housewares stall at the market in Asmara.
Asmara appeared to be back to normal. Shops were open and we walked through local markets selling everything from fruits and vegetable to clothing, housewares and furniture. Wandering through the various shops, we found some great local Italian style coffee, cheeses, grissini (bread sticks) and a few other delectables such as artichokes. We had a lingering lunch at an excellent outdoor Italian trattoria and by 1400 we were ready to head home.
10 April
The ride back to Massawa was faster, as it was mostly downhill. There were lots of baboons along the road on the first leg of the trip. We stopped and fed them bananas and they gathered around and climbed on our minibus. The rest of the trip was beautiful, if uneventful. We returned to Moonshadow and found her fine, other than a fresh layer of fine red dust. This must be why they call it the Red Sea!
First thing in the morning, we checked out of Massawa. We had to move Moonshadow near the commercial wharf so, believe it or not, Immigration could come aboard before we departed to check that there were no stowaways or local people being smuggled to the outside world. Apparently Eritrea keeps its borders sealed to prevent a "brain drain" of its best and smartest to other countries with more opportunity. The Immigration officer, who obviously didn't fall into either category, forgot to stamp us out on our passports when I was in his office, so I had to go ashore again and hike a kilometer back to the office after we had our departure inspection. This would have been the perfect opportunity to pick up a few stowaways. Bloody idiots!
We finally got away at about 0900 and headed for Sheikh al Abu Island. We motorsailed in light breezes about half way and then shut the motor down and enjoyed a quiet sail the rest of the way, tight reaching in 5-7 knots of breeze. We failed on our first attempt at anchoring as the anchor held, but the bottom gave way. When we pulled up the anchor, we found that we had captured yet another huge "Bruce boulder." Once again our big crowbar saved the day!
11 April
We opted to spend the day anchored in the lee of Sheikh al Abu Island, as by early morning the breeze was up to 15 knots out of the north. The other three yachts sharing the anchorage departed at 0600, headed north, and returned after a few hours of bashing into the weather and making very little progress in the short, steep seas. Winds had gotten up to the mid to high 20's from the north. We had a bit of water saved up, so washed off a ton of red dirt from all the leading edges, and started catching up on some correspondence.
12 April
The winds were still out of the north, but had dropped to around 15 knots. We decided again to stay put till it dropped a bit more or shifted direction. The red dirt has started accumulating on all the leading edges again. The Red Sea is relentless!
13 April – Friday the 13th!
Not the best day to leave if you are superstitious, but the weather window looked good for at least 24 hours. We headed north with the option to tuck into Difnein Island if the northerlies were too strong or seas too uncomfortable. When we were close, the winds were light but on the nose and we were motorsailing comfortably into it. We decided to press on to Khor Nawarat, across the border into Sudan, another 120 nm north. At this speed we would arrive the following day and be able to negotiate the narrow pass with good light. Just after we passed Difnein, the wind clocked to NE, probably influenced by the warming of the land to our port side, so we rolled out the genoa, sheeted it home and sailed till the winds dropped off to low single digits at sunset. This saved us about 5-6 hours of diesel, easing our fuel concerns a bit more.