August Cruising
Despite pleas from friends and relatives, veiled behind dodgy weather forecasts, we slipped quietly out of the port of Hania, Crete at 0630 on the morning of the 2nd and headed northeast. We had begun to trust weather information we got from the National Observatory of Athens off the Internet at www.meteo.gr. It hasn't let us down so far. Weather was a mixed bag of fresh breezes and light patches, mostly forward of the beam. One minute we would be motor-sailing in five knots of breeze, the next we would be romping along close-reaching in a 25 knot meltemi. Twelve hours later we had covered 100 miles and dropped the anchor off the village of Ía on the volcanic island of Thíra, better known as Santorini.
We spent three days there chilling out, catching up on a few boat chores, writing, and enjoying the one of the most beautiful phenomena of Santorini, its sunsets, both from the boat and on shore. Just before sunset is an excellent time to capture some images of Santorini's starkly beautiful geography and unique architecture, and we've included a few shots from this year's visit.
We departed Santorini and with 13-17 knots of wind right on the beam had a lovely sail 50 miles due west to the island of Astipálaia. We arrived to find that since our last visit a new bulkhead had been completed, allowing for a dozen or so visiting yachts to tie up in the protected inner harbor area, which would previously have only accommodated three or four visitors swinging on anchor. For some reason all the yachts already there were side-tied, so not wanting to be contrarians, we did the same. This would prove to be a big mistake!
We enjoyed some walks around the village of Skála, which stretches from sea level up the steep hillside to an old fort crowning the hill to the south. Virtually all of the buildings in Astipálaia are whitewashed and have door and window frames in various shades of blue or blue-green, contrasting and mixing with the various hues of the surrounding sea. Skála is a friendly and laid-back town, and we particularly like the excellent taverna with tables set right out on the beach across from the harbor, serving up tasty Greek specialties.
The first problem that resulted from our side-tying was that a very large Greek catamaran came in and rafted up to us without asking permission and against my protests. Winds were 15 to 20 knots on our beam and I was not to happy about being their fender. On my request they place a kedge anchor out to keep the pressure off our hull. They gave us a bottle of wine to smooth things over, and claimed that with four kids on board, it would have been too hard to stay out on the hook. When they left the next morning, I asked them to pull our bow out as they left so that we could med-moor and avoid any future issues with arriving yachts. They were happy to oblige, but their self proclaimed "big and powerful engines" struggled against our windage and the fresh meltemi. We finally made it clear and were able to Med-moor, giving us more flexibility to stay or leave without any dramas
After three enjoyable days in Astipálaia, the meltemi had abated and we set sail for Kalimnos. It was during the trip that we discovered the other negative effect of our side-tie in Astipálaia-we had been boarded by a rat! The first sign that we had a stowaway was that something had been gnawing away at our lovely Cretan potatoes and spitting out the skin. Further investigation confirmed the worst. Our main food pantry had been invaded and all the items that were not in hard plastic containers had been raided. To make matters worse, our uninvited guest had sharpened its teeth on the power cord of the microwave oven, chewing completely through it. It's a shame the breaker wasn't closed or he would have gotten a tazer-like jolt for his efforts.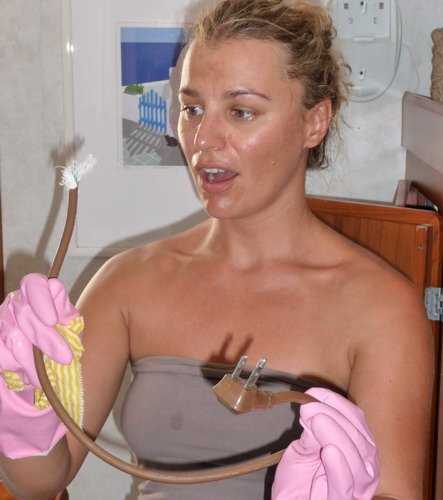 The rat's handiwork
When we arrived in Kalimnos, I immediately went out and bought the only mouse traps I could find, a new type which are little plastic trays full of soft, sticky goo that clings to the feet and fur of the pest. Apparently they thrash about trying to get free until they succumb to exhaustion. We weren't real keen on the concept, as we always dreaded coming back to the boat or waking up to discover a sticky, furry mess. Kalimnos is a port of entry in the summer months so we decided to check out of Greece and head to the marina in Bodrum, Turkey, and wage an all out attack on our invader. The marina was full, but with some pull from our Turkish sailmaker friend Yener, we were able to get a berth for a few days.
We arrived at the marina in Bodrum in the late afternoon and were squeezed in to a Med mooring along "Mega Yacht Row." I was able to complete the check-in and get a transit log in one hour flat. You gotta love Turkey! We caught with Yener for dinner and enjoyed a lovely evening out.
The next morning we went in search of the rat, pulling apart every locker, drawer and berth where we had found any evidence of his presence, cleaning up and looking for any further damage to the wiring. Fortunately this was confined to the aft end of the galley and the port aft stateroom where I discovered he had begun chewing on some speaker leads and the wires leading to the LPG solenoid. As any yachtie who's ever had a rat on board knows, this could end up being a very serious problem. Unchecked, a rat could literally destroy the wiring on a yacht. We didn't want to take any chances.
We didn't actually have a face to muzzle confrontation, but we thoroughly cleaned everywhere he had been and I repaired the damaged wiring. I also plugged the limber holes to our pantry and shut all the lockers that are usually held open for ventilation, essentially sealing off our food supply. Yener recommended we go to a shop near the town bazaar that specializes in pest control and I returned to Moonshadow with an arsenal of poison baits and traps which I placed all over the boat. We left a lone potato out to see if our friend was still on board.
We spent five days in Bodrum waiting to see if the rat would take the bait or get caught in a trap. Fortunately, it appeared if he had jumped ship in Kalimnos, as we didn't see hide nor hair (nor droppings or carcass) of him, and none of the baits was even touched. Disaster was averted but our arsenal will be kept on board in case of future boardings.
From Bodrum we day-hopped north along the Ionian Coast of Turkey. While this part of the Turkish coast is less attractive than south of Bodrum, it is off the main gület routes, so it is much less crowded, quieter and easier to swing on the hook in the anchorages. On the second morning we easily made it though the Samos Strait, which is a narrow and normally nasty piece of water between the Greek Island of Samos and the coast of Turkey. We approached it early in the morning before the meltemi had filled in and went through in glassy calm water. We arrived later that morning at the marina in the town of Kuşadasi. Kuşadasi is a sizeable resort town with a large and well protected marina and likely owes its popularity to its proximity to the ancient Roman city of Ephesus, which is about 19 km away. Ephesus was one of the largest cities in the eastern Mediterranean and is today one of the best preserved of its era. Originally a port city, due to silting Ephesus now lies three miles inland from the sea.
We wanted to avoid the hottest part of the day so we started at 0700 and caught a dolmus (mini bus) from town which dropped us off along the main highway about a kilometer from the entrance to Ephesus. We had been advised to start at the uphill end of the ruins and work our way down, but got a bit mixed up on our navigation and ended up starting at the bottom. This ended up being a blessing in disguise as we were among the first to arrive at the lower gate and much of what we saw was still bathed in cool shade. By the time the large buses arrived a couple hours later disgorging thousands of tourists, we had made our way nearly to the top, had seen all the best parts of the city, and had had the place nearly to ourselves.
Among the most interesting structures remaining of the original city are the impressive facade to the Library of Celsus, the massive amphitheatre (capacity 25,000), the main street paved in marble and one section of terraced homes which have been fully excavated, partially restored and totally covered by a protective, climate-controlled structure. In what remains of the homes one can still see the beautifully frescoed walls, ornate mosaic tile floors and remnants of the intricate plumbing systems. Having Ephesus largely to ourselves for a few hours was a wonderful experience and we were back on a dolmus headed back to Kuşadasi before the heat of the day.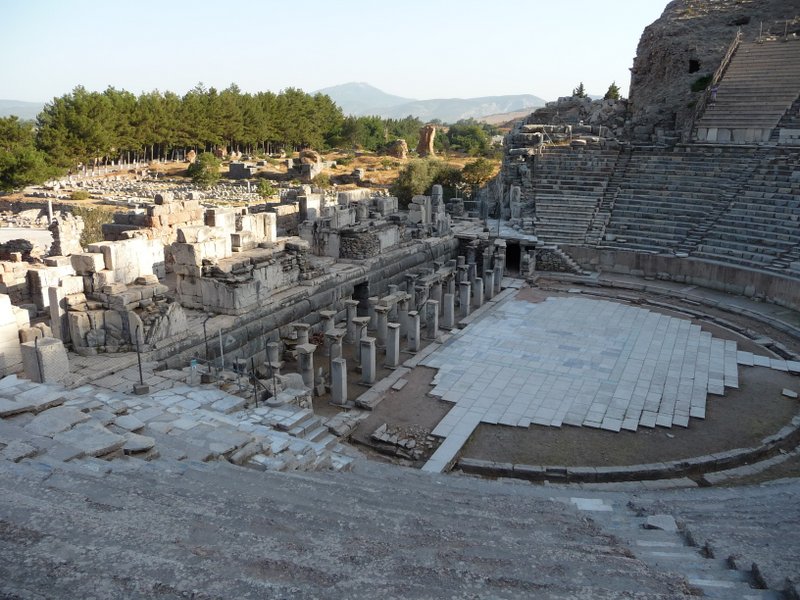 The Amphitheater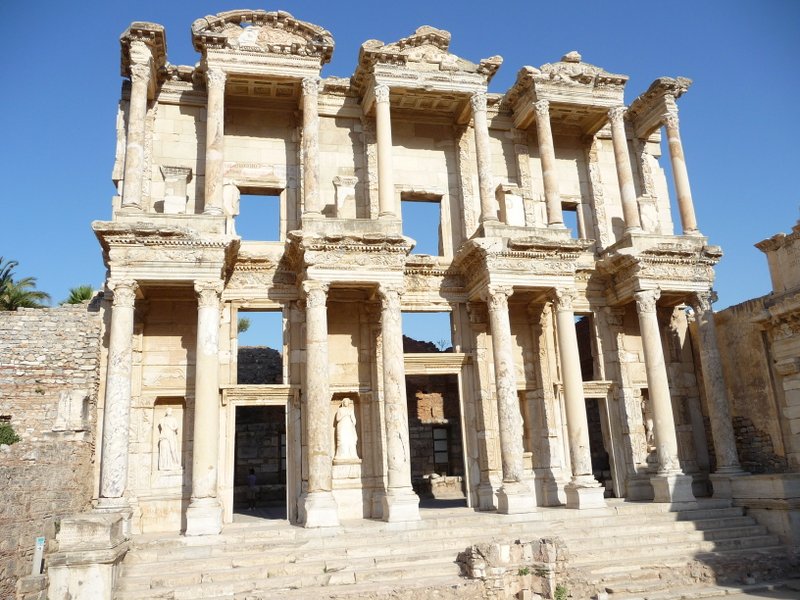 Facade of the Library of Celsus
We continued north from Kuşadasi to the quiet little fishing village of Siğacik. We were able to swing in the well-protected anchorage and took the dinghy ashore and walked around in the old walled city. Tourism hasn't yet spoiled the place and it appears as if people live here much as they did a hundred years ago. Kids play ball in the streets and a flatbed truck winds its way through the narrow streets bringing fresh fruits and veggies to the front door.
Departing later in the afternoon, we had a nice easy sail to a secluded bay called Kirkdilim Limani. The water was so clear we could see the anchor on the bottom in 6-8 meters of water. We enjoyed a refreshing swim, sundowners and a barbeque.
The next day we made our way to the town of Çeşme and into the marina. The marina is in a state of neglect and disrepair with one pontoon completely unusable, but it was well protected from the meltemi and a safe enough place to leave Moonshadow for a few days of inland travel. A few days before we arrived, the marina was apparently taken over by Camper and Nicholsons and they have grand plans to develop the surroundings and bring the marina up to a five gold anchor standard. We spent the next day giving Moonshadow a much-needed bubble bath, exploring the Genoese castle and surrounding town and getting ourselves ready for our inland trip to Cappadocia.