We arrived at the port of Mina Salalah in the Sultanate of Oman on the morning of 19 March after an easy and uneventful eight day passage from the Maldives. Big thanks to our crew Kurt and Tim for joining us and making it a safe, enjoyable and memorable passage.
Approaching from seaward, the other end of the Asian continent that we had left two months before was like arriving on another planet. By contrast to the tropical landscapes of Southeast Asia, Oman was dry, with steep shoreline cliffs, rugged mountains and barren, sandy plains. We could make out the city of Salalah, with its simple low rise monochromatic buildings. We had no real prior knowledge of Oman, other than it was a convenient stopover, fueling and crew drop-off point for yachts crossing the Indian Ocean heading to the Red Sea. Our expectations would have been easily met, because there were almost none. The plan was to do what we had to do as quickly as possible, and then take on the Gulf of Aden and Red Sea.
Port Control instructed us to anchor in a small basin in the inner part of the Port of Salalah. The Port itself is quite large and rapidly expanding and our charts and pilot books were quite out of date. Shortly after we anchored, we were visited by the Coast Guard and Customs, who came along side in a patrol boat. They wouldn't acquiesce to my request that they remove their big black boots-so typical of these type of officials-before coming aboard, but offered that I could come barefoot onto their boat. They were polite and efficient and all the paperwork was handled within 15 minutes. There was a bit of confusion about the Immigration officials, as we were told that they too would come out to visit us, but they didn't show up that day. We all enjoyed a relaxing evening on board, in the calm waters of the port's visiting yacht basin.
We didn't wish to be boat bound for another day so the following morning I hitched a ride to the Immigration Department in the Port Authority building and took care of the formalities. Back at the docks, I caught up with a local fellow named Mohammed (it seems like they're all called Mohammed around here) who was sort of an agent/attendant to the yachties. He could handle all the formalities if necessary, but mostly organized fuel, water and rental cars for the visiting yachties, looked after boats when owners were away, and offered advice on where to go and what to see and do. He was very affable, spoke excellent English, and had a great sense of humor. Mohammed looked and sounded a lot like Eddie Murphy playing an Arabic role. We teed up the delivery a load of diesel fuel for that afternoon and rented a car so we could do a bit of sight seeing and provisioning. Fuel arrived as scheduled that afternoon by tanker truck. We rafted up to another boat tied to the crumbling wharf and took on our fuel with no dramas.
That evening we all went to one of the two places in Salalah where one could get more than a soft drink and a meal-a place called the Oasis Club-adjacent to the port. It was obviously an ex-pat joint, done up like an English Pub, complete with big screen TV's showing sports, pool tables, red carpeting, dark wood, and four lanes of ten-pin bowling. We enjoyed a few drinks, a good western style meal and a bottle of wine with dinner.
After dinner, looking for a bit of local flavor, we piled into the car and headed to an outdoor restaurant a few miles outside of town. Along the way, we saw lots of local people having what looked like picnic dinners or takeaways out in the middle of the desert. At the restaurant we ordered local teas and Turkish coffees. The tea was very sweet and aromatic, the coffee strong, sweet and flavored with a hint of cardamom. We also each ordered a shisha pipe. A shisha pipe is a huge, ornate hookah style water pipe, perhaps three feet tall. In the bowl is placed a very moist and sticky flavored tobacco. We ordered one each of apple, rose petal, grape and strawberry flavors. Over the bowl, is placed a small piece of tin foil with numerous holes pierced in it. On top of this, the waiter placed hot embers, from a pot he carried around. Drawing on the pipe, you get a mild, cool, moist and very flavorful taste, and the smoke is so mild it feels more like vaporizer steam. We found it to be a totally enjoyable experience and saw many other groups socializing around us over the pipes. Between flavorful puffs, we had to contain our laughter as we heard quiet conversations in Arabic, and the sounds of the air bubbles as people drew from their pipes. We kept saying to each other "can you believe we're in the Middle East?"
On Wednesday morning we hopped in the car and took off to do a bit of sight seeing. Kurt, our on-board pastor, wanted to check out Job's tomb, so we headed north into the mountains to a town called Ghadu. Winding along the mountain road, there were many farms or ranches on what seemed to be almost barren land, with not much growing besides a few weeds and frankincense bushes. The bits of vegetation that were clinging to this dry and rocky land were the targets of the many camels grazing about, and we even saw one baby, still wet from birth, struggling to stand up on wobbly legs.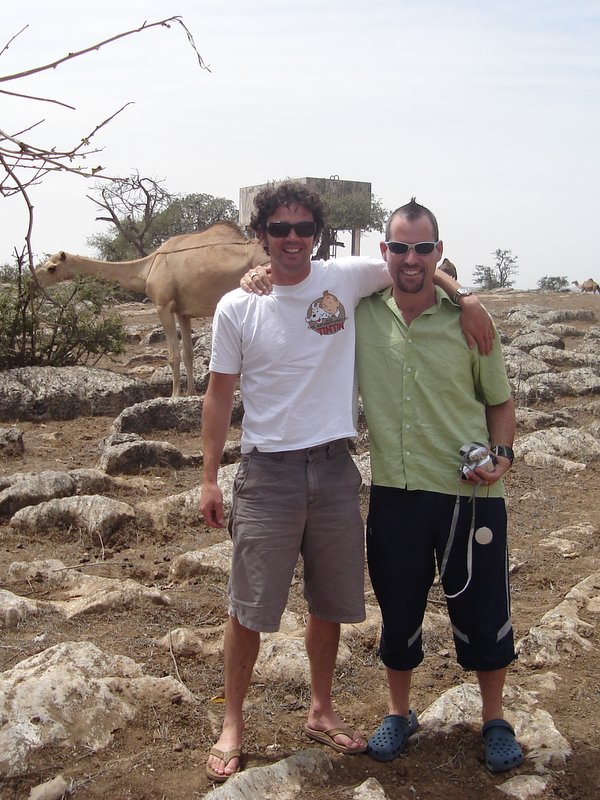 Tim and Kurt in the mountains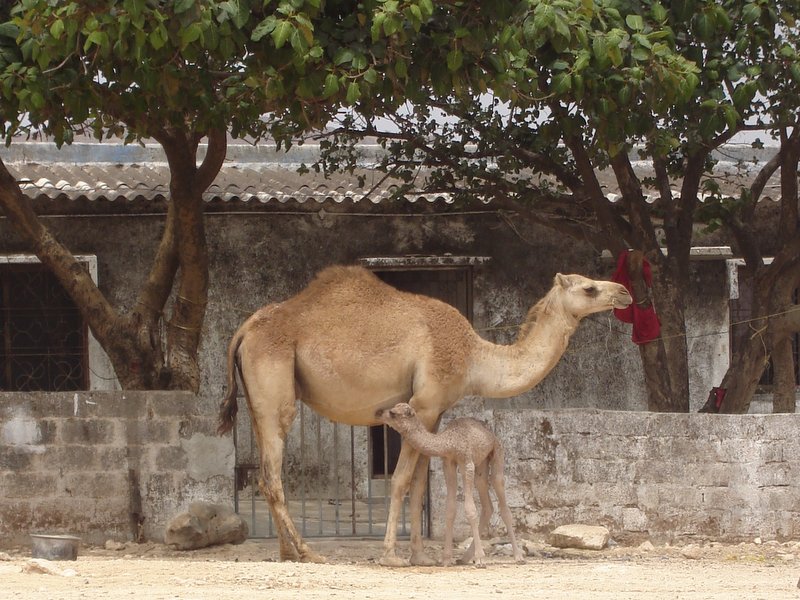 A newborn camel
We found Job's tomb, and wondered what this parched land must have been like in his day. We visited his burial site, inside a very small mosque, covered in blankets, with an attendant on hand to guide the visitors and keep the frankincense burning.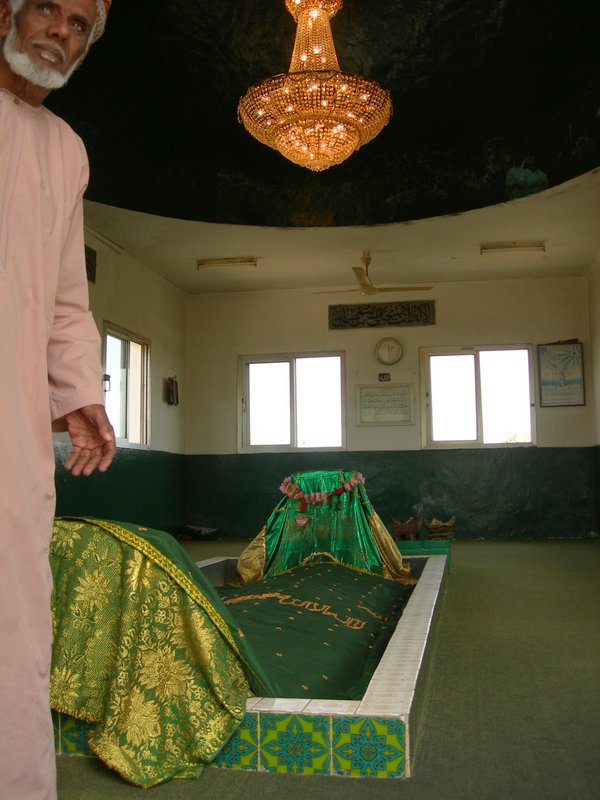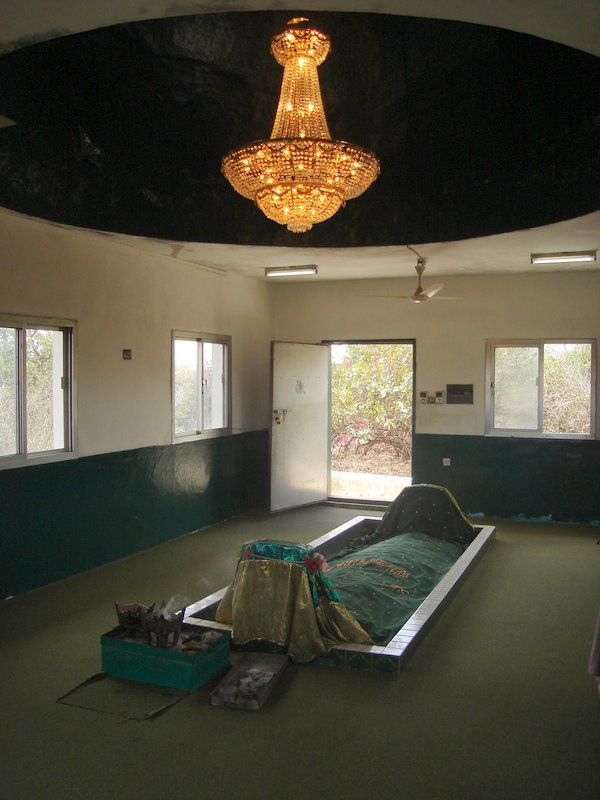 Job's tomb
We headed to downtown Salalah to a recommended restaurant for lunch. It was interesting that the roads were all very nice, wide and modern. If we didn't know we were in Oman, we might have thought we were in Palm Springs. We enjoyed an excellent lunch at a Lebanese restaurant in town. The price was quite reasonable, and the staff was very warm and friendly.
Cruising around town a bit after lunch we came upon a bird sanctuary near the sea, replete with pink flamingoes standing in the shallow estuary. We also found the local bazaar and did a bit of shopping. The last shop was the Lulu grocery store, which was quite modern and stocked with a lot of western foods. The only way that a visitor would know that they were in Oman was that all the female shoppers were dressed from head to toe in black, with faces covered excepting a slit for their eyes. It felt a bit like Halloween as we strolled through the aisles.
We were a bit tired from the day, but went up to the Oasis Club to meet with a few other cruisers to discuss strategies for transiting "Pirate Alley" in the Gulf of Aden. While I was meeting, Merima and Tim went into the bowling alley for a game or two. Merima got a kick out of the local men, who had to hitch up their long robes so that they could manage the wide stride necessary to deliver the bowling ball. The local men, unaccustomed, if not distracted by having a woman bowling along side them, were surprised to see Merima scoring a fair few strikes and spares.
We had a nice dinner afterwards on the terrace overlooking the sea. After dinner we went back to Moonshadow and had a blowout going away party for Kurt, who was flying out the next day.
We dropped Kurt at the airport the next morning and bit him farewell. We carried on driving east to visit the coastal villages of Taqah and Mirbat. Along the road was some spectacular desert scenery, mountains in the distance, Bedouin camps, and camels. Lots of camels.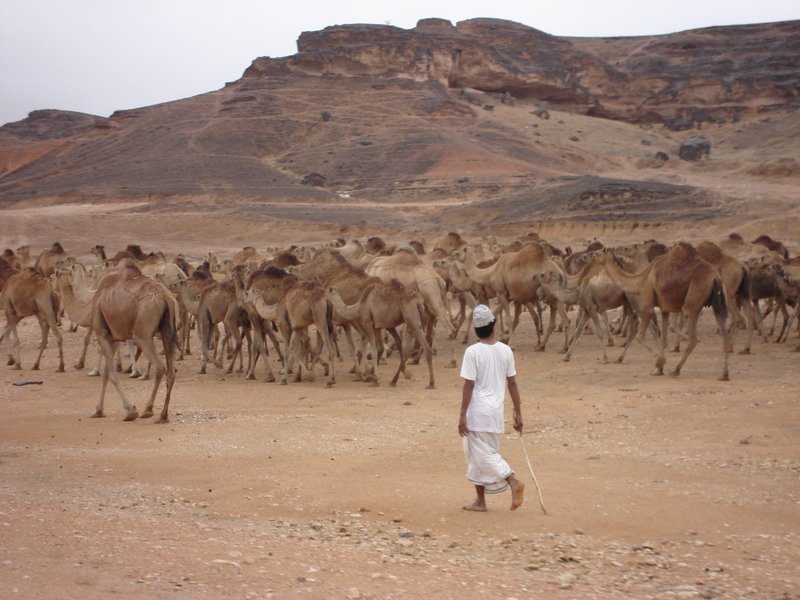 We had a drive through look at Taqah with its interesting buildings, old and new, and carried on to Mirbat where we stopped in at a local Indian restaurant for lunch. The place was a basic as they come, but the food was excellent, cheap and they even had utensils for us westerners.
We wandered around the old port in Mirbat, and explored the15th century ruins in the old town. Many of the buildings were fairly intact and looked as if they had been inhabited within the last five or ten years. After our exploring, we wandered down to the water where there was a lovely little café. On a stone terrace overlooking the water, we relaxed and enjoyed a Turkish coffee.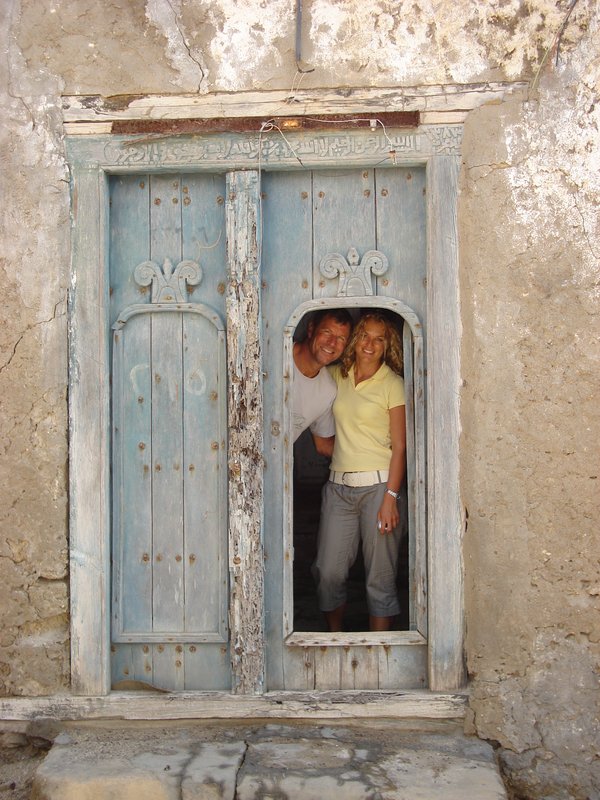 In Mirbat
That night it actually began to rain. We stayed on board and quiet meal in.
On Friday, we drove west towards Yemen. After a stint through the desert, we came back along the sea shore for awhile. The road then proceeded through an incredibly rugged mountain range. The engineering of this road along the sheer mountain faces was absolutely remarkable. The only fault to the road was that it did not have a bridge over the creek bed at the bottom of a canyon. I suppose it's not much of an issue if it only rains four days a year. The problem is that it had rained that day, so the roadbed was now a couple of feet under the river bed. Trucks and SUV's were able to pass OK, but cars were stuck on one side or the other until the water would recede.
After watching some cars and trucks ford the river for about a half hour, we decided not to take any unnecessary risks with our rental car and headed back to Mugsayl Bay Beach where we checked out some interesting caves and blow holes along the coast. After, we had lunch at a beach café. It was interesting to watch local families playing on the beach and swimming in the surf, the women who were swimming were still wearing black clothes from head to toe. They obviously have not heard of the burquini!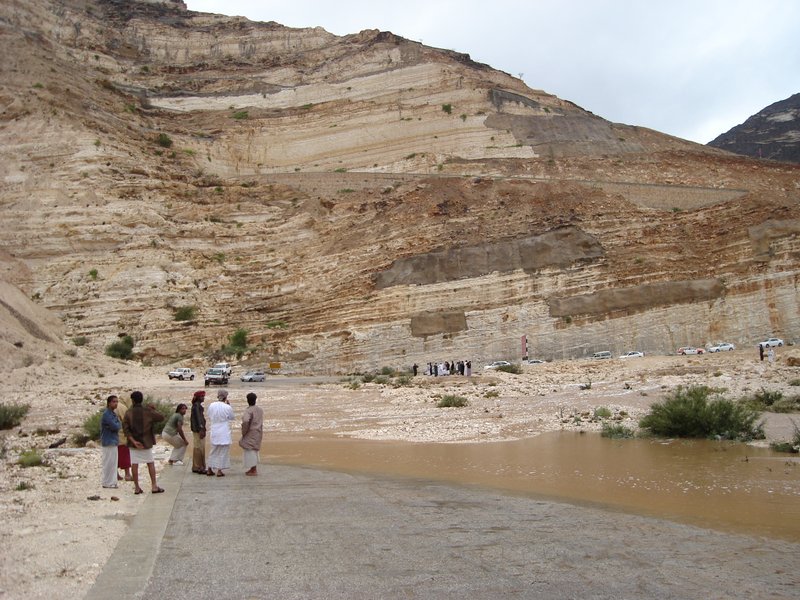 At the border of Oman and Yemen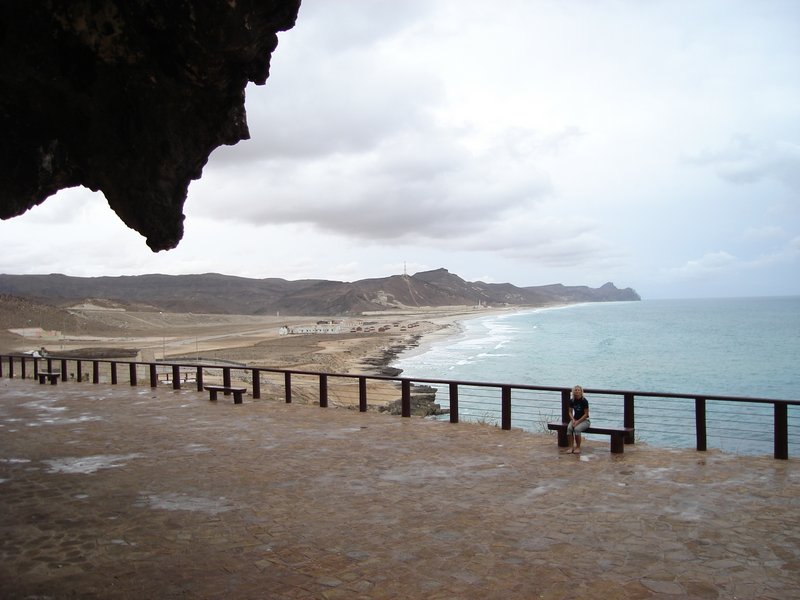 Mugsayl Bay
We returned to the out-of-town restaurant for an excellent Lebanese dinner, and a round of shisha pipes with coffee for desert. Since Friday was the holiday evening, lots of groups were out having a family meal. Since most of the women cannot show their faces in public, the restaurant provides either private rooms or movable partitions so that each group can have privacy if they wish.
It was Tim's last day, so we headed into town and did some provisioning, ran some errands, enjoyed a last great Lebanese lunch at our favorite restaurant in town and dropped him at the airport. I checked out of Oman that afternoon, returned the rental car and we were ready for a Sunday morning departure from Salalah.
I don't know if we were anxious about the Gulf of Aden, or if we really enjoyed Salalah, or both, but we would have liked to hang out there for another week, perhaps doing some sight seeing further afield. The people were very friendly and helpful, the scenery was beautiful, the food was excellent, the culture fascinating, the provisioning very good, and we were made to feel comfortable even though we were very much outsiders. We felt we were on the trailing edge of the fleet moving into and up the Red Sea, so felt it was time to get moving again. We departed Salalah at first light the next morning and sailed west into the Gulf of Aden.