Someone once said "there is no such thing as bad weather, just inappropriate clothing." I think the key to being comfortable is having the right type of gear for the climate and conditions in which you're cruising. Here are a few of our thoughts.
What do you use in the tropics?
Nothing! When we're cruising in the tropics, most of the time we're wearing board shorts and bikini, so when the occasional squall comes along, we either duck under the dodger or get out the soap and enjoy a cool shower. That said, we both have lightweight, breathable foulie jackets that we can wear if we wish to stay dry or if we are sailing when it is a bit cooler, like at night.
When we're transiting away from the tropics and it starts to get cold, we dig out the heavier foulies and add layers underneath. Polypropylene long underwear and a fleece top will usually keep us warm up to the mid-latitudes.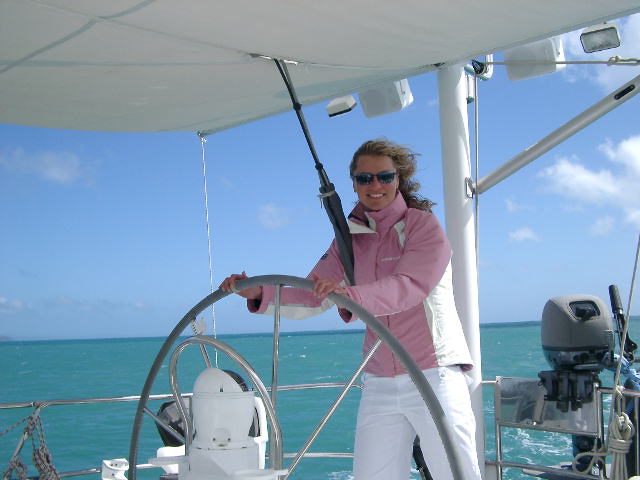 Merima's light Henry Lloyd jacket is good for the tropics and looks good enough to wear ashore.
Do you use anything special for working from the dink in cold climates?
We don't do cold climates! We do keep full sets of heavy offshore foulies stashed away for serious weather, but in the tropics we usually carry a couple of inexpensive PVC ponchos in case we get caught out in the rain when we're using the dink.
How about immersion suits for emergencies?
We don't have immersion suits as we're generally sailing in warmer waters, but if we ever ventured into the higher latitudes, I would consider them.
Do you use breathable gear, and if so, does it really work?
Yes, we prefer breathable gear and yes, it does work to a degree. In order for it to breath, the breathable fiber must be kept clean and free from salt buildup. That means regular rinsing with fresh water if they've been subject to salt spray. Once a year or so, I just toss them in the washer for a cycle without any detergent.
If buying new today, what would you go for, and what are the most important features (like sealable wrists/feet, built-in harness, flotation, etc.)?
I think the two most important features of foul weather gear are its ability to keep you dry, and that it is comfortable to wear. Beyond that it really depends on one's personal preferences as it relates to style, utility, features, quality and budget. I find that built-in flotation is too bulky, limits my movements and can be too warm. I don't believe that a built-in harness is as safe as an external harnesses with inflatable flotation. We use SOSpenders and Mustang, because in addition to personal flotation, they can be easily modified to add crotch straps for ladies and smaller people so they can't slip out. As for the foulies, good sealing at the neck, wrists and ankles is important, as well as stitching, seams and zips that don't leak. I'm still pleased with my Henri Lloyd offshore jacket that I've had for more than 12 years, although I've removed the built-in harness. It's showing a bit of aging from UV outside, but still does the job and should last a few more years. I had to replace my Patagonia foulie bottoms which were completely worn out from years of racing. I found the Musto Performance to be the best option that was equally as comfortable and durable that I could find in New Zealand. Merima likes her Henri Lloyd Women's Sail Jacket, as it is very comfortable and looks quite nice, but she found the Aigle pants to be the best fit and most comfortable for her lower half. As a lower cost option, I've always felt that the West Marine Explorer gear was good value for money, particularly for the occasional passagemaker.
Some of the race gear is much heavier because of work on deck, and the wear-and-tear therefrom. Do you need this heavier level for cruising?
Racing gear tends to have extra layers of material at the seat and knees, and be generally more sturdily built. Unless you spend a lot of time scrambling around on deck in the elements, this extra weight and expense may not be necessary. If you have reasonable protection from wind and waves, like a pilot house or a good dodger, and modern sail handling gear, the amount of time you will be exposed is minimal. But if you do a lot of racing, like I do, usually on OPB's (other people's boats) that don't have this protection or sail handling, you might want to consider investing in a heavier gear rather than having to buy two sets.
Is color important for seeing someone on deck or in the water? Are you concerned with color-related shark issues (i.e. do you stay away from yummy yellow)?
Color is absolutely important to us. I always chuckle at white foul weather gear or gear with white on the shoulders because it seems to me that it would be difficult to spot a person in whitecaps or breaking seas. Dark blue, dark gray and black gear looks pretty flash, but might make one difficult or impossible to spot in blue water, particularly on a cloudy day or at night. Bright colors like red, yellow or neon definitely provide a better contrast in the water, but any good gear should have SOLAS reflective patches on the shoulders and hood to make spotting at night easier. If your gear doesn't have it, you can purchase SOLAS tape from a chandlery and stick it on. Apparently studies have shown that man-eating sharks are attracted to yellow, so this color should only be worn by women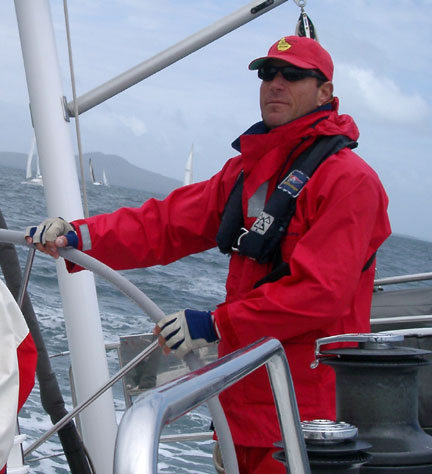 Heading offshore from New Zealand.
If you use the long-style pants, do you ever/often use these without a top?
Yes, but generally only when we're racing to prevent boat butt when we have to sit on wet decks, seats or on the rail. The top only goes on when it's really wet or cold.
What about features to make answering the call of nature easier (for both men and women)?
My gear has a long double zippered fly in the front of the pants which can be opened from the top or bottom. This is backed up inside by a wide, flexible waterproof gusset. This means I don't have to remove any gear to pee. Merima's pants have covered zips down the sides and a "drop seat" which allows her similar convenience.