After our excellent haul out, we spent the next three weeks waiting for the new dodger cover to be completed. Somehow we managed to find a plethora of jobs and projects to fill up most of our days. Our "to do" and "to get" lists are the shortest they've been in years, both hovering in low single digits. We haven't managed to fly the "no wrench" flag (signifies that we didn't do any boat work and there was nothing to be repaired) in years.
When our anchor was acid washed in preparation for re-galvanizing, some rather concerning stress cracks were exposed. The 50 kg (110 pound) Bruce that had served Moonshadow so well (except on weed bottoms) for 25 years and 100,000 miles of cruising, had finally reached the end of its useful life. We gifted it to Daniel, who made our dodger cover, and it has apparently become a piece of nautical memorabilia in the back yard of his home.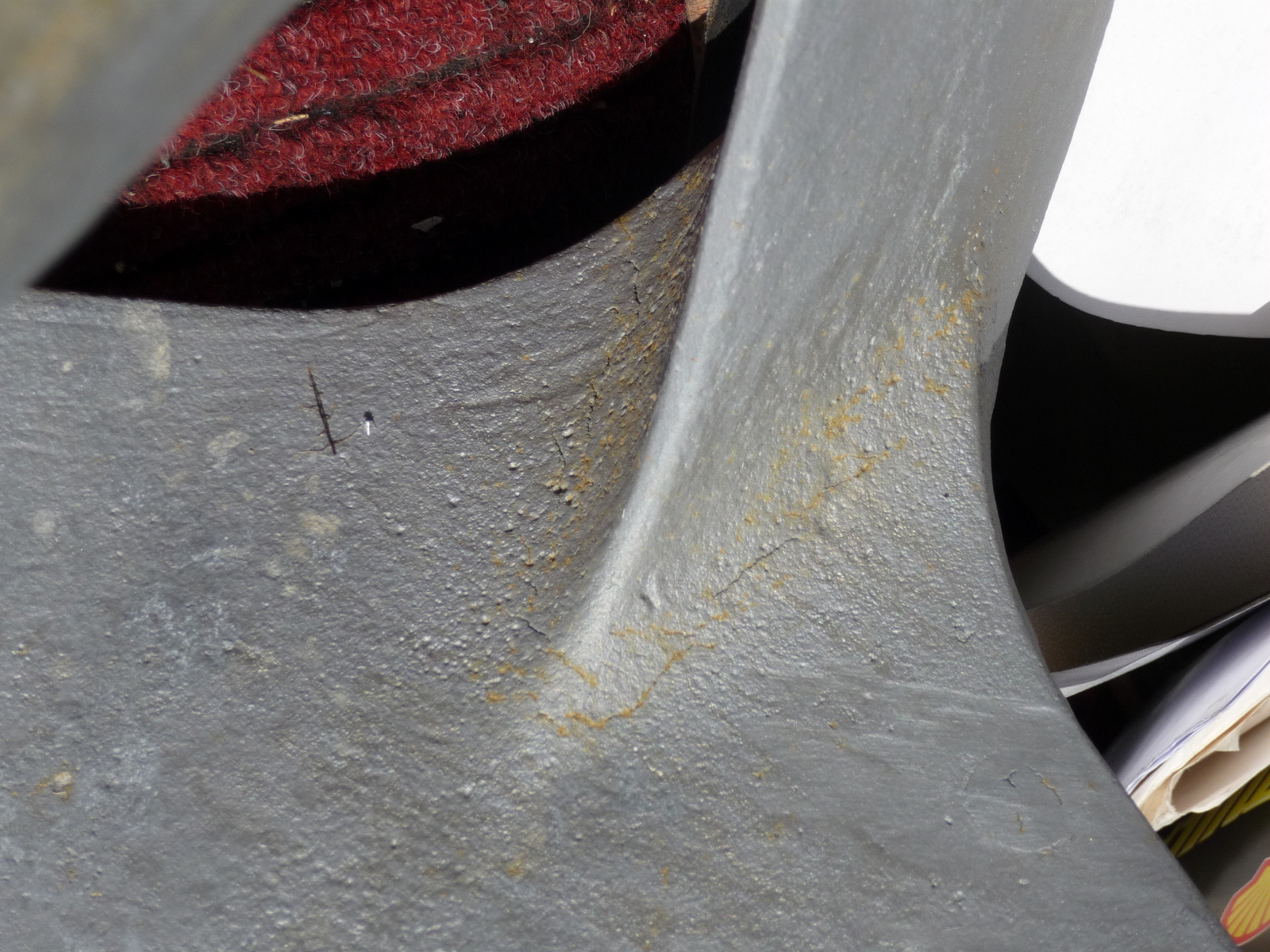 Stress cracks from 25 years of hard work
Our new anchor is 55 kg (121 lb) New Zealand made Rocna which is the largest we could carry without extensive re-fabrication of Moonshadow's stem fitting, and bow roller. While it looks almost embarrassingly large on the bow, it lives up to its reputation of setting fast and well, even in weed bottoms. With weed bottoms becoming more and more common, we reckon we'll sleep better during our last season in the Med.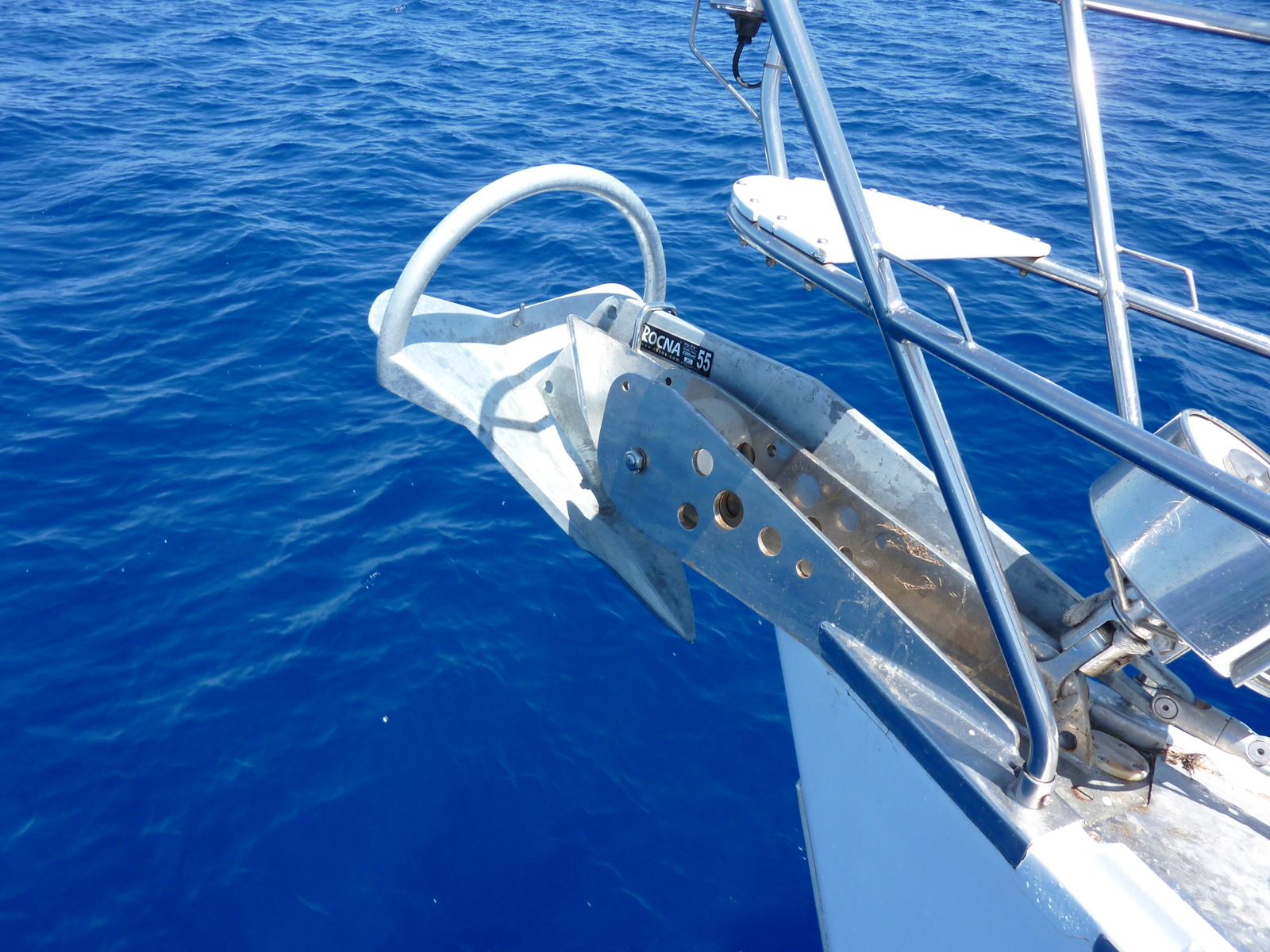 The new Rocna anchor 
Upon inspection of the EPIRB (Emergency Position Indicating Radio Beacon), which is a must-have item for offshore work, I discovered the battery was two years out of date. I contacted the manufacturer's local agent in Malta who told me that he could source the battery from England in a few days. The bad news was that because the battery contained hazardous materials, shipping costs would be three times as much as the battery. For an additional €80 we purchased a new EPIRB with an integrated GPS. The GPS option transmits our location within a few meters should we have to deploy it. It just so happens that this piece of equipment is required for the ARC Rally. Furthermore, the batteries are made of non-hazardous materials and are user-changeable.
Our six week stay in Malta was certainly not all work and no play for us. We became acquainted with and socialized with some friendly yachties who were frequently on board their yachts on our pontoon. We found a number of good restaurants in the neighborhood and enjoyed some excellent meals out while sampling an array of excellent and reasonably priced Maltese wines. Our favorite is a Girgentina Frizzante, a dry white with a slight bit of fizz. Rosé wine is popular in Malta as it goes down well on a warm afternoon or evening. One convivial little café/pub close to the marina called the Jubilee became our "local" when we wanted a pint of Guinness or glass of wine after the evening stroll. In addition to great music and atmosphere, they also serve a superb plate of Maltese-style cheese ravioli with a sage butter sauce.
When it wasn't too hot, we enjoyed some bike rides along the long promenade that winds along the shoreline of Msida, Ta'Xibex, Sliema and St. Julians. While Malta has no shortage of sunshine, sun worshippers will find it difficult to find a nice patch of sand on which to lay their towel. Most of the shoreline is rocky.
For the cruising sailor, Malta has plenty to offer. It is an excellent place to winter over as marina prices are amongst the lowest in the Med-if you can find space. Almost anything to do with boats can be found at a reasonable price. If you pay in cash or are a foreign flagged yacht and plan to depart the EU, you can usually avoid the nasty 18% V.A.T. (value added tax). Services are available for almost any type of work, most people speak English and the labor rate is significantly less than on the European side of the Med. Provisioning is excellent for almost any type of food. We even found good New Zealand lamb at prices comparable to those back home. Some of the vendors even come to you. Fruit and veggie trucks regularly appeared in the marina and made stops in the surrounding neighborhoods. Proximity to the popular cruising grounds of Croatia, Greece, Italy, Spain and Tunisia is good as are connections by air and ferry to the rest of Europe.
There is plenty to see and do in Malta. Public transportation (bus and ferry) is cheap and efficient and will take you almost anywhere. Most of the amenities we needed were within a short walk from the marina. The architecture in the nicer and historic areas is pleasant and interesting. One neighborhood or another seems to always have some sort of fiesta on to celebrate the birthday of their patron saint. Malta appears to have a good standard living. We saw no evidence of poverty or homelessness and understand that the crime rate is relatively low. There is plenty of new construction taking place as a result of the tourism boom and ex-pats from northern Europe choosing to retire in Malta owing to the pleasant climate and reasonable cost of living.
We found that the people were especially warm, friendly and helpful.
For us, Malta has only two negatives. Firstly there are few protected all-weather anchorages around the islands, making a mooring or marina berth almost essential for a long stay. The other was the annoyingly loud and frequent fireworks displays that went from 0800 hours to midnight almost daily. Rarely an hour went by when we did not hear a rumble resembling cannon fire, much of it very close to us and deafeningly loud. On a few occasions it would carry on nearly non-stop for half an hour. On one occasion we heard a visiting Italian shouting obscenities (which Merima translated, but I cannot print) into the air out of frustration.
Our new dodger cover finally arrived two weeks late, but in the end we were pleased with the result.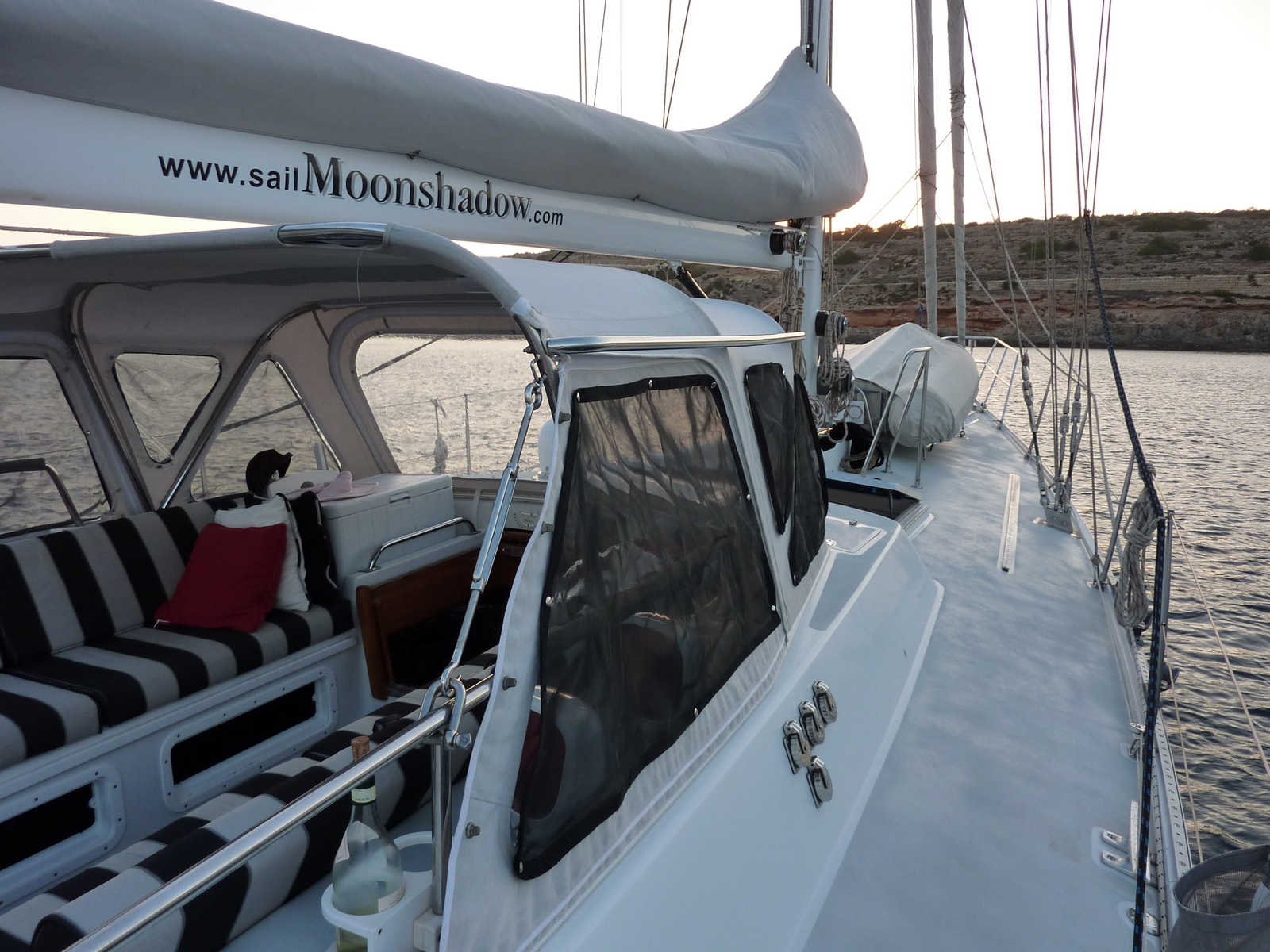 The new dodger
We tossed off the lines from Manoel Island Marina the following day and headed north a few miles to the large resort-lined bay by the town of Millieha and spent a couple of pleasant days on our new hook, checking out all our systems and waiting for favorable winds for the sail north to Sicily.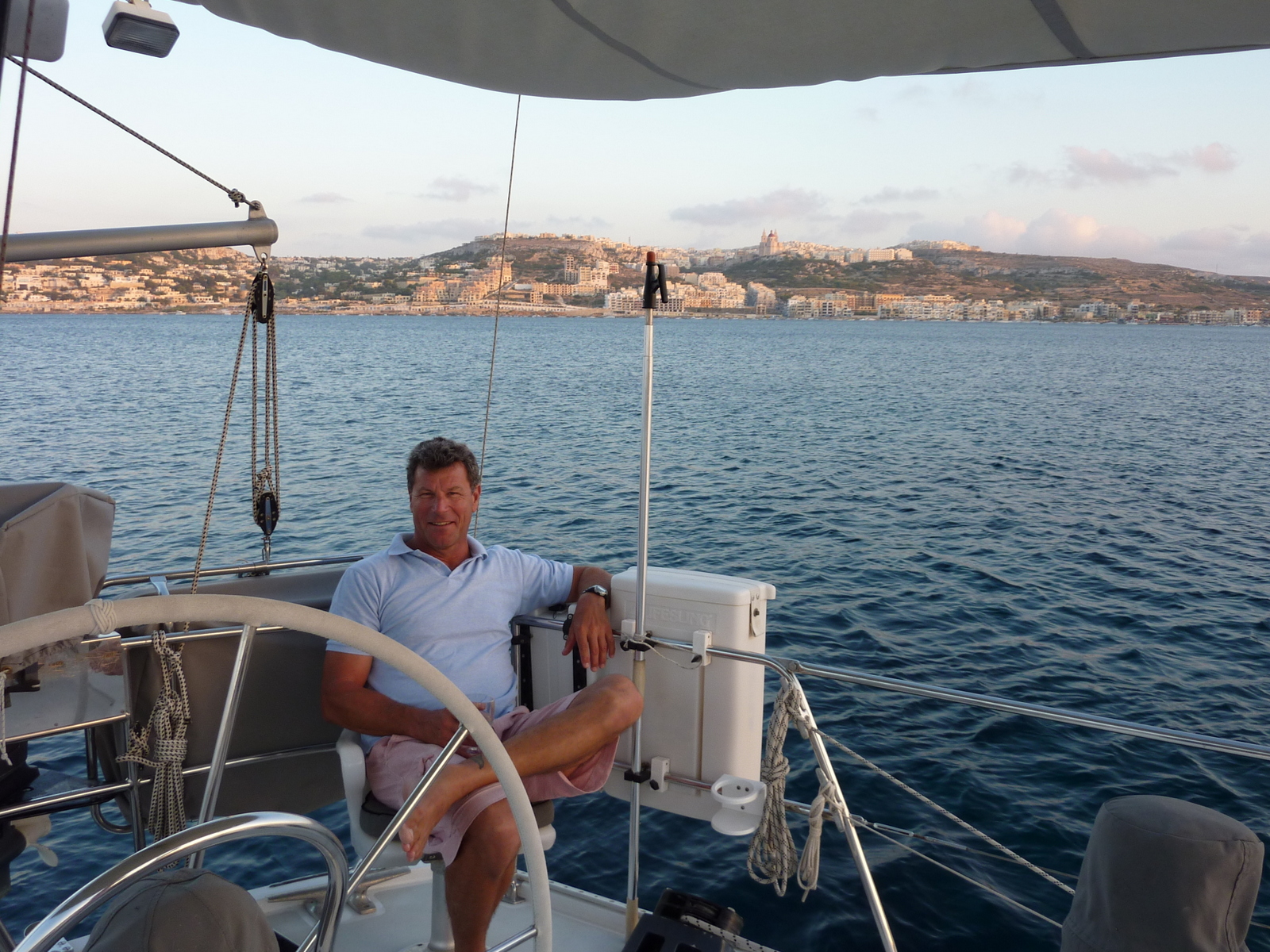 Relaxing on the (new) hook after a long, hot haul out