The Southern coast of Sicily is an easy day's sail from Malta. The trick is to find a weather window that provides the necessary breeze to get you there, but allow you be comfortable when you arrive as there are few protected anchorages between Syracusa on the east coast and Trapani on the west coast.
An 0630 hours start would give us plenty of time to make landfall by sunset. We had almost no breeze until a sea breeze filled in that afternoon, allowing us to sail the last twenty or so miles to the port of Licata, which is situated roughly in the middle of the southern coastline of Sicily.
Licata is a rather non-descript fishing town with not much to offer cruisers excepting a designated anchorage inside the long outer breakwater. Seas were calm and we decided to anchor out near the confluence of the Salso River to avoid the noise and wash of the fishing boats coming and going at all hours of the night.
We left early the next morning heading west. The 9-15 knot land breeze faded away after an hour leaving us to motor sail the rest of the 25 miles to Porto Empedocle. Empedocle had a bit more character and once again, a designated anchorage inside the breakwater with room for a few visiting yachts and offering excellent all-around protection.
Merima went into town to top up our prepaid Italian cell phone SIM cards (one for voice, one for wireless modem). She reported that typical of the smaller southern towns, everyone was very friendly and helpful. It actually took her two trips to town to sort out our telephony.
TIM (Telecom Italia Mobile) is quite a clever company. Even though our SIM cards are "prepay," we somehow managed to accrue a debit balance on both numbers. This is not apparent until after you have recharged your number and nobody at customer service can explain exactly how this happens. Anyway TIM managed to extract another €25 from us before we could get reconnected. All one can say is T.I.I. (this is Italy!)
If the protection was good at Porto Empedocle, the price we had to pay was a layer of soot on the decks the next morning thanks to a factory of some sort belching out smoke a few hundred meters upwind of the anchorage.
We motor-sailed west about 50 miles along a lovely stretch of coastline to the fishing port of Mazara del Vallo. The long mole provided plenty of protection in its lee. The port itself was chock full of trawlers and that night (a Wednesday) the town had some sort of bash with a live concert and fireworks that went on till the early hours.
The next morning we had an easy hop up to the town of Marsala and anchored in the lee of the long mole called Diga Foranea in a light westerly. We splashed the dinghy and went into town for an espresso and to pick up some provisions. Marsala's Via Roma or main street had some lovely shops and we found an excellent supermarket. Apparently we blended in well, as people in the market kept chatting with us (at least trying in my case) as if we were locals. We snagged some local cheeses and a few bottles of fine Marsala wine for which the town is famous.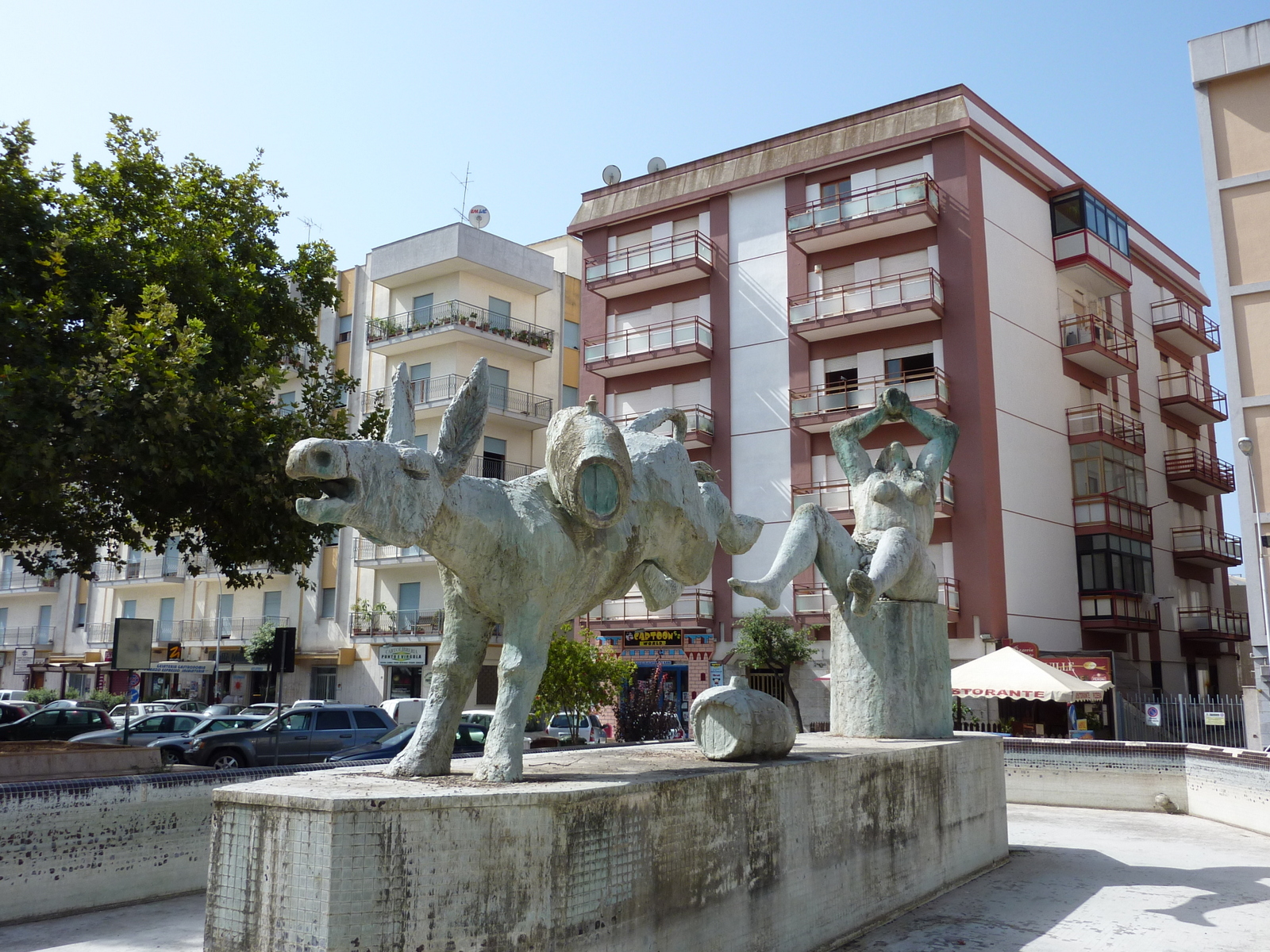 The town of Marsala is known for its wine
The wind backed around to the south the next morning. Within hours, our anchorage would have become untenable so we headed out, turned north and set sail for the Isole Egadi (Egadi Islands).
The five islands that form the Isole Egadi are contained within a marine reserve. The locals still fish for tuna although their numbers have been seriously depleted. If the volume is down, they make up for it with price. Some tourist shops in Favignana sell locally harvested tuna for more than €20 for an average sized tin. John West (about €1 a tin) is fine for us, thanks.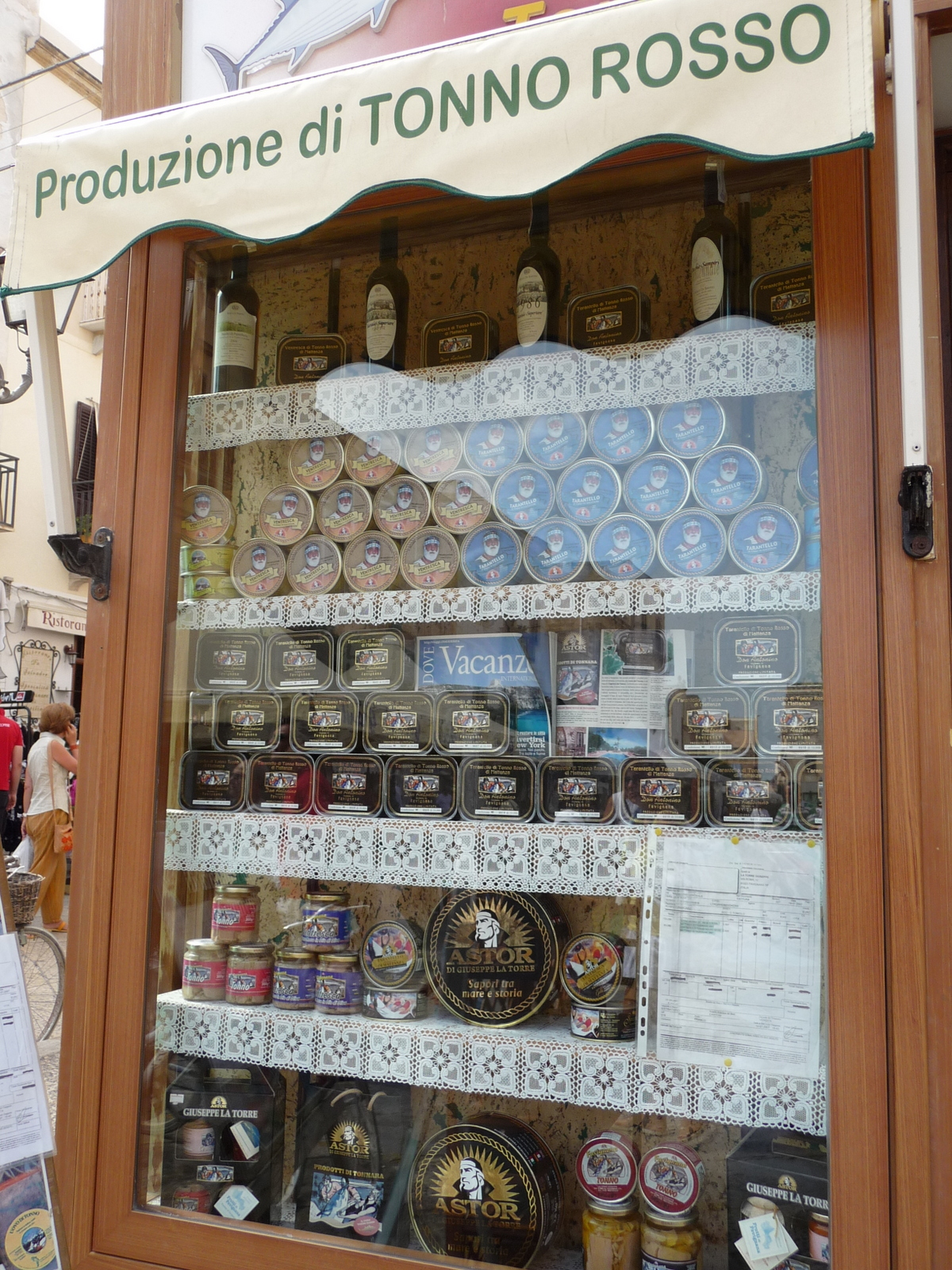 A shop specialising in tinned tuna.
There is little protection from a southerly in this area, so when we pulled into the bight just west of Punta Marsala on the island of Favignana, we were in the company of at least a hundred other craft swinging on their hooks and enjoying a fine summer day. Many left the anchorage before sunset, presumably heading to a marina somewhere.
Italian power boaters seem to take it as a personal challenge to see of they can reach top speed between the place where they've lifted their anchor and the edge of the anchored boats, throwing up huge wakes that send the rest of us rolling on our beam ends. If anyone has ever wondered why some sailors don't like power boaters, they need only spend an afternoon in a crowded anchorage in Italy.
We shifted the next day to a less crowded anchorage just outside the port of Favignana and went in to town for a stroll. Favignana was once a busy fishing port and the center of the tuna canning industry. The disused canneries remain at the foot Montagna Grossa which is crowned with an Aragonese fortress. The port, however, is chock full of visiting yachts, ferries, tour and tripper boats.
We visited Favignana on the 15th of August, which in Italy is known as Ferragosto. It literally translates to "Iron August," but it means the feast of Assumption day. It is usually one of the hottest days of summer and falls in the middle of the typical Italian summer holiday. The town was crawling with tourists. The streets were crowded, the outdoor cafes full and there was a dozen cars queuing at the town's lone gas pump. Nonetheless the town was quite pleasant and would be a delightful place to visit in any month but August.
Around midnight that night a swell started working its way into the anchorage from the east and the rolling became progressively worse. We decided that since we weren't going to get any sleep, we might as well be heading someplace, so at 0300 hours in hazy stillness, we set sail for the island of Sardinia, 150 miles to the northwest.