Brooks and Gatehouse, B & G or "Broken Gauges." Whatever you may think of them, they still rate pretty high with cruising and racing sailors alike. We still have most of the original set installed on Moonshadow in 1986 and they continue to serve us well.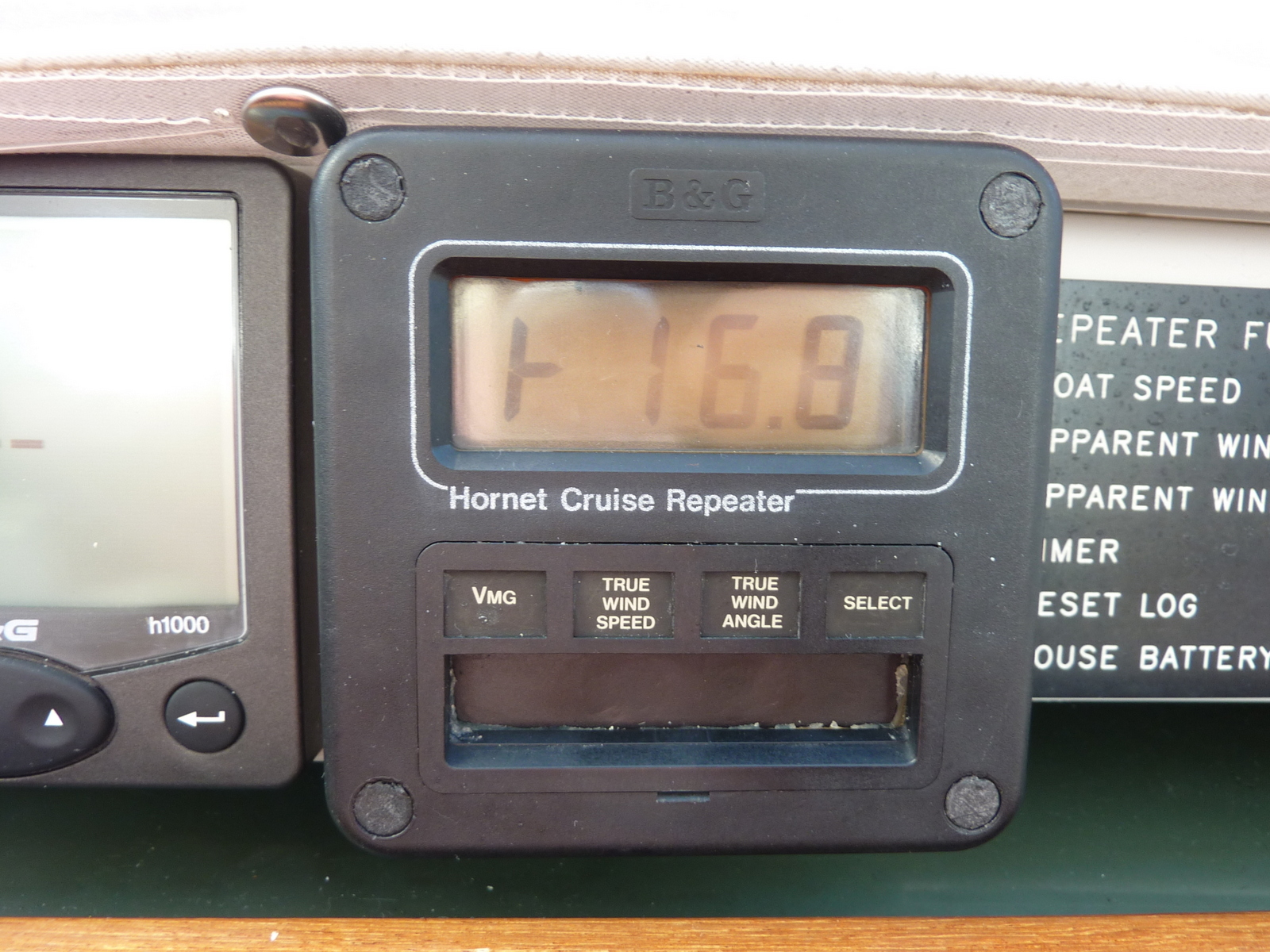 From time to time we have a minor issue and need some service. There aren't many companies that service, let alone stock spare parts for electronic gear that is a quarter of a century old. The big budget boats change this stuff out every five years or so as a matter of course.
As we approached the Canary Islands last Fall, bits of the masthead unit for our wind instruments began to appear on the deck. I decided to go aloft sooner rather than later to see what was going on 65 feet above the water. While the wind instruments were working OK, the fitting connecting the wand to the top of the mast had basically disintegrated and the whole affair was being held on by a stainless steel clip. Great-we were about to do a trans-Atlantic passage and our wind gear might not have even made it to the start line.
I called Brooks and Gatehouse headquarters in England and spoke to a very helpful fellow in technical support. He asked me the model number of the masthead unit. Of course I had no idea. He gave me a link to a PDF file which I downloaded while I was still chatting with him on Skype. Cool-there was our exact unit in one of the drawings. Even more cool, it was still in production after 26 years. So much for "planned obsolescence." I ordered the unit and it reached us in Las Palmas a few days before the ARC Rally. The local B & G service agent installed the unit the day before the start of the rall. We dodged that bullet!
During the Rally, our Hornet Cruise Repeater (pictured above) started to play up. I can't believe we're having these problems after only 25 years! One of our crew, the ace mechanic Graham Jones, managed to dissect the instrument, diagnose the problem and then fabricate a new key pad which had deteriorated from years of use/abuse and U/V exposure. We had wind instruments till we got to Florida.
Graham's fix was temporary at best, so I began calling some of the local B & G people in Ft. Lauderdale when we returned to the boat. None of the authorised dealers had parts let alone any interest in fixing my 25 year old gear and were hoping I'd hand over ten grand for some new stuff. How UN-Kiwi.
A bit more searching on line and I foud the web site of an outfit called Myles Marine Electronics in DeLand, Florida which sells and services new and used marine electronics. Their web site is www.myleselectronics.com I rang Myles and asked if he could help me out with my "broken gauges." He said he had a stock of old parts and felt confident he could repair the instrument. I packed up the Cruise Repeater, as well as my Hornet 4 Sailing Monitor which had a niggly fault in the illumination, and sent them to Myles via UPS on a Friday. I spoke to him the following Tuesday and he had both items repaired and sent them back to me at the marina via UPS. They arrived the follwing day, I hooked them back up and both work great. Not only did he replace the keypad with what appears to be a new one, he replaced the old and fading liquid crystal display and we now have bright clear characters
Myles also sells some new gear and services other brands, so if you have anything in need of repair that you can remove and send off, HE IS THE MAN!