Just another Saturday on Auckland's Waitemata Harbour.  We had finished race three of the annual Classic Yacht Regatta on the Stewart 34 Princess and were heading back to Westhaven from the finish line out in the Motukorea Channel.  We passed the Rangitoto Channel just in time to catch race four of the Louis Vuitton Pacific series finals.  Emirates Team New Zealand were ahead 2-1 in a best of five series against the Swiss team, Alinghi.  Reaching back and forth along the south side of the course set between Takapuna Beach and Rangitoto Island, we had a good view of the action.  The Kiwis got a good start and jumped into an early lead as the breeze freshend into the mid 20 knot rage.  They would remain ahead throughout the race to beat the Swiss team (who, by the way, are mostly Kiwis) in what is being called "America's Cup Light."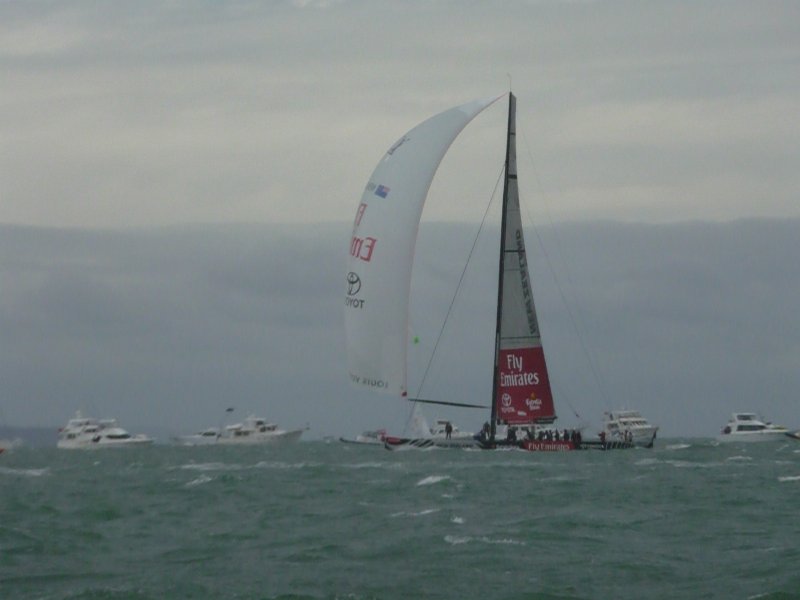 Emiriates Team New Zealand crossing the finish line in race four to win the series.
This capped off 15 days of great racing amongst ten international teams in America's Cup Class yachts here in Auckland.
Now, if we could just get the real America's Cup out of the court room and back on to the race course. . .