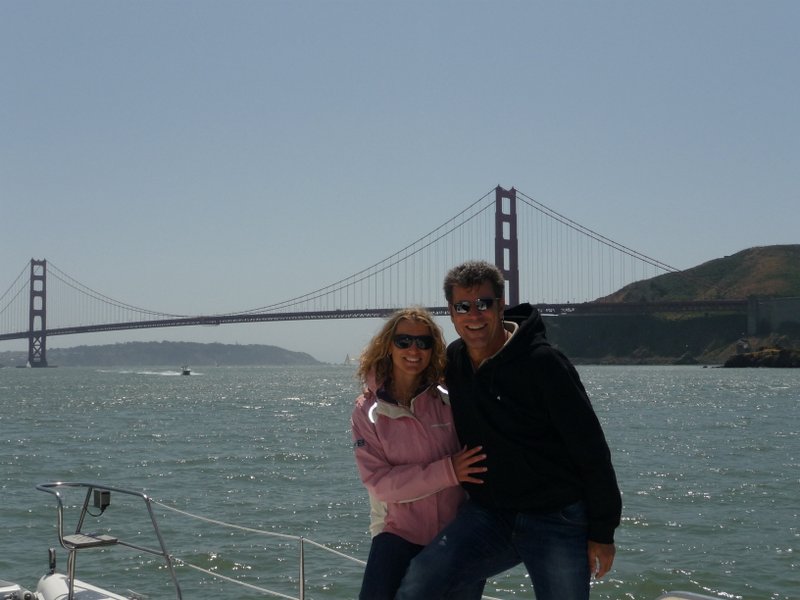 When I was living in the Bay Area, I knew where I would be on the last Sunday of April each year-out sailing for Opening Day on the San Francisco Bay.  We happened to be in town for the event this year and were invited by recidivist Moo-Crew Eric Strasser to join he and 20 of his closest friends aboard a chartered catamaran for the festivities.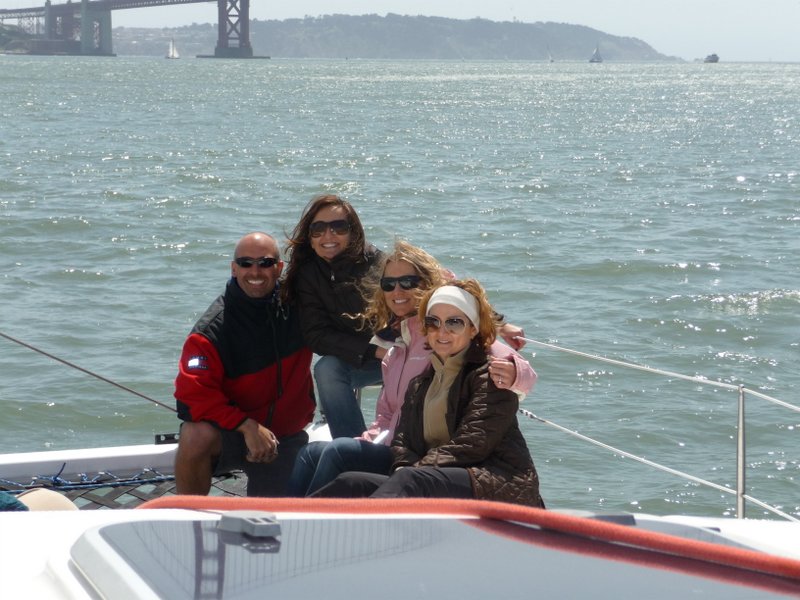 Captain Eric surrounded by beautiful girls-as usual.
Anyone who sails on the Bay knows that one can sail here all year round.  If there is no end to the season, why do they call it Opening Day?  Rewind to the late 1800's when Belvedere was still an island.  The houseboats of the day, known as Arks, wintered in the protected waters of Belvedere Lagoon, between Belvedere Island and the mainland Marin town of Tiburon.  These lovely little "floater homes" were snug and safe from the winter storm's wind and swell.  On the last Sunday in April, the draw bridge across the Corinthian Channel, the entry to the lagoon, was lifted on "Opening Day" so that the arks could be moved to various locations around Richardson Bay where their owners could enjoy the summer months.  Nowadays, it's the ceremonial beginning of yachting season, where the fleet is blessed and boats are dressed for a parade along the San Francisco waterfront.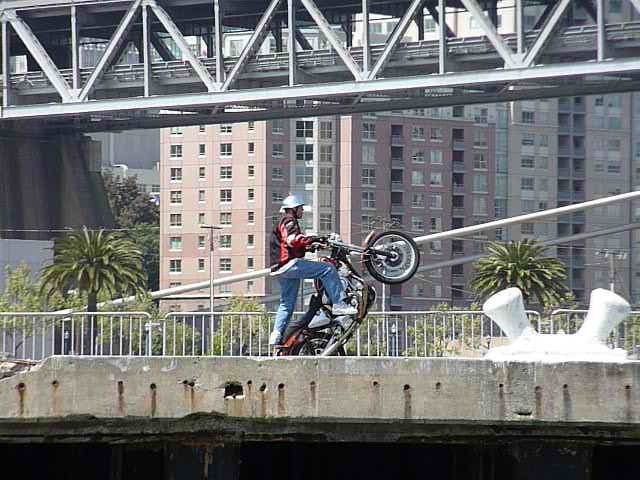 A stuntman was practicing his craft on an old pier near the Bay Bridge.
We were treated to a chilly but sunny sailing day with fresh breezes, beautiful San Francisco Bay vistas, a noticeable lack of traffic, plenty of good music, bevvies and camaraderie.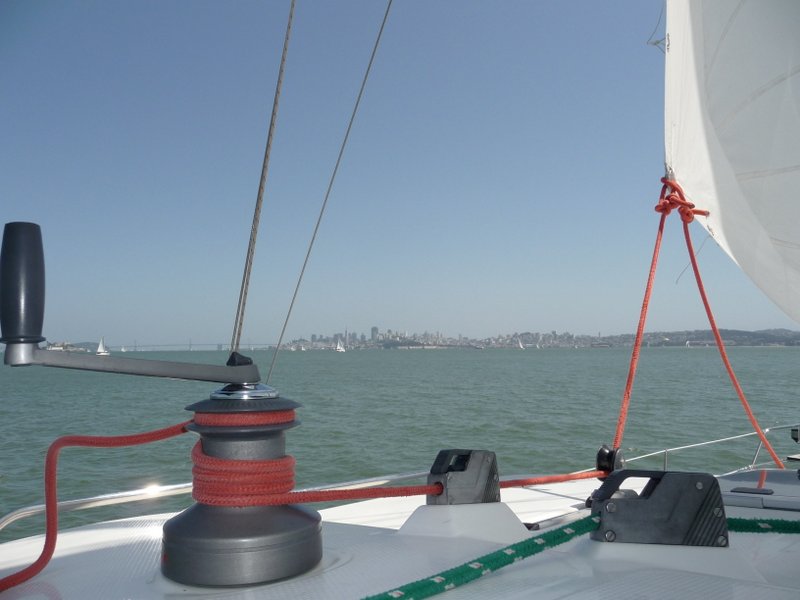 This is the quietest Opening Day I've ever seen!
We even poked our nose out the Gate for a bit.  The last time I was under the Golden Gate Bridge was in October of 1996 when we sailed Moonshadow out of the Bay for the last time.  It  was oh-dark-hundred on a foggy San Francisco morning.  The only way we could tell that we were under the bridge was that we could see it on the radar screen and hear the mid-span foghorn!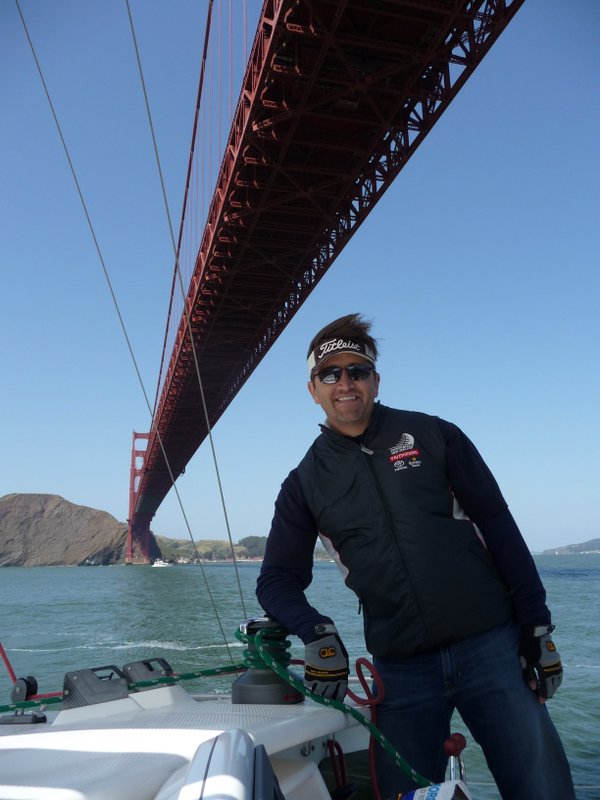 Sean Hughes takes us under the Gate during his trick on the helm.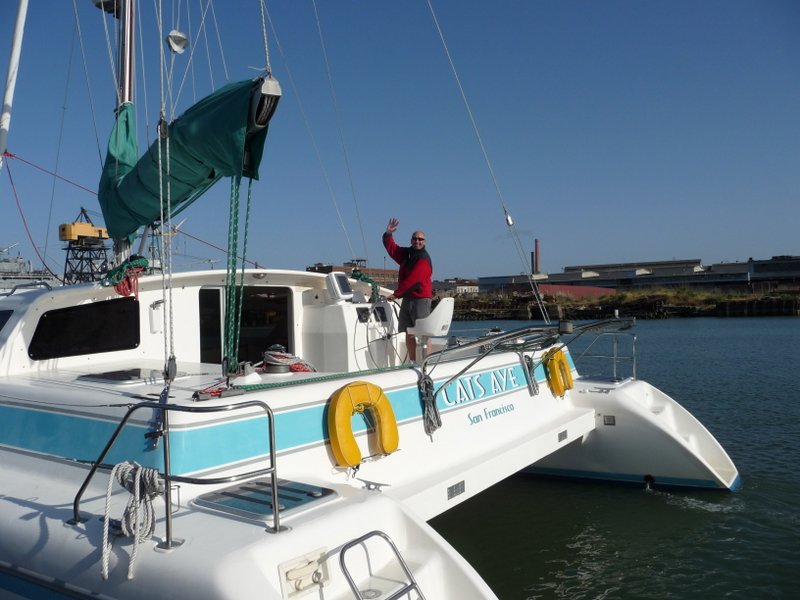 Eric takes the cat back to her den after dropping off the crew in the City.
Next stop:  New Orleans for the annual Jazz and Heritage Festival.