The two most difficult things about Crete for us was getting there and leaving-both for completely different reasons. If the Meltemi tries to keep you out, the wonderful people, beautiful landscape and sumptuous food won't let you go.
We departed the snug little anchorage in Khelatronas Bay on the south end of Kásos Island and headed slightly south of east to the island of Crete. The grib files we had downloaded the day before forecast a fresh NNW'ly so we thought it might be a wet and wild close reach for the 28 mile trip but when we were clear of the effect of the island we were bashing into 20-30 knot westerly, motor sailing at about six knots to stay comfortable and avoid pounding the boat as much as possible. The forecast showed the wind easing a bit the next day, so we took refuge near the northeast cape of the island in a bay called Ormos Dhaskalia.
We had fallen off couple of pretty big waves along the way, rattling our bones and undoubtedly loosening my new molar crown. The forepeak had taken on a bit of water through the anchor chain hawse and the high water alarm began squealing, indicating that the electric bilge pump was on a Greek holiday. I flicked on the genset and activated our emergency bilge pump system and a few seconds later the forepeak was full of air again. After totally emptying the forepeak of sails, spinnakers, awnings and covers I lifted the floor board and discovered that the electric bilge pump had come free from its snap-in mount and the impeller had become jammed with a small piece of debris-a double whammy. Both situations were corrected in a few minutes and the forepeak got a good drying out for the rest of the day.
We weighed anchor at first light the next morning and made it around Cape Sídheros before the Meltemi and accompanying seas had picked up to full force. It was a fairly easy trip across the Gulf of Mirabello to the town of Áyios Nikólaos in westerly winds varying from 3 to 30 knots.
A quick cell phone call to the Áyios Nikólaos Marina confirmed that they had space for Moonshadow for a few days where we could relax and await conditions that were more favorable for moving west again. By the time we arrived in the marina, the Meltemi had fully developed for the day and the bullets funneling through the gap in the mountains were reaching over 30 knots. It's always fun berthing in an unfamiliar marina in these conditions, especially when there is a large audience on shore just waiting for some excitement at someone else's expense.
The good news is that the loud and zealous dock attendant assigned us to a side tie on the fuel jetty. This was excellent for us as all the regular berths are Med-moorings and situated perpendicular to the prevailing winds. The Greeks must have learned marina layout from the same people as the San Franciscans. I was practicing my "dial-up" near the marina entrance and held Moonshadow on station, head to wind (with occasional use of power) for the time it took Merima to set up dock lines and fenders, all the while trying to indicate to Zealous Zorba the dock attendant that we would like to get lines and fenders ready before we approached the jetty. He finally got the message and managed to contain his impatience for a few minutes. The bad news was that the wind was blowing us right off the jetty at 20 knots, gusting to 30, so it would be a bit of fun getting her along side. Merima tossed an aft spring to Zorba and I pointed to a bollard and asked him to tie it off. Being the macho man he was, he paid me no mind and took two casual turns on it, holding the tail in his hands. Ok, have it your way matey. As I applied the requisite amount of power it would take to bring us alongside in the breeze, away went the line and surely a layer or two of his thick skin. Landing aborted-go around! On the second approach I suggested to Merima that she put a bowline in the end of the line so that Zorba could simply slip it over the bollard. Mr. Macho wouldn't have a bar of it, and loudly insisted we toss him the line immediately and he would tie it. He caught the aft spring, and this time took three or four turns around the bollard and was just barely able to hold it while I applied the requisite power and rudder to maneuver Moonshadow along side the bulkhead so we could fasten the rest of our dock lines. He then handed over this highly loaded line to a lady from a nearby yacht in order to catch our stern line. Once we were tied up Zorba insisted that a boat like ours should have a bow thruster (as if it would have been of any help in this situation). He said every boat in the Med over 40 feet has a bow thruster, because without one, it makes his job too hard. I told him that I would give it my full consideration and by the way, we had somehow managed just fine without one for the past 14 years and 70,000+ miles. In a supreme display of restraint, I stopped myself short of offering to teach him how to tie a bowline.
Áyios Nikólaos has the only proper marina on the isle of Crete. While its facilities are basic, it is a pleasant enough place to stay and right along side the town. Áyios Nikólaos is itself is a lovely town with the city harbor and an adjacent lagoon forming the nucleus. While the architecture is mostly mid to late 20th century and rather uninspiring, the town is very friendly and has a nice vibe to it. It was bustling with tourists, mostly Greek, and the waterfront cafes, restaurants and bars would begin to swell up after the 8:30 sunset and carry on till all hours. On our first evening out we found a lovely restaurant specializing in modern interpretations of classic Cretan food and enjoyed one of the best meals we've had in Greece. Afterwards a Greek band played traditional music on a stage that had been set up across the street on the beach. All in all it was a wonderful introduction to Crete.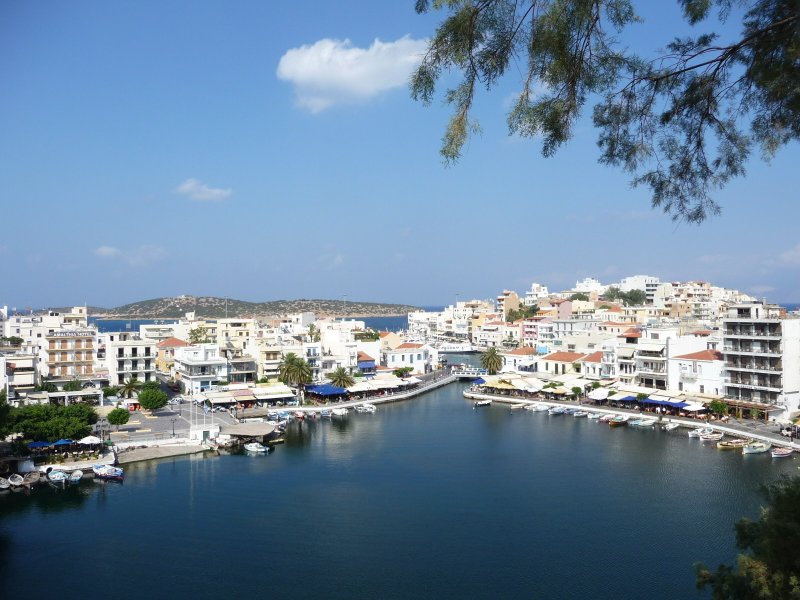 The town of Áyios Nikólaos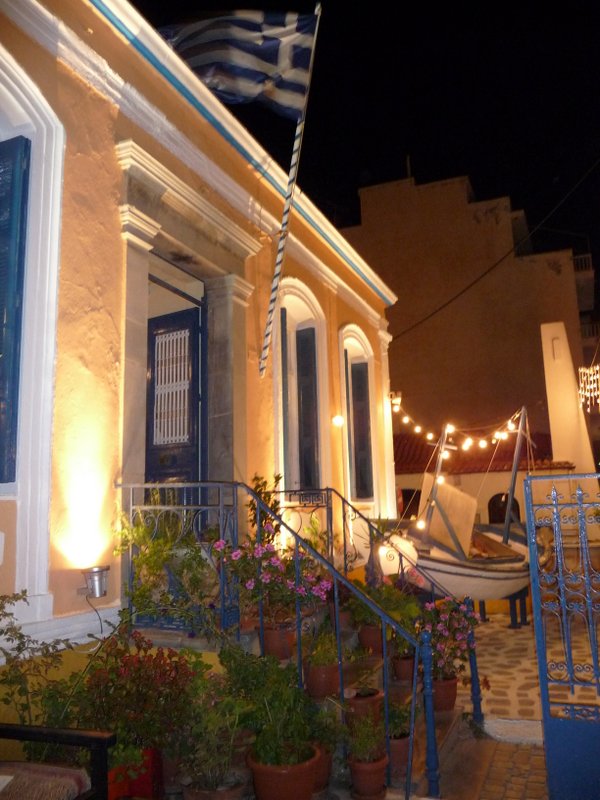 A great little restaurant in Áyios Nikólaos
After cleaning the boat and exploring the lively little town of Áyios Nikólaos we were able to get some reliable weather information from the Greek Meteo web site. It would be at least four days before the strong WNW'ly Meltemi would blow itself out and we would have some light breeze in which we could move west.
We rented a car and headed first to the capital city of Iraklion which is situated more or less in the middle of the island on the north coast. We weren't very impressed with the harbor or the city, so decided to visit the archeological museum and then head out. Unfortunately the main museum was closed for renovation, but they had a small "best of the best" exhibit in a downstairs room so we checked that out. An hour was ample for the mini exhibit and after a brief walk around the town's central district, we drove south a few miles to the ancient Minoan palace of Knossos.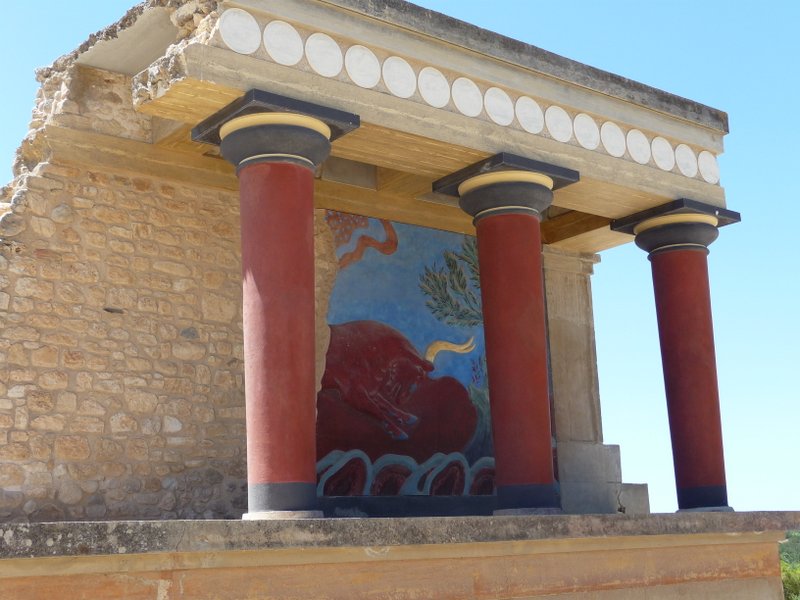 Ruins of the Palace of Knosos
Knossos is inland just enough to be away from the full force of the Meltemi, and with its surroundings of green hills and farms is quite a peaceful setting. The restoration that has taken place on the site was enough to give us a glimpse of just how advanced the Minoan civilization was for their era. Some original frescoes remain and the style of architecture is reminiscent of the art deco/art nouveau era.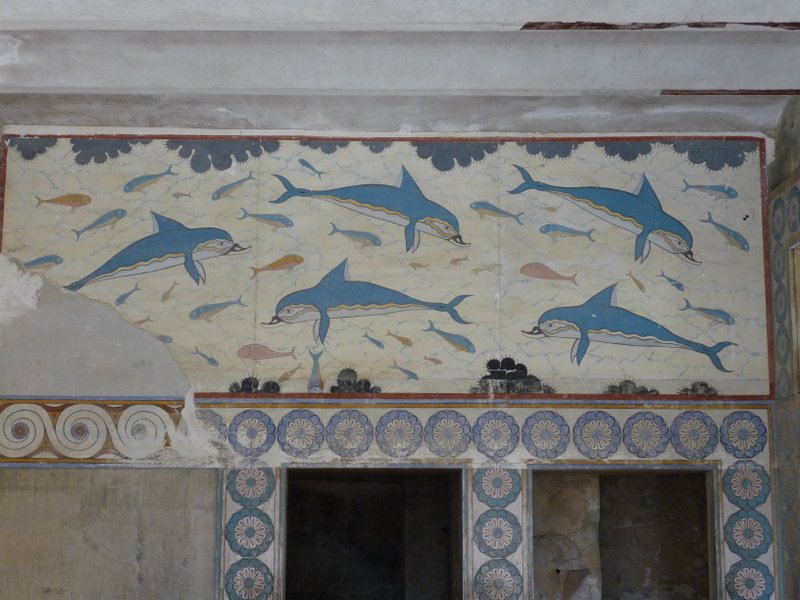 A frescoed wall in the Palace of Knosos
Our throats were parched from a few hours of crawling around the fascinating ruins of Knossos in the heat of the day, so we headed further inland a few more kliks to the Boutari Winery. The state-of-the-art facility perched on a hilltop overlooking vast vineyards is quite impressive. We had the vast, modern tasting room to ourselves as tasted our way through flights of Cretan and other Greek wines, mostly made from grape varietals of which we had never heard, but thoroughly enjoyed. It was a great day and an opportunity to stock up on some drinkable ballast.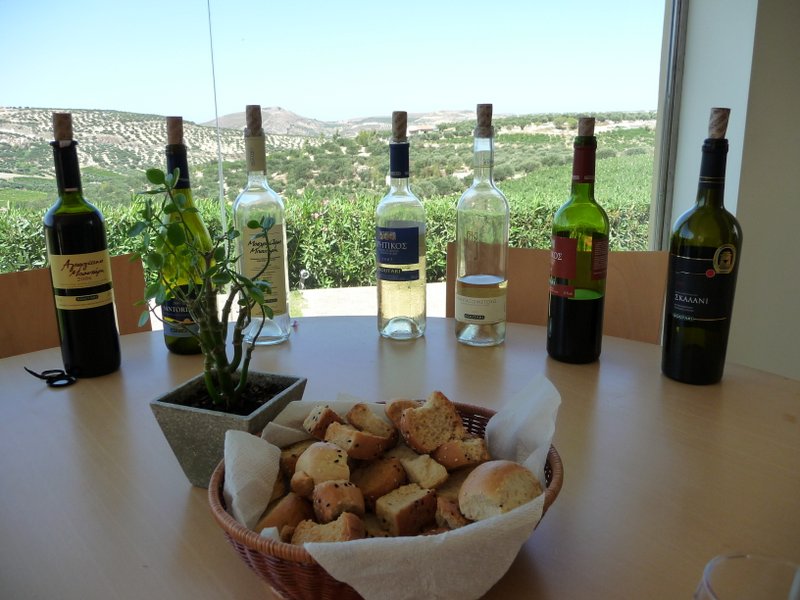 Sampling Cretan wines at Boutari Winery
The following day we drove north through the town of Elounda and along the Spinalonga Lagoon. This was apparently an exclusive and posh resort area in its day, but appears to have lost a bit of its glitter. The large, shallow lagoon offers great protection from the Meltemi and we reckoned would be a good staging point for us as we headed west. At the north end of the lagoon lies Spinalonga Island, on which is the ruin of a fortification the Cretans used to defend against the invading Turks. Some of the intact buildings were used as a leper colony until 1953.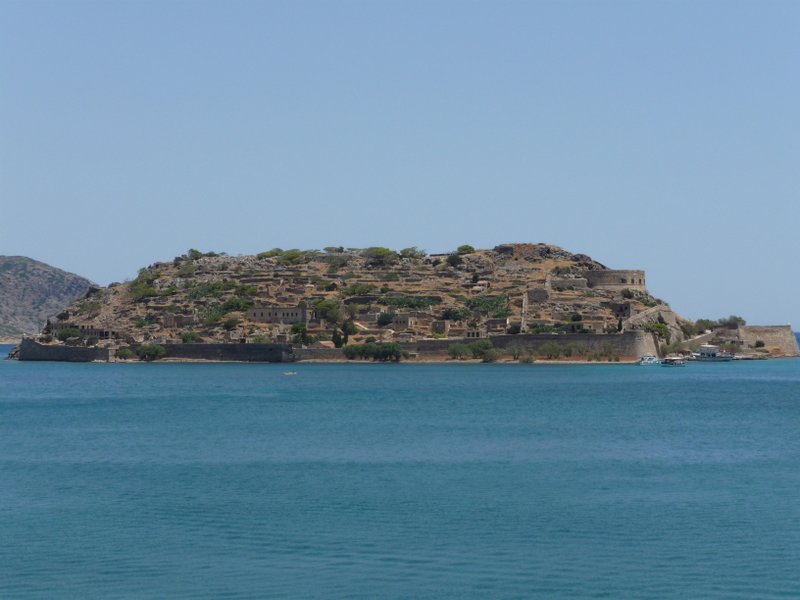 Spinalonga Island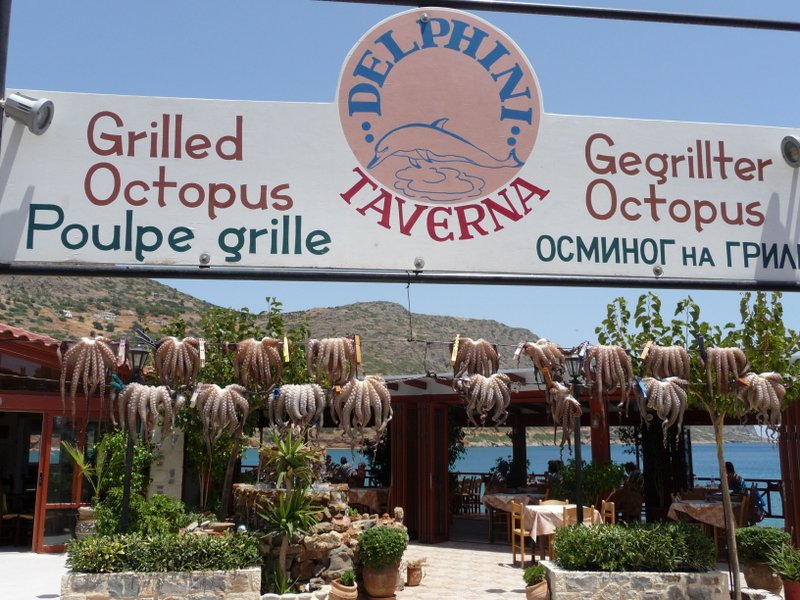 A seafood restaurant on the waterfront of Spinalonga Lagoon
We then drove up into the hills to explore some of the small villages up near Cape Áyios Ioánnis. In the little village of Seles we found a lovely little taverna with sea views and stopped for lunch. Our meal was basic but authentic and the couple who ran the place were colorful characters. The lady did all of the cooking and most of the serving while the man imparted his philosophy on customers, drank beer and occasionally picked up a finished plate. He pointed to his head and said "I do my work in here." We learned in Cyprus that the word for bill or check is logariasmos. In Crete it seems to mean something slightly different. Whenever we asked for the bill here, we got a large plate of karpoúzi (watermelon) and a small bottle of ice cold tsikoudiá (Cretan raki or grappa). The combination is very refreshing and relaxing and tends to help ease one into the laid-back Cretan lifestyle.
Driving back to Áyios Nikólaos we passed through a few more old villages. It appears that time has passed many of these places by and what were once lively communities are now nearly ghost towns. Most of the young people have left for the cities. Old people stay back and wait out their years. Some of the people we saw looked quite old with deep lines carved in their faces, probably in their 90's. Some have lived their entire life in the village they were born in, survived foreign occupations and wars on their soil and watched the arrival of running water, electricity and the automobile. Goat's milk and olives are the mainstay, raw materials for some of the best oils and cheeses in the world. Now they sit and watch as each car passes by, showing little or no emotion towards the most recent invasion-tourism.
The following day we took a drive up to the Lasithi Plateau. This verdant valley is an important agricultural region which grows many of the fruits and vegetables for Crete. By contrast it is cooler and more pleasant than the rocky, wind blown landscape down near sea level. We took the opportunity to chill out a bit and mingle in the villages where the local people produce a variety of handicrafts. We also observed the numerous metal windmills used to pump water from the ground. The basic design has been around for centuries, but is quite a clever blend of mechanical and aerodynamic engineering as well as some plain old sailing technology. The blades are really small cloth sails which can be rolled up or "reefed" when the winds are up, and a pole extends out from the main shaft to which "stays" are attached. They are attached to the ends of the blades to keep them from bending back in a strong breeze.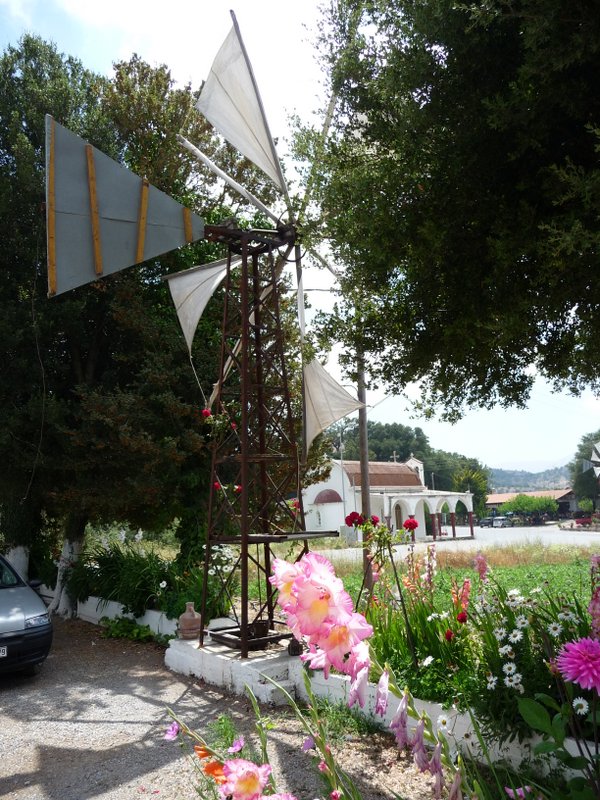 A traditional windmill on the Lesithi Plateu
A break in the Meltemi was forecast so we grabbed a few provisions, checked out and headed a few miles north to Spinalonga Lagoon where we found good anchoring out of the full force of the Meltemi. The forecast was correct and the following day we made the 90 mile trip due west to the old Venetian port city of Hania. Winds were light and seas were calm and other than a couple of dolphin visits, we had a relaxing and uneventful trip along the north coast of Crete. A cell phone call to the harbormaster confirmed there was plenty of room to Med-moor in the old harbor. While it was high tourist season in the prefecture of Hania, few cruising yachts make it out this way. After tying up we had plenty of daylight left to take a stroll around the old city with its lovely Venetian and Ottoman buildings, quaint narrow streets and open air cafes down on the waterfront. From here I would begin the search for the ancestral home of my grandfather.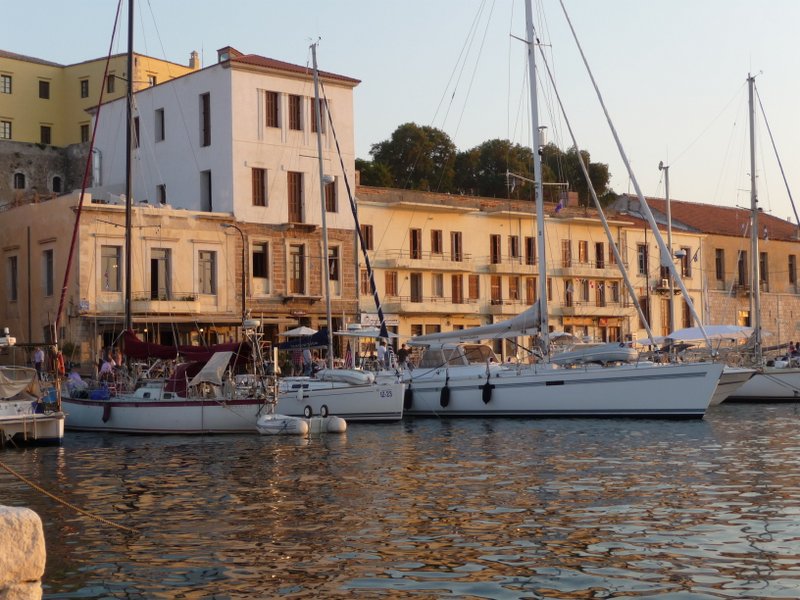 Moored on the bulkhead in Hania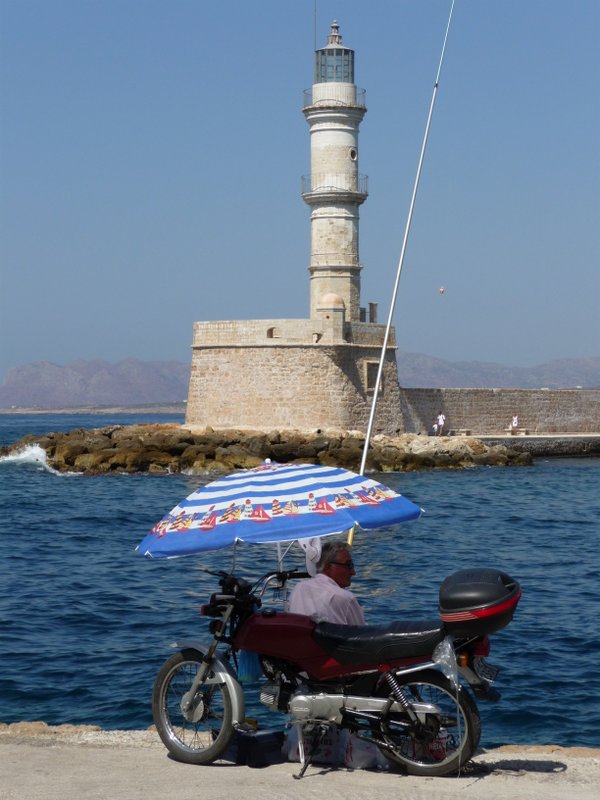 A fisherman by the old lighthouse
Next to us on the bulkhead were Bernie and Patricia on Checkmate, also hailing from Sausalito. Bernie, whose last name is Kreten, was also in search of his family roots. We started chatting and became fast friends. Bernie later introduced us to his new friend, a local gentleman named Manolis. Manolis had lived in New York for 20 years and had done a variety of things from modeling to driving a taxi and tending bar. He returned to his home in Hania eighteen years ago and is now a trekking guide, olive farmer and real estate developer. With a resume like that he obviously knows a lot of people. I told him what we were doing there and gave him my family name. He said he had heard of it and would talk to some of his friends to see what he could find out. In the mean time we spend a couple days exploring Hania and organized a trip to the Samaria Gorge with Manolis.
Hania is one of the most beautiful and exotic cities in Greece. Its "old town" which is contained within the mostly intact city walls is a step back into history and brings together the distinctive influences of the Roman and Ottoman Empires. The Venetian Quarter with its narrow, winding streets has mostly been restored into luxury boutique hotels, upscale cafes and restaurants and tourist shops. It is a delightful place to roam around any time of the day. In the afternoon it is shady and quiet, as most of the Greeks are at rest. In the evening it bursts into life with people coming out to eat and drink till all hours. The old harbor is very picturesque, with an original Venetian lighthouse sitting on the end of the breakwater, and an endless strip of open-air tavernas. On the other side of the harbor is Splantzia, the Turkish Quarter. Here the streets are even narrower and it is easy to get lost in the maze. Most of the buildings are residential, with quite a few abandoned or in ruin, but most have been lovingly converted into charming homes.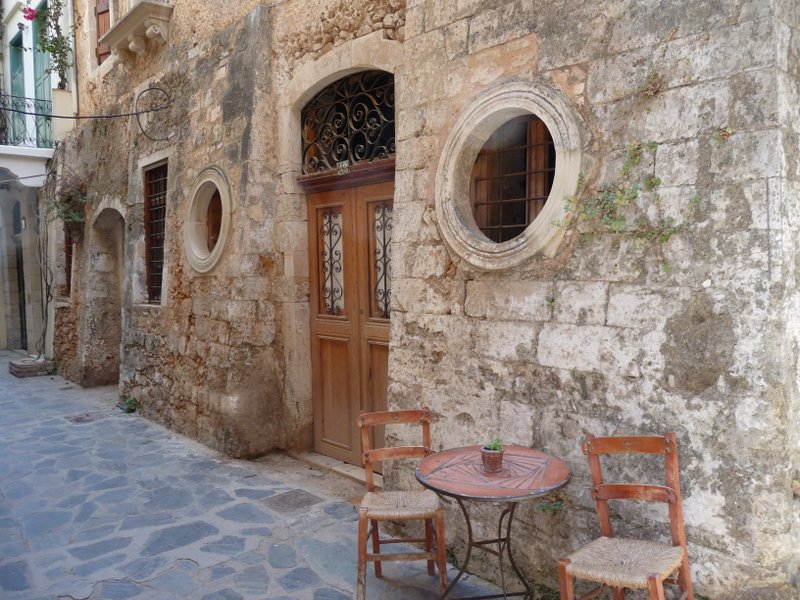 A quiet back street in Hania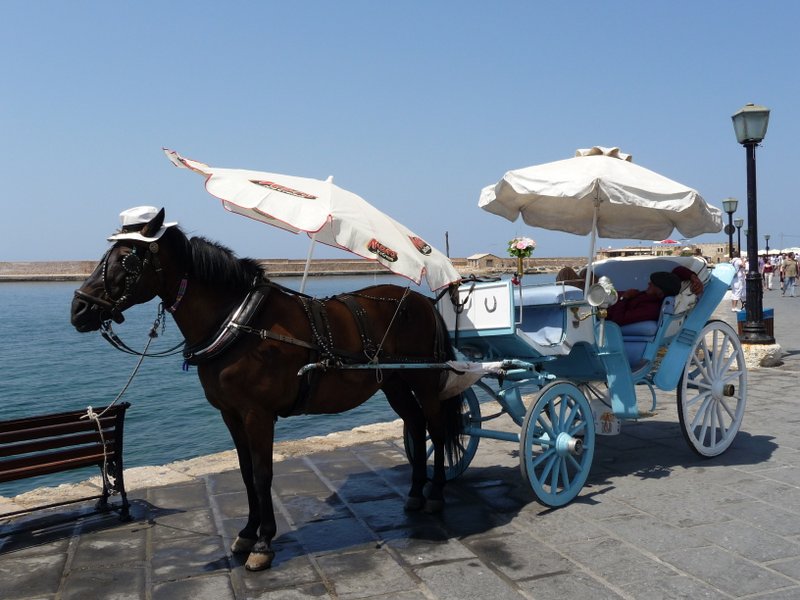 Everyone enjoying a siesta on the waterfront
A couple days later at 0700 we were on a mini bus heading inland to the White Mountains ready for a long walk The 11 mile long Samaria Gorge is reported to be the longest in Europe. At the start of the walk, the gorge is about 500 wide. In the first mile we descended about 3000 feet on wooden steps. The scenery was impressive and very reminiscent of the Sierra Nevada with its similar evergreen trees and mountain wild flowers. Springs flowed at regular intervals, allowing us to fill our bottles with cool, fresh drinking water. Walking was difficult on the trail which was mostly uneven loose rock. We were happy to stop for a lunch break at the abandoned village of Samaria where we caught glimpse of a couple reclusive wild Cretan kri-kri goats that had come to the village in search of food.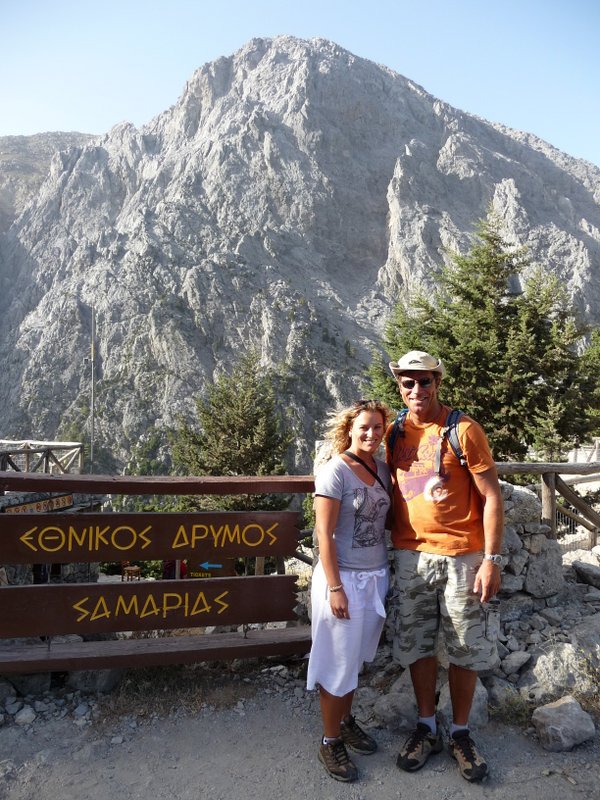 On the trail head for the walk through the Samaria Gorge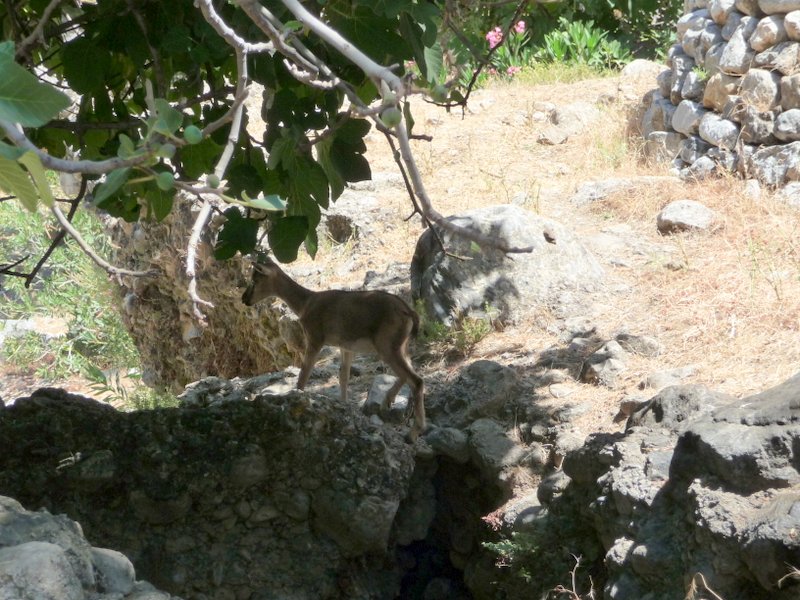 An elusive koi-kri goat
Continuing on after lunch, we were walking on the riverbed and the gorge continued to narrow. At the end of the gorge we came to what is called "the iron gates" where the walls are only 10 feet apart and 2000 feet high and had to walk on a rickety wooden walkway over the river to get through. From there it was another 45 minutes walk to the village of Áyias Rouméli lying on the south coast of Crete along the shore of the Libyan Sea. We enjoyed a couple of cool beverages while we cooled our blistered feet and rested our sore legs at a taverna on the beach and waited for the next ferry to Soúgia, where we caught another mini bus back to Hania.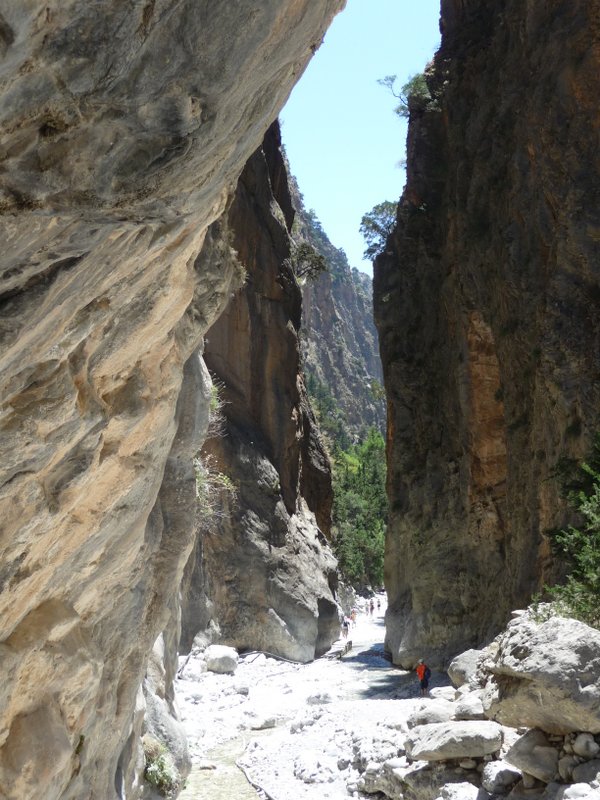 The "Iron Gates" 
Manolis had learned that a friend of his knew someone with the family name Tzortzakis. They were both invited around to the boat for a drink and to get acquainted. A burly guy named Dimitris Tzortzakis showed up and we chatted for awhile. Although we couldn't make a direct family connection, his ancestors came from a village not far from Malathyros, where my grandfather was from. Dimitris has an infections smile and a great sense of humor, and speaks  English well. He's quite a clever guy who's turned his hobby of remote control aircraft into an aerial photography business. We had a great time together and hit it off, calling each other "cousin" by the end of the evening. He offered to go with us to Malathiros to look for family.
Dimitris met us on Saturday morning and drove us up to Malathyros. An avid "enduro" motorcycle rider, he is very familiar with the back roads and trails through the hills and mountains of Crete. We arrived in Malathros and Dimitris chatted with the first person we saw, an elderly lady. She knew of my family and pointed us further up the road. At another cluster of homes, we chatted to a few more people. They were all smiles when they found out who we were, but pointed us further up the road.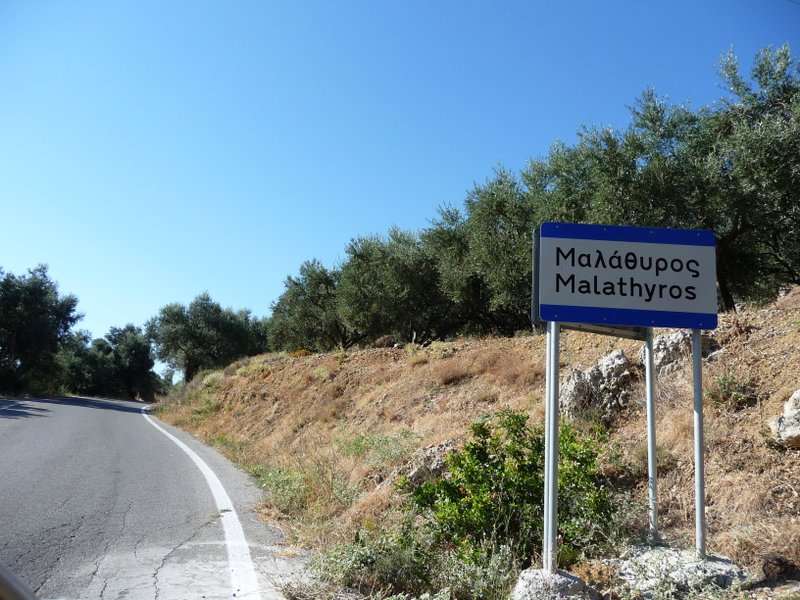 Arriving in the village of Malathyros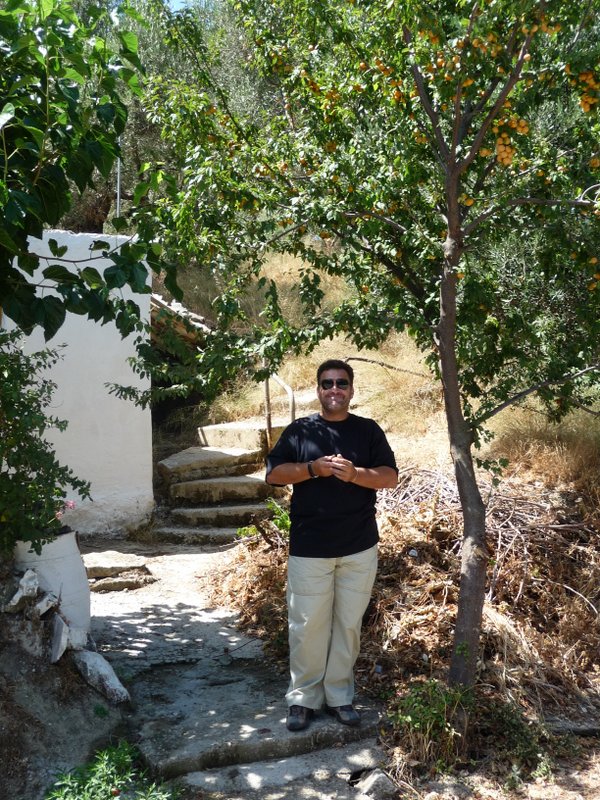 Dimitris in Malathyros
We came to the home of my grandfather's nephew and mother's first cousin. Nobody was home but eventually a lady came walking up the road. Theano, my mother's cousin's wife was elated when she found out who we were. She lamented that everyone left Malathiros but nobody ever came back. Apparently her husband had died four years before and she now spends most of her time in Hania to be closer to her family. We were fortunate that she just happened to be in Malathyros that day. She invited us all in for a Greek coffee and we chatted for awhile and looked at photographs of her family. She doesn't speak any English and we don't understand Greek, but that didn't stop Theano from having a lively conversation. Dimitris couldn't translate fast enough, but she did say she could see the family resemblance in me.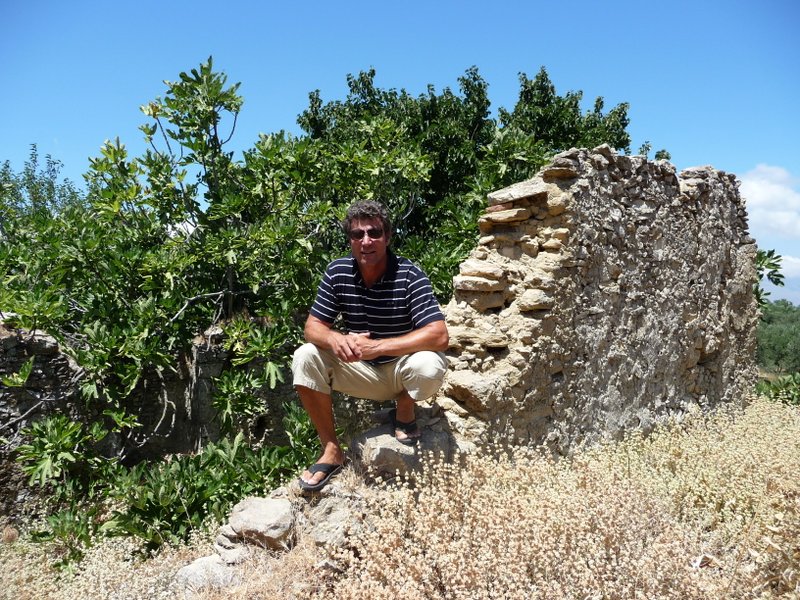 On the ruin of the home my grandfather built
After coffee we walked up behind her home where there was an abandoned house. It had been her father-in-law's home, the brother of my grandfather. Next door, amongst the olive trees was the ruin of my grandfather's home-a cluster of two stone buildings, one had a deep cellar well below ground level. The view from these homes was spectacular, looking north out over Kissamos Bay in the Sea of Crete five miles below. It was an idyllic setting, quiet and serene on the day we visited. It wasn't always peaceful in Malathyros. Back in 1912 the worsening geopolitical situation had caused my grandfather to flee to the United States in search of a better life. Years later in WWII, the Germans occupied Crete. A monument at the church says that in 1944 German forces raided the village and killed 61 men between the ages of 13 and 72. It bears the names of three of my grandfather's family members. One brother, Theano's father-in-law apparently escaped the melee as he was hidden by his mother.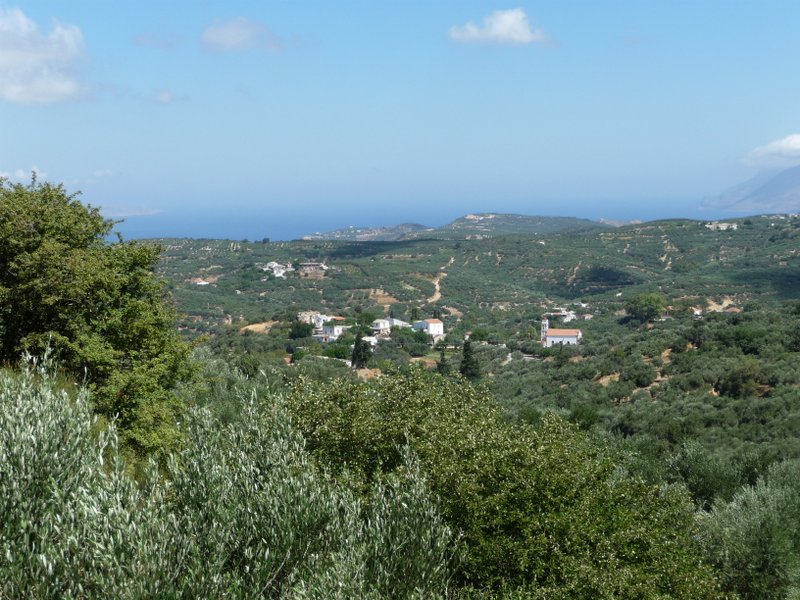 Looking north over the Med from Malathyros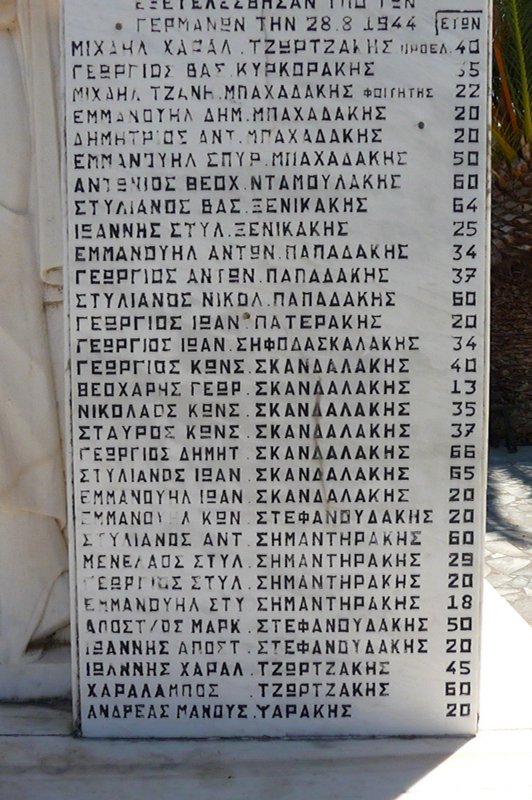 A monument to the villagers killed August 28, 1944
Theano contacted the rest of her family and organised a dinner at her son Yiannis and his wife Eletheria's taverna near Hania. On Monday night at least a dozen members of the Tzortzakis family gathered at a lovely little place called Eliá, named for the 200 year old olive tree that shades the large patio. About half of the family spoke some English. Everyone was very warm and friendly to us, and most curious about our lifestyle and other relatives back in the United States. It was a delightful evening with heaps of traditional Greek food, lots of gifts exchanged and plenty of Yiannis' home made Cretan wine and tsikoudia. Dimitris invited a few of his relatives and when they arrived the volume went up a few more notches. It felt as if we had known them all our lives.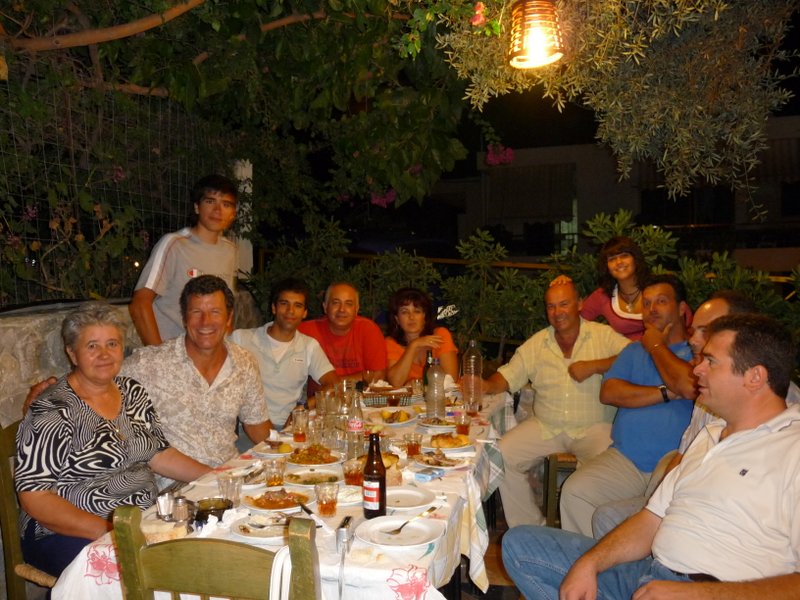 Family dinner at the taberna in Hania
We were just a week in Hania and already knew a lot of people. We had visitors nearly every night always arriving with a bottle of wine, olive oil, olives, tsikoudia or other goodies and wanting us to join them for dinner out. Bernie accused me of running for mayor.
In the summer the sun sets after 8 pm, so most Cretans don't think about dinner till at least 9. By the time we got through courses of mezedes (appetizers), mains and the almost-obligatory send-off of watermelon and tsikoudia, we rarely left the table before midnight. Many of the little tavernas on the waterfront near the boat had live Greek music and went till at least 3 or 4 in the morning. We occasionally had to wear earplugs to get to sleep!
After spending two weeks in Hania we were well behind our planned itinerary for the cruising season (as usual) so we began to look for a weather window to head to our next stop, Santorini. Everyone kept saying, "no, no, you must stay another week!" A promise to return would grant us a temporary stay of execution.
We made a couple provisioning runs to the local supermarket, fruit stand and the traditional market. Many of the stalls in the traditional market have been taken over by vendors selling Greek knick-knacks made in China to tourists, but there are still a few stalls that sell meat, poultry, cheese, olives and baked goods much as they did early in the last century. We sampled a variety of sumptuous olives and purchased a couple kilos. We tasted Cretan cheeses and found the kefalograviera cheese to be superb so we bought a small wheel. While we were making our selections the proprietor brought out some small glasses and poured us shots of his home made tsikoudia, both plain and honey flavored. Of course he joined us. Business at the market is done the old-fashioned way and the customer goes away happy.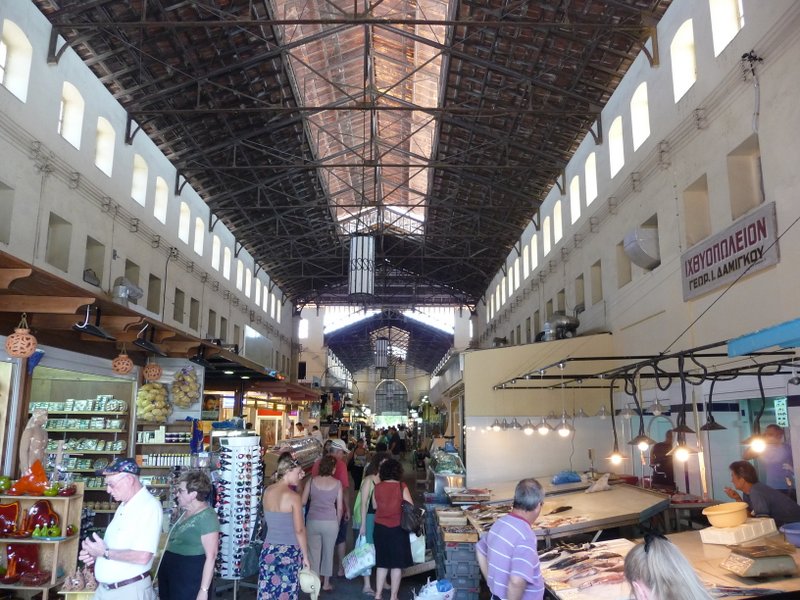 The Market in Hania
Saturday looked good for a dash to Santorini, about 100 miles northeast with winds forecast from the northwest at 15 to 20 knots and moderate seas.
Our plan was to get to bed early Friday and leave at first light the next morning. By the time we got through all the goodbye drinks and dinner it was midnight, but at 0630 the next morning we quietly and reluctantly slipped out of the beautiful old port of Hania with enough Cretan wine, olive oil and tsikoudia to last us a year, and fond memories to last us a lifetime.