14 April
We had read that sometimes there can be very active patrols on both sides of the Eritrea/Sudan border, but all was quiet for us and it was a mostly uneventful overnight passage to Khor Nawarat. The only interesting situation was a fishing boat adrift that we passed in the morning as we approached Khor Nawarat. When they spotted what they thought was a floating convenience store, they fired up the engine and set about on a collision course. We assumed they were looking for handouts of cigarettes and booze but I wasn't interested in anyone coming along side-i.e. crashing into our topsides-while we were under way, so I gave the throttle a nudge and we soon left them in our wake. We arrived at the East Passage about 1000 Sudan local time and found the entrance easy and straight forward. C-Map's charting was spot-on. I caught a glimpse of a lone dugong tail slip into the calm water on the way in. We wound our way around and took anchorage in the lee of Shatira Islet.
The grib files showed another bout of dreaded northerlies on the way, so we planned to hole up there, relax and do some diving for a couple days. We washed another coating of red dust off the boat with what fresh water we could spare. Six other cruisers arrived that day so at least we would have some yachties with which to socialize.
We were visited by some rather rude fisherman who came along side even after my request for them to stay off. They bumped their rough wooden boat into the topsides, and then made requests, actually more like demands, for cigarettes, swim fins, dive masks and fishing line. They were not at all impressed that we only carried enough dive gear for ourselves and don't smoke. It seems that the "John From" society is alive and well on this side of the planet as well.
15 April
We were visited by some men who claimed to be Sudanese military from a nearby base. They were in an unmarked boat and were not wearing uniforms, but were nicely dressed, friendly and polite and asked to come aboard to check our "permits." We gave them copies of our passports and the vessel documentation, which they briefly glanced at-upside down-and then handed back to us. Weather or not our paperwork was in order seemed to be of less concern than if Merima was a single woman or if there were any single and unattached women on any of the other boats in the anchorage. I suppose it can be very lonely being a Sudanese soldier in a remote border outpost. We had some nice conversation comparing our respective customs, and when they had more or less determined that they were looking for love in all the wrong places, they gave us a warm welcome to their country and departed. For some odd reason, none of the other boats were visited by these guys.
Most of the yachties in the anchorage gathered on the beach for sundowners that evening. There was an interesting arrangement of sea shells (dead) and gun shells (live), forming the outline of a large cross on the ground. The live shells were apparently remnants of past border disputes with neighboring Eritrea. We set up the nibbles inside and stood around the arrangement socializing. Khor Nawarat is one of the most scenic anchorages we've visited so far, and we enjoyed watching the red sun set over the rugged desert mountains just inland from the coast of Sudan.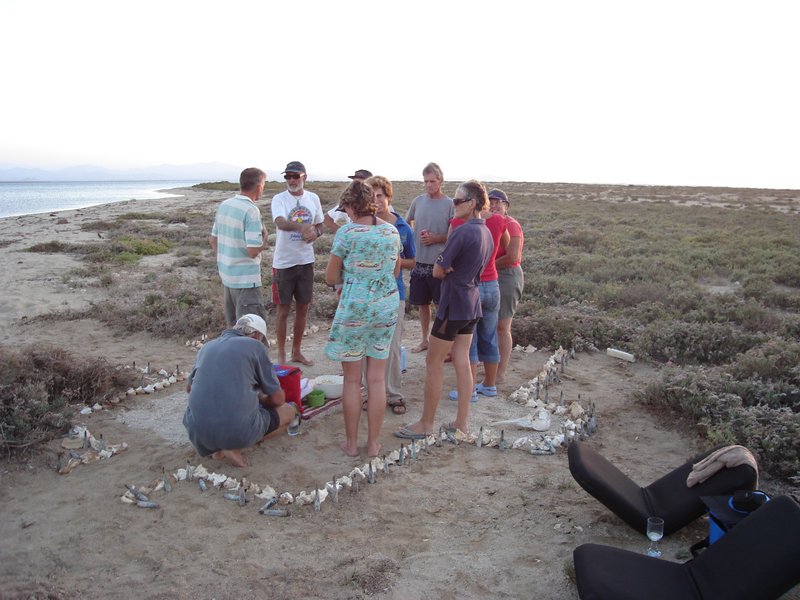 Sea shells and gun shells.  Happy hour near the Sudan-Eritrea border.
17 April
We departed early in the morning for Long Island, about 50 nm northwest. A 12-15 knot northeasterly filled in at about 1000 hours and we were able to sail and lay our waypoints all the way to the anchorage at Long Island, a rarity when making a northerly transit in the Red Sea.
18 April
We spent the morning doing wash and doing a few chores on board. After lunch we went out to the east side of Long Island and went snorkeling on the reef. The visibility was pretty average, but it was great to see a very alive coral reef with vibrant colors again. It had been awhile! We also saw quite a few sea turtles, an inquisitive school of large trevally and the usual assortment of colorful reef fish. We were looking forward to more diving as we made our way up the Red Sea.
19 April
It was a good day to make some northing, so we departed at 0700 for the port of Suakin via the Shubuk Channel between the shoreline and the offshore reefs. Sea Map charts and waypoints indicated in the Red Sea Pilot were disturbingly far off, and to use them as our sole means of navigation could have been disastrous. There's no substitute for good light, clear water and "eyeball navigation" which got us and the rest of the fleet through with no dramas that day.
Once we were out of Shubuk channel we had winds bang on the nose at about 12-14 knots. We had to pull the throttle back a bit to avoid pounding in the short, steep seas. Along the way we had a brief but festive dolphin visit.
We arrived at the channel entrance to Suakin harbor about noon. We received a call from Laurie on Faith who requested our assistance in negotiating the channel into the anchorage. Gregg was back on board and recovering from a bad bout of Malaria, but was still very tired and resting from the ordeal. We waited for them for about 20 minutes as we hovered around the entrance and then guided them in through the channel, which was quite narrow at some points, to the anchorage next to the town. The last stretch of the channel passes the ruins of the old city, built circa 1500, now abandoned and left to decay. The whole place looked like the set out of a movie set in biblical times. Sometimes it's difficult to fathom how people can live so primitively, in the same era, on the same planet as us.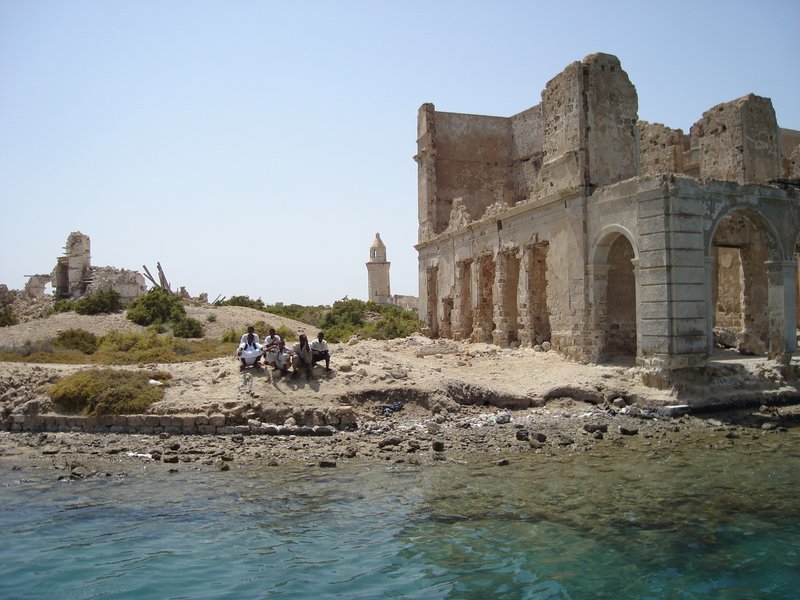 Ruin of an old hotel, Suakin.
Just as I completed a quick oil change on the main engine, Mohammed, the local agent arrived and we handled check in, ordered diesel and dinghy fuel and some local currency, all in about 10 minutes. In contrast to Eritrea, check in to Sudan was very simple and efficient.
20 April
If the check in was a piece of cake, getting a load of diesel into Moonshadow's tanks was an incredible ordeal. That day, FUEL was a four letter word! The boat with a delivery of four drums of diesel that we had ordered arrived promptly at 0900, and that was about the last thing that went smoothly that day.
Attached to Flintstones-era hand-crank pump that was to be used to transfer the diesel was a piece of very stiff and ill-fitting plastic irrigation pipe. The crowd of guys on the boat began pumping fuel, about half of which was leaking into their boat. They became irritated that I wanted to filter the fuel through my Baja filter. I was irritated that more was going into the bilge of their boat than into the tanks of Moonshadow. Clearly this operation was about as amateur as it could get and we were not impressed.
A screwdriver was requested to tighten the hose clamp. Two turns to tighten it up and it snapped. I supplied them with a brand new hose clamp which six of them struggled to install, but the hose still leaked profusely. I called a time-out as I refused to pay for the fuel that was spilled into the bilge of their boat, and sent them off to get their act together or bring us our money back.
They returned an hour later with a nice new hose, and again requested the screwdriver so they could attach it to their pump. The fit was excellent and we were in business, well at least for about 45 minutes, until it was time to pray. They took off, having pumped less than one 50 gallon drum of diesel into Moonshadow. I wasted the whole afternoon waiting on board for them to return. At least Merima was able to get into town to have a look around and pick up some fresh provisions at the market.
When they did return at 1600 hours, one character dressed in what looked like a service station attendant's uniform, hopped on board, uninvited and sprawled himself out in our cockpit as if he was a sultan on his personal yacht. Merima and I looked on in horror as he ran his greasy grubby hands on our canvas cockpit cushions, leaving rusty diesel stains all over the material. We asked him to be careful, but he kept touching the boat, leaving fingerprints all over. Merima finally lost patience and demanded that he get off our boat. He was obviously quite irritated at having a woman, let alone one that he considers to be an infidel, speak to him like that, and chose to ignore her. I had also run out of patience and got up to "usher" him off our boat. He realized that I wasn't there to shake his grubby hand farewell and decided it would be wise to get back aboard his boat under his own steam. He rejoined his colleagues, all of whom thought that the situation was quite humorous. We were not at all amused by this disrespectful buffoon.
The fueling took two more hours. While the group of guys on the fuel boat took turns pumping, I had to stop them every 10-15 minutes to clean the Baja Filter as it became clogged with the profusion of sediment in the fuel. The rest of the yachts in the anchorage looked on, unimpressed, as they heard me regularly cleaning my filter with compressed air and patiently awaited their turn to get crappy fuel. At this rate, I thought, some might have to wait for days! It was the worst fueling experience I'd ever had, full stop. At least we had enough diesel to get us to the next proper fuel dock some 400+ miles north in Egypt. I politely suggested to Mohammed that if his drums were clean, the process would be much faster, as all of the boats had been forewarned to filter the fuel.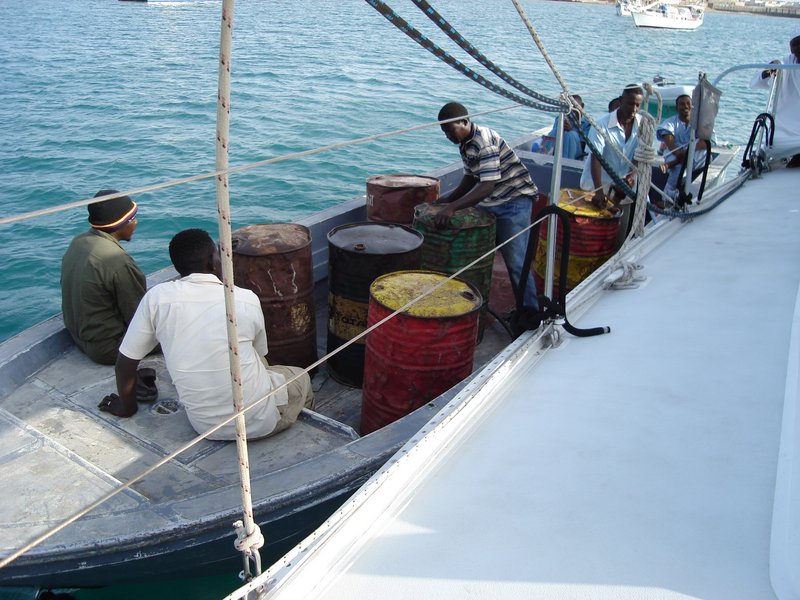 Hand pumping diesel from drums, Suakin.
21 April
We spent the morning wandering around Suakin town. Suakin is a remnant to Sudan's slave trade, and appears to have been frozen in time about 500 years ago. There didn't appear to be any electricity or running water. Transportation was mostly donkey carts, but we did see a few camels here and there, one with a lovely jeweled bridal. Most of the buildings were nothing more than shacks that had been thrown together from scraps of wood and corrugated iron with a few crumbling stone or mudbrick structures interspersed. Even the mosques appeared to be very basic and primitive, lacking the materials to build the ubiquitous tall and narrow minarets we've seen elsewhere.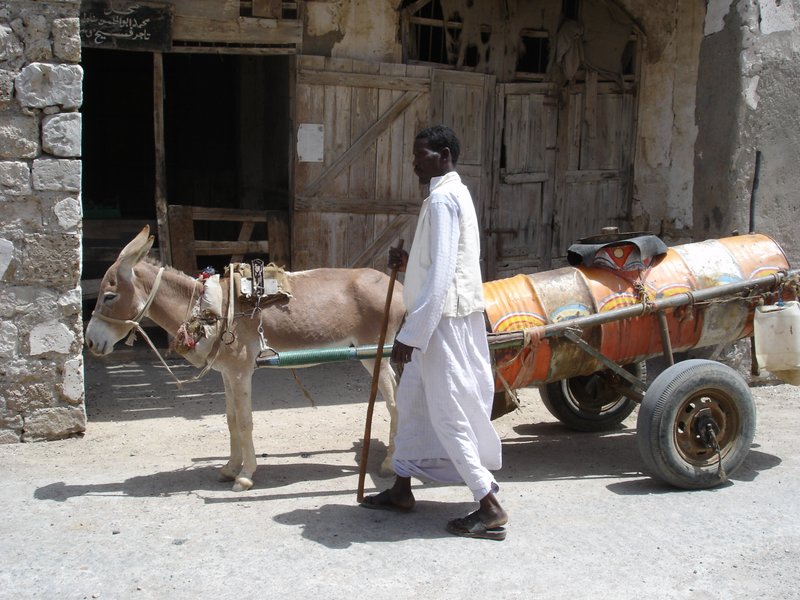 Water tanker, Suakin.
There were very few women around, and those that we did see were almost totally covered. Most of the men were wearing traditional Arab dress. Quite a few were carrying daggers or swords. Everyone seemed very friendly and we were greeted warmly by many people we passed. The younger men wanted their pictures taken and laughed when they saw their digital image on the camera screen.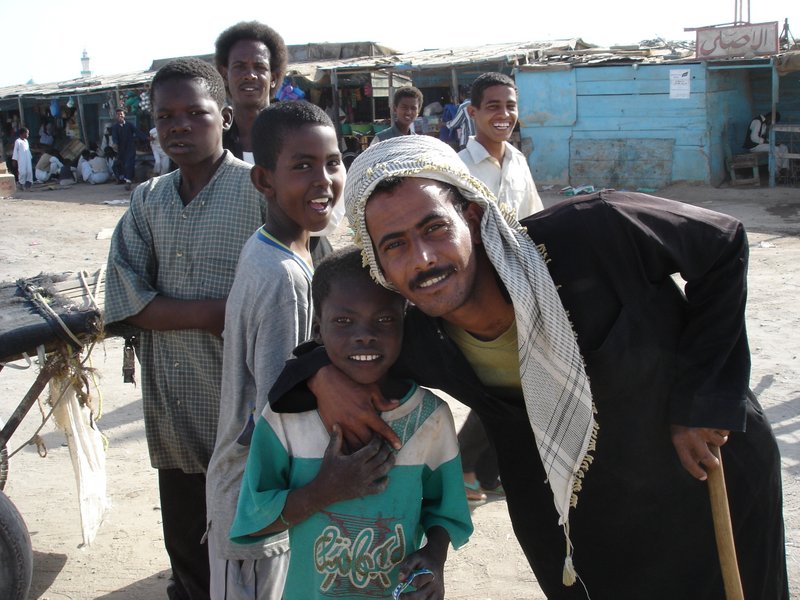 Some friendly locals, Suakin.
We found some good basic fruits and veggies at the fresh market. We passed a meat market that would have made a coroner feel squeamish. While we kept our distance, we did peek in here and there and saw one stall that sold just goat heads! By the look on one customer's face, we gathered that they were quite a delicacy.
The fresh market, Suakin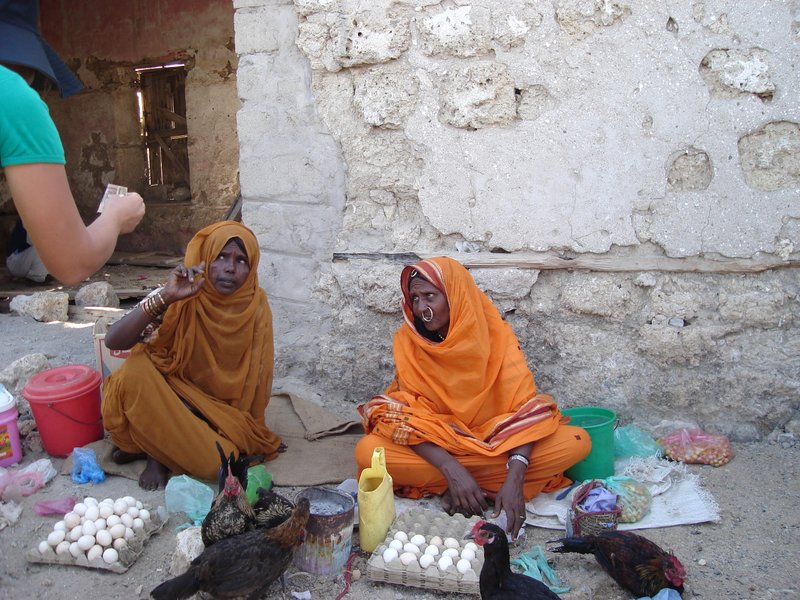 Merima bartering for eggs at the market.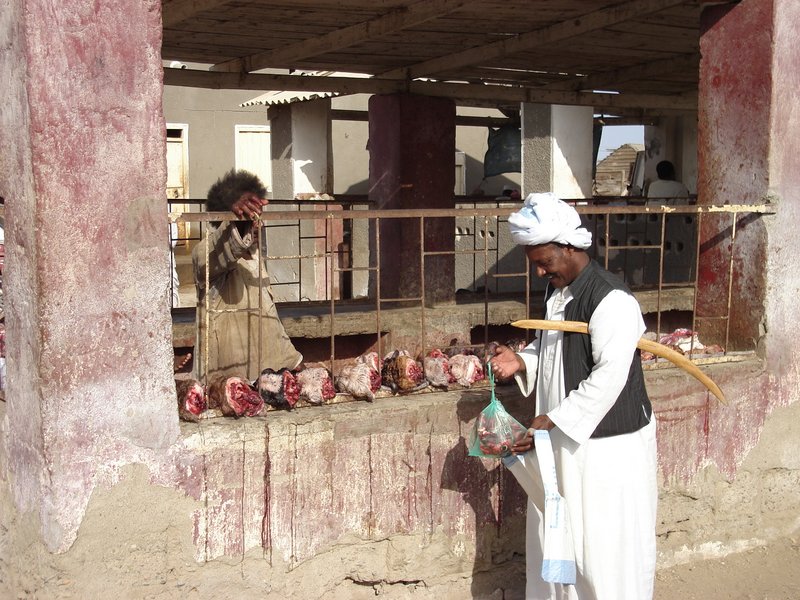 A happy customer planning a meal of goat's head soup.
After shopping and wandering around a bit, we stopped in at a café for a cuppa. This place was about as far on the opposite side of the spectrum from Starbucks as it was from Seattle. Water was heated over an open fire in the corner of the stone walled room. Between the smoke and the flies, the air was pretty thick, but our coffee and tea were excellent. Other patrons greeted us and chatted while we relaxed and enjoyed our brews. Suakin is one of those places that truly can be described as "National Geographic."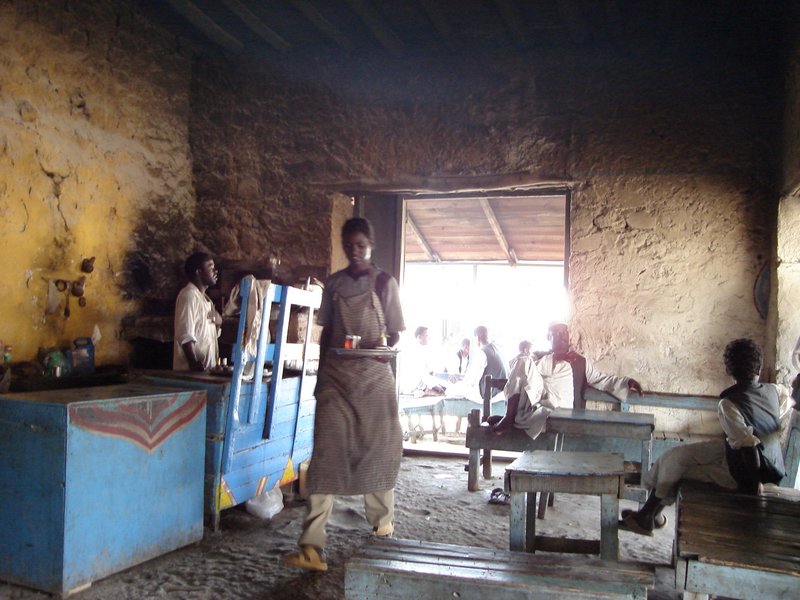 The coffee house in Suakin.
That evening, most of the cruisers gathered for happy hour in the "lobby bar" in the ruin of an old hotel on water's edge at old Suakin. It looks as if it had once been a grand place and with open-air ceilings, it provided an interesting atmosphere for sundowners.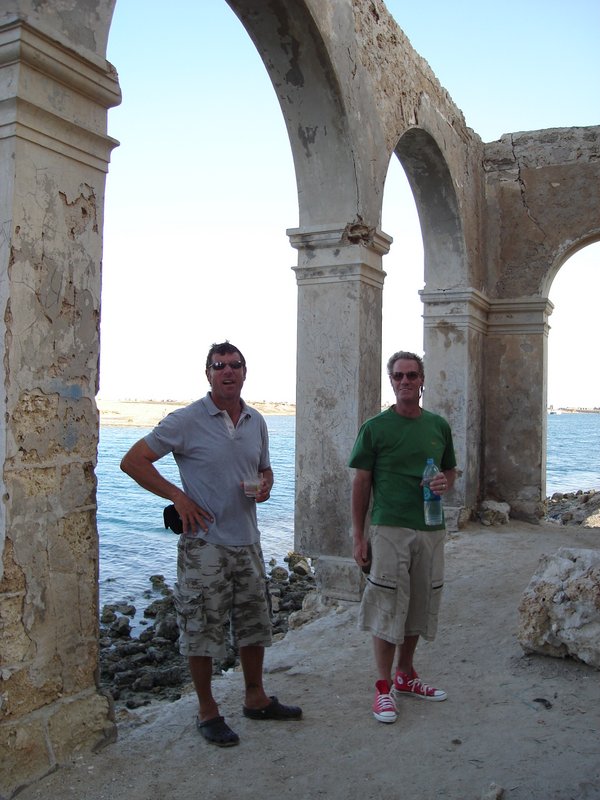 Happy hour in the hotel lobby bar.
22 April
We departed Suakin at about 0630 and headed north through the channel inside the offshore reef. Just abeam Port Sudan, we stopped in at a small bight in the Wingate Reefs and dove on the wreck of the Umbria. The Umbria was an Italian flagged ship scuttled at the beginning of WWII to prevent the British from commandeering her and her cargo. It was a pristine wreck, covered in very alive and brightly covered hard and soft corals, sponges and shells. The visibility was well over 100 feet, making it a spectacular dive. There were loads of fish, including a very large grouper and two barracuda about five feet long each. There were still lots of bottles, jars and other unidentifiable objects in the cargo holds. It was Merima's first dive on a sunken ship and now I'm afraid she's hooked on wreck diving. A few weeks later when we were glancing at a dive guide, we read that while the Umbria was considered the best wreck dive in the Red Sea, there were still enough explosives on board to level Port Sudan. I don't think anyone will be smoking down there.
After the dive, we picked up the anchor and motored north into headwinds to a small bay called Marsa Daror, where we anchored for the night. A marsa is a river mouth opening to the sea, and in this part of the Red Sea, they occur at fairly close intervals, making for convenient day hopping up the coast, or a place to duck in if the weather turns nasty. Entry into the marsa was straight forward and everything was as it was charted on C-Map. The anchorage was tight and non-descript, but as an overnight stop afforded good protections and good holding in mud. We had sundowners aboard Breakaway along with the Monte Cristo's.
23 April
We followed our electronic track out of Marsa Daror at first light and headed up the coastal route as far as we could before turning north northeast towards Jazirat Bayer, a small island surrounded by reef. As we moved away from the coast, we found that the reef was poorly charted. Fortunately it was a clear and calm day with good light, so we could weave our way around the shallow patches along our course line. We arrived at Jazirat Bayer about 1430 hours and entered the well marked pass into the long, narrow lagoon and anchored just inside.
As soon as we were settled in, we hopped into the dinghy and went just outside of the pass on the north side where we went snorkeling for about an hour. The visibility was very good, the coral was pristine and sea life varied and abundant. We saw many large grouper, coral trout, snapper and other delectables, as well as a plethora of colorful reef fish. The Red Sea had been some of the best diving I've seen in years!
24 April
We departed Jazirat Bayer just after the sun broke the horizon and headed for Khor Shinab, about 40 miles to the north. It was an easy motor sail in light winds and calm seas, and we still had excellent light upon our arrival around mid day to navigate the narrow three-mile passage into the best anchorage.
Khor Shinab is a very unique anchorage which was reminiscent of being up a river in the middle of the desert. It also reminded me a lot of the Sea of Cortez in Mexico, sans cactus.
After a quick lunch we took the dinghy back out to the pass and went for a dive. The wind was getting up to 15+ knots by then so it was a bit lumpy on the surface, but down below the visibility was good, there was lots of sea life and the coral was very alive and colorful. It's interesting that the water in the Red Sea seems to be bluer underwater than in other places we have dived. We saw one very large barracuda, a small lionfish, a small stingray and many nice coral trout, grouper, trevally and snapper. We decided to go back next time with just snorkel gear for some spear fishing.
25 April
Just after listening in to the Red Sea Net, we took a walk up Quoin Hill along with most of the other yachties in the anchorage. It was an easy walk, as the weather was rather cool considering we were in the African desert. The terrain, soil and rock all seemed strangely unfamiliar to us, but the views that the walk afforded were spectacular. From the summit of the hill there was a commanding view of our surrounds. We could see back three+ miles down the marsa to the Red Sea and inland many miles to the mountains. There was a whole lot of nothing there, and if one wasn't transiting the Red Sea, there would be little chance one would ever encounter this beautiful and rugged spot. After lunch, Jordi from Cormoran and I went out spear fishing in hopes of finding the main course for the barbeque/birthday party for David on Raconteur planned for that evening . We went back out to the entrance of the marsa and came back with a 15 lb snapper, two 5 lb trevally and a 4 lb coral trout. There was plenty of fish to feed the crowd of 18 that night, and we had a festive pot luck dinner that carried on well into the still, moonlit evening. I presented David with the "Horny Man" toy that was presented to my by Beth and Al from Sunflower for my last birthday in Malaysia. This was one of those gifts meant to be passed on among cruisers and is good for a belly laugh.
Hiking at Khor Shinab.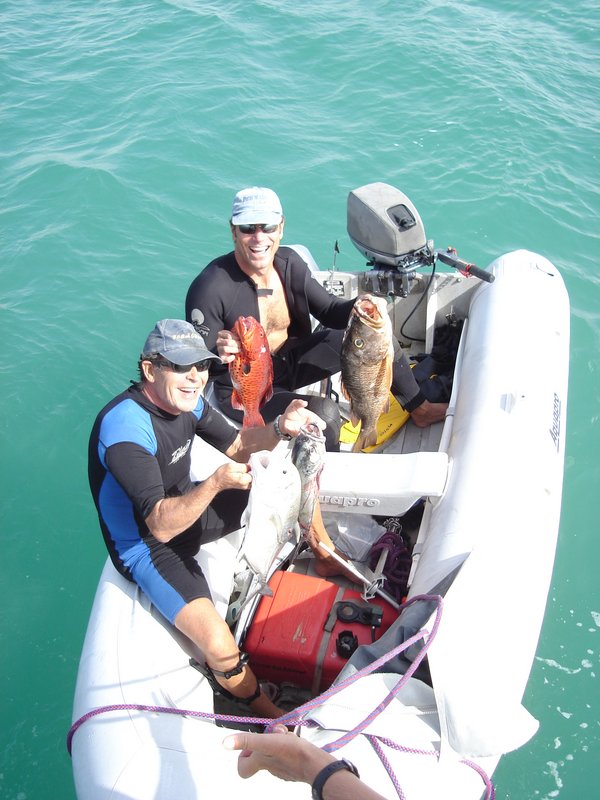 Fish speared for David's birthday party dinner.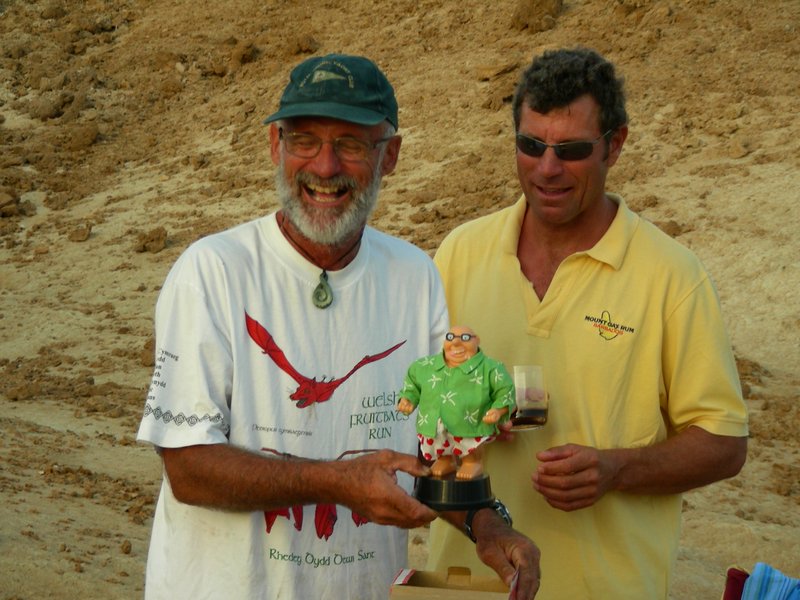 David is presented with the "Horny Man."
26 April
We decided to chill out one more day in Khor Shinab and get some chores done. We cleaned Moonshadow's bottom, made some repairs to the dinghy and did some planning for the rest of the Red Sea cruise. The grib files looked good for at least the next three days, so we planned to get moving the following day.
27 April
We lifted the anchor at 0700 and bid farewell to Khor Shinab, the nicest anchorage we'd visited in the Red Sea so far. Following the inside passage we made our way north in 10-15 knot northerlies, but the seas were mostly shielded by the offshore reef. Thirty miles north we turned seaward and went out to Elba Reef. Conditions were light and entrance into the reef was easy with good light. We anchored about 50 meters from one of the small passes so we could dive without having to launch the dinghy.
After lunch we got into the water and I could hear dolphin voices. They were about two boat lengths away but didn't come any nearer when they could tell we were in the water.
We swam out over the reef to the seaward side. The visibility was excellent and there were lots of interesting caves and swim-throughs. The coral and sea life were both very nice. Near the end of the dive, I shot a nice sized coral trout for dinner. Before I could get it off the spear and into the catch bag, a half dozen reef sharks had come around and circled the wagons. I could tell by their movements and the angles of their pectoral fins that they had more than a passing interest in my catch, so I moved well away from the gun, spear and fish and began yelling at the sharks. After a couple of loud underwater shouts, they moved off and we were able to get our main course back to Moonshadow without having to share it with the men in gray suits. We cooked it up whole that evening and enjoyed a wonderful seafood feast and planned to sail for Egypt the following morning.